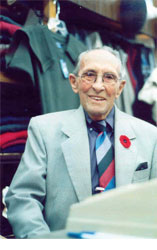 One of the best experiences I've ever had buying clothing was the time I walked into Hambly & Innis Men's Wear Clothing on University Avenue looking for a pair of pyjamas. Clarkie Innis sized me up, went into the back and found me a pair of flannels that I'm still wearing 10 years later. It felt like it was 1922.
I've walked by Hambly & Innis on my way to work almost every morning for as long as I can remember; although their stock was tilted about 30 years older than my demographic, rare is the day that I haven't entertained the thought of finding a reason to by a fedora, or a yellow and blue checked spring jacket.
John Clark Innis died yesterday at the age of 94. His obituary reads:
A well known and respected Charlottetown businessman, John Clark "Clarkie" Innis, died on Wednesday, March 26th, 2008 at the Queen Elizabeth Hospital. He was 94 years of age.
Both Clarkie and his son Kenny operated a very successful Hambly

&

Innis Men's Wear Clothing Store in downtown Charlottetown with a history that dates back to its inception in 1949. Up until recently he worked in the day-to-day operation of the family business.
Mr. Innis was the beloved husband of the late Kathleen "Kay" (nee Acorn) Innis, and dear father of Gloria (Ross) Gilmore of Dartmouth, NS and Ken (Pauline) Innis of Charlottetown. He will also be sadly missed but fondly remembered by his grandchildren, Jason (Karen) Gilmore, Jill Gilmore both of Dartmouth, Ryan Innis and Kyle Innis both of Charlottetown; and his numerous nieces and nephews.
The last surviving member of his family, he was predeceased by his parents, Roderick and Laura Jane (Clark) Innis, sisters and brothers, Arabelle Baillie of California, Charles Innis of Ontario, Jean Grenier of BC, Eleanor Innis and Smith "Doc" Innis both of Pictou County, NS.
As Hambly & Innis closes — as The Guardian reported this morning — Charlottetown will lose its last real haberdashery and, in Clarkie Innis, it's last real haberdasher.
Thoughts tonight to his friends and family.