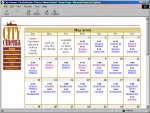 The year after Derek Martin opened City Cinema here in Charlottetown in 1993, I approached him with the idea of creating a website to display the cinema schedule. Derek was game, and so was born, in collusion with Island Services Network, one of the first commercial websites on the Island.

And it's been trucking along ever since, using fundamentally the same "show these films in a calendar" code that I wrote back then.

Last month Derek wondered if he could start selling advance tickets online using PayPal. I was intrigued by the idea, and eagre to upgrade the cinema's website anyway, and today you can see the results: the new City Cinema website went live this morning at 2:00 a.m.

It's not a dramatic reinvention. The main purpose of the site is to tell you what's playing, and so we don't bury that information under some obscure link, it is the front page of the site. I've widened the layout a little (assuming bravely that enough people have upgrade from standard 640x480 screen that this is now safe to do), tried to clean up the design some, added some links to the Internet Movie Database where appropriate, and, of course, have added the aforementioned ability to purchase advance tickets.

Stay tuned more additional upgrades in the days and weeks to come, a set of email alerts that you'll be able to configure to tell you what's playing.

In the meantime, please support Derek and City Cinema; while many other cinemas of this type have gone by the wayside (Wormwoods in Halifax was another client for a while, and I will forever lament the death of the Broadway in Hamilton), Derek has stuck by the project and made a go if it.