I took my parents out to see Public Enemies tonight (capsule review: avoid at all costs; a dreadful, unfocused movie the only redeeming feature of which is the typeface used for the credits). Because it was opening night I thought buying tickets online in advance would be a good idea, and as we were going to the SilverCity in Burlington, this led me to the Cineplex website for ordering.
Other than being forced to become a "member" of Cineplex in order just to buy tickets, the purchase process went smoothly. The confirmation screen contained this strong directive: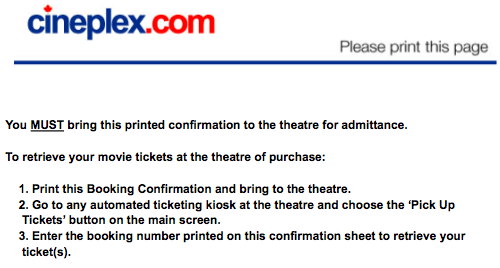 You might think, from this message, what with all its MUST emphasis, that I needed to print the form out and enter my "booking number" to be able to pick up my tickets. Lacking a printer with which to do this, I ended up creating a PDF of the confirmation, transferring it to my mobile phone, and then ensuring that my mobile phone had enough juice to stay alive until we got to the theater.
When we arrived at the theater I went straight to the ticket pick-up machine, clicked on the "Pick Up Tickets" option, and was presented with the option of simply swiping my credit card to pick up the tickets. I did this, the tickets spit out, and I was on my way in about 8 seconds.
I wish they would align the instructions on their ticket-buying website with the reality of their ticket picking-up system: it would save a lot of needless confirmation form printing and hassle.