This Town Is Small — them that brought us Art in the Open and my studio-mates in the basement of the Reinventorium — have a new project, called Charlottetown Perspectives that, depending on your point of view, is either an exciting opportunity for culture sector involvement in tourism marketing or a complete cooptation of the culture sector by the tourismocrats. I go both ways.
But, it did get me thinking about how we market our city, which led me to make a submission, with the following "Description of Intent":
Most tourism marketing is a collection of lies: a tale we tell tourists that reflects our perfect vision of how we want our city to be, not how it actually is.

In their heart-of-hearts, tourists know this, and so the matter of selecting a destination becomes a matter of sorting out one fake story from another. It's a disheartening and deflating experience.

I'd like us to be honest about how things are in our marketing, and I think that honesty, because it is so uncommon, will make our marketing stand out from the crowd.

So I propose a series of advertisements centered around a simple index-card sized, letterpress-printed poster – Tourists Not Allowed In This Area – accompanied by supporting text that tells an honest story about our real relationship with tourists.

In addition to helping to pierce through the tourist marketing noise, I believe this approach will attract tourists who are actually interested in engaging with Charlottetown, not simply breezing through, resulting in a tourism economy far more reciprocal than the prostrative one we have built to date.

What is "culture," at its core, more than the collective feeling of a population: culturally, Charlottetown citizens, outside of the tourism industry, grudgingly tolerate the presence of the yearly influx of tourists in our midst. We resent the clogged sidewalks and roads, yes, and we are, as all Islanders, suspicious of those from elsewhere, but perhaps the greatest cultural impact of the tourism industry is the tremendous stress of having affluent strangers relaxing in our midst when we're working on the day-to- day stresses of feeding our families. We're vaguely aware that someone is benefitting from the tourist economy, but also suspicious of their motivations and actions.

The people of Charlottetown do have tremendous capacity for generosity and kindness, but it's a generosity that does not manifest easily nor at first glance: it's something given only after an initiation, proof of commitment to and investment in a relationship. In the modern day "service economy" it is anathema. And yet is who we are.

I believe that if we are honest with the world about that, we will prosper, for it is an aspect of our culture that is deeply-ingrained and genuine, and it is that which, in a world increasingly disconnected and non-genuine, that travelers will increasing seek.
My entries were both built around the "Tourists Not Allowed in this Area" letterpress print I created last week during my "Type in the Open" letterpress studio open house, and they look like this: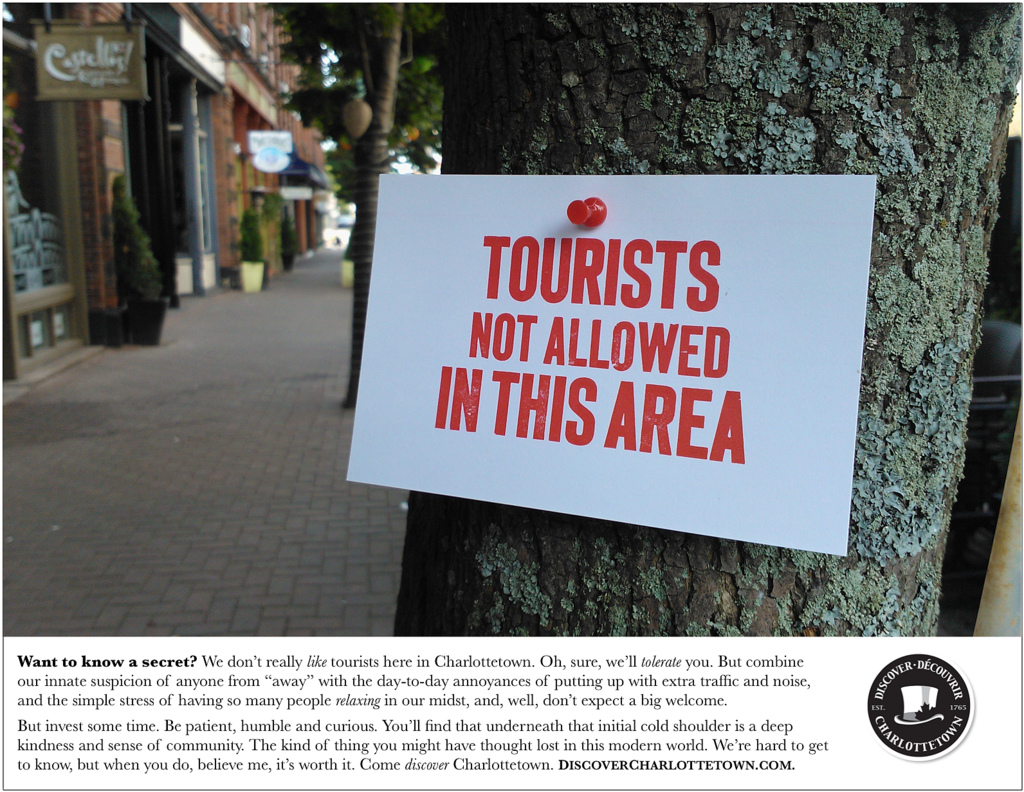 The copy on the larger 11 x 8-1/2 inch ad reads:
Want to know a secret? We don't really like tourists here in Charlottetown. Oh, sure, we'll tolerate you. But combine our innate suspicion of anyone from "away" with the day-to-day annoyances of putting up with extra traffic and noise, and the simple stress of having so many people relaxing in our midst, and, well, don't expect a big welcome.

But invest some time. Be patient, humble and curious. You'll find that underneath that initial cold shoulder is a deep kindness and sense of community. The kind of thing you might have thought lost in this modern world. We're hard to get to know, but when you do, believe me, it's worth it. Come discover Charlottetown.
The copy on the smaller 11 x 3 inch ad is a cut-down variation of the same.
The original deadline for Charlottetown Perspectives was August 30th, but it's been extended to September 30th; I'm quite excited to see what others come up with.