I've been making slow and steady progress fleshing out the Charlottetown portion of OpenStreetMap: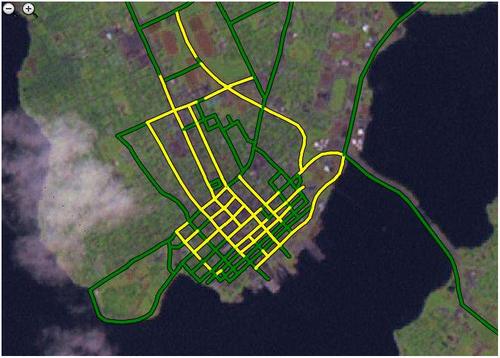 Today I discovered a stretch of Sydney Street, behind the Notre Dame Convent, that I'd never ridden down before. And I'm pretty certain I'd never been on Orlebar Street either.
So far I've got almost everything south of Euston Street online, and I'm chipping away at the area east of University Avenue between Euston Street and Allen Street. To date all of Brighton, save for Brighton Road, remains dark — volunteers?
I finally discovered the reason for the different colouring on the public map rendering of streets: yellow streets are ones I created using the web-based edit applet on OpenStreetMap.org and green streets are ones I created using the standalone JOSM editor (thanks to the folks on the IRC channel for helping me figure that out).
By the time this is finished I'll have a lot of miles on the bike to my credit, albeit slow and steady ones.