Back in the middle of the summer I got an email from Amber Macarthur. She was working on an article for Canadian Smart Living magazine, and wanted to interview me. Never one to shy from the glare of "small Canadian magazines that are given away for free inside newspapers"-style publicity, I agreed, and an email exchange ensued.
And then I forgot all about it.
Until I received an email from my high school biology teacher asking me if the cute kid on page 15 of the latest issue of the magazine was Oliver.
It isn't.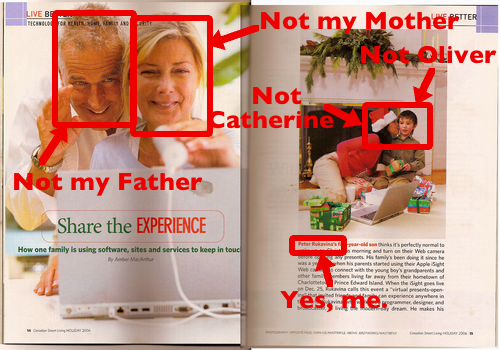 Neither is the Santa-hatted mother character Catherine. And the well-tanned parents using a de-branded computer aren't mine either.
The images on both pages are from Masterfile, a stock photography agency.
So now you know.
Happily, the rest of the article is a fair representation of our lives: I do "maintain and nurture a global social network of clients and friends." Or at least I like to pretend that I do.