When we last talked we were outside of Florence pondering which way we should head. We headed south, to San Gimignano, drawn in by the cover of our travel guide and a vague memory of scenes from Tea with Mussolini.
Our route San Gimignano from Savigliano took us down SS429, a wonderful country road that was a welcome change from the monotony of the super-highway. Along the way we stopped at Castelnuovo d'Elsa, a pleasant small village that afforded stunning views of the surrounding area. No matter what anti-Tuscany biases you may harbour after Frances Mayes et al, it is a stunningly beautiful countryside.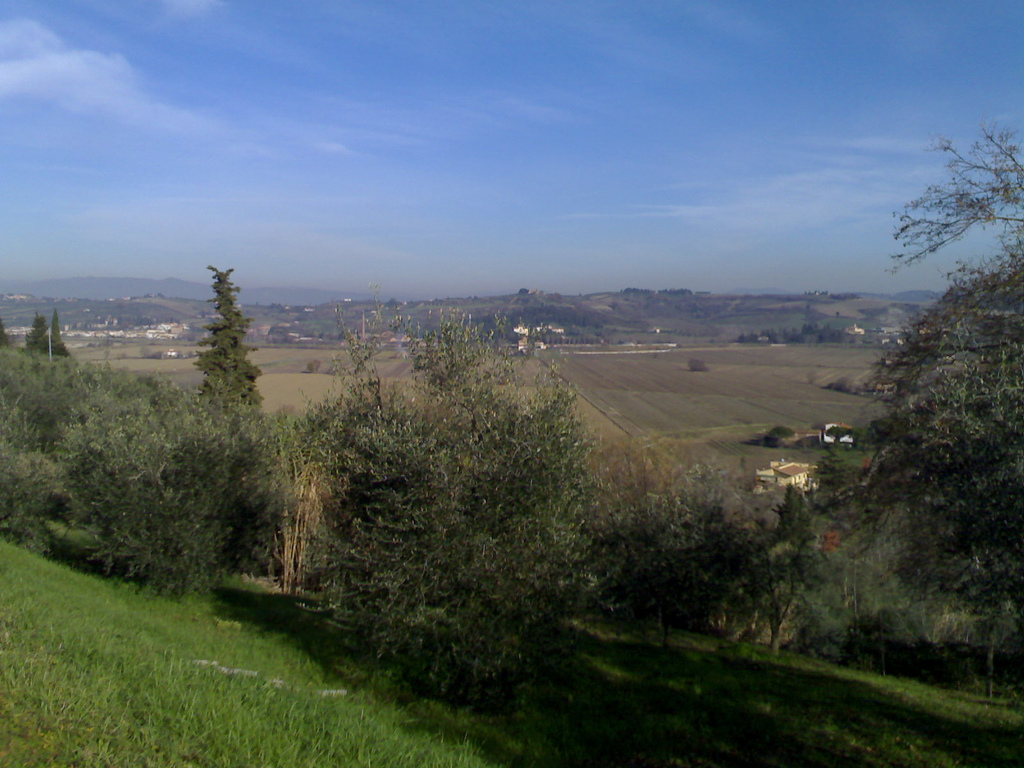 We arrived in San Gimignano around 1:00 p.m. and immediately set about trying to find a place to stay. With the tourist office closed until 2:00 p.m., we took a brief detour for lunch (resulting in the best cheese + eggplant + tomato sandwich I've ever had). Once the tourist office opened, we took the friendly clerk's recommendation, and booked two nights at Fattoria Poggio Alloro, an agriturismo — farm vacation — just 4km away.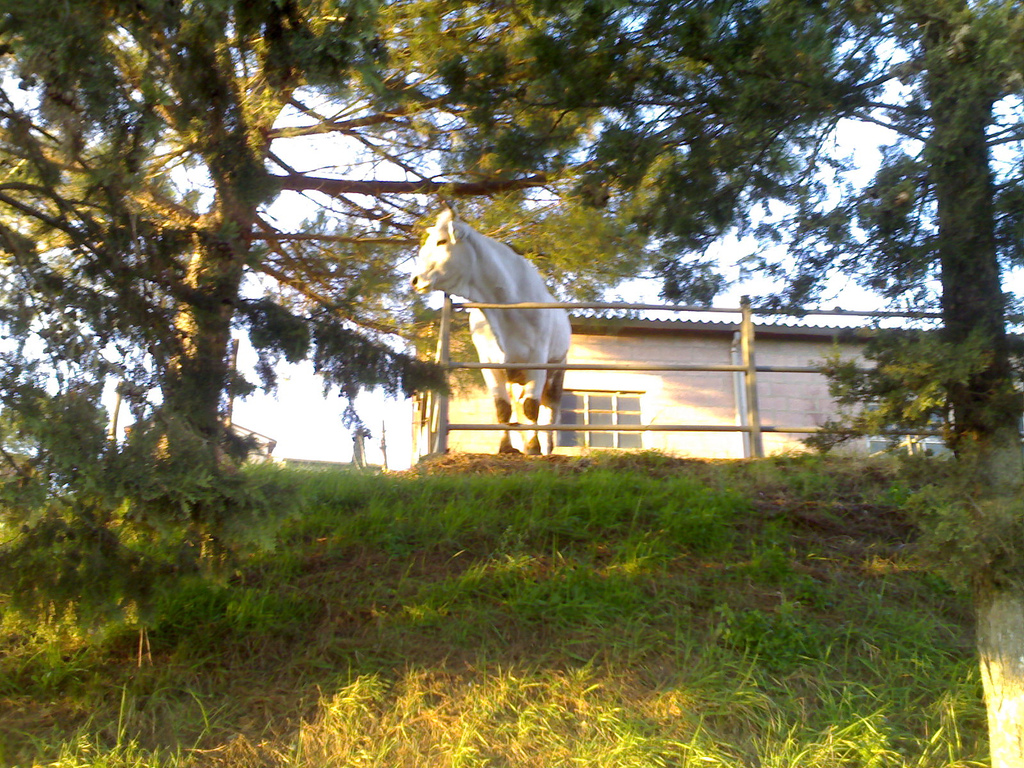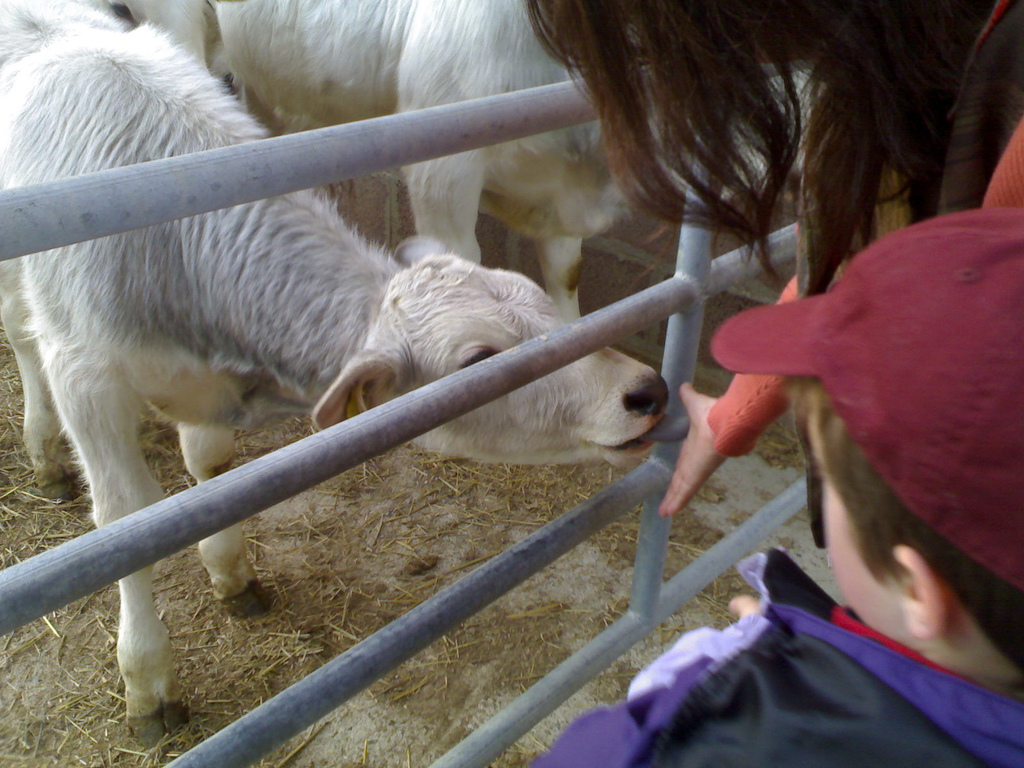 It was a good recommendation: Fattoria Poggio Alloro turned out to be a working sustainable farm with cattle, pigs, chickens, and rabbits as well as vineyards, olive groves, and a saffron crop. The accommodations were anything but rustic, and they put on a nice breakfast in a room with a roaring fire. To say nothing of its hilltop location affording a stellar view of San Gimignano and environs. It was the perfect place to spend a few nights.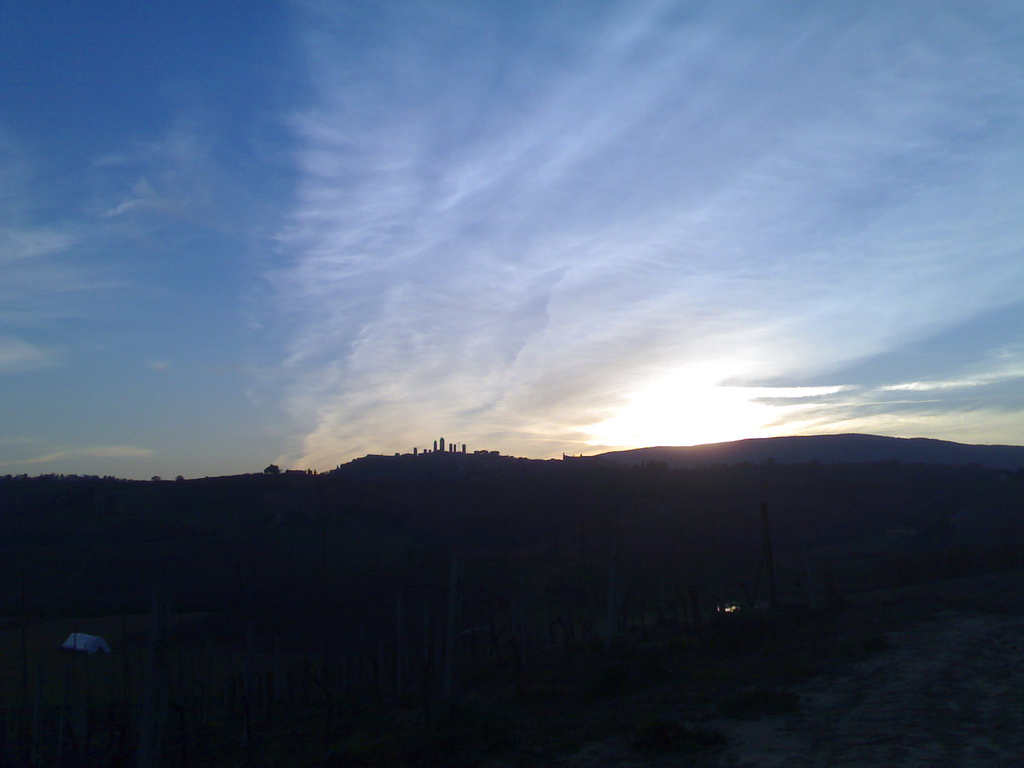 Thursday night we headed just up the road to the small village of Ulignano to Zaghe & Doicce to have, and I do not exaggerate, the best pizza of our lives.
On Friday we headed south to Monteriggioni, a walled village just north of Siena, the highlight of which was the small civic museum where we got to try on pieces of armour (the whole "walled village" thing was neat as well).
We returned to San Gimignano on Friday afternoon and had a good tour around, punctuated by a climb to the top of the Torre Grossa, the tallest of the 13 towers (of an original 72) in the town, another in the continuing series "brave Oliver drags his father, against his better judgment, to the top of a very tall thing."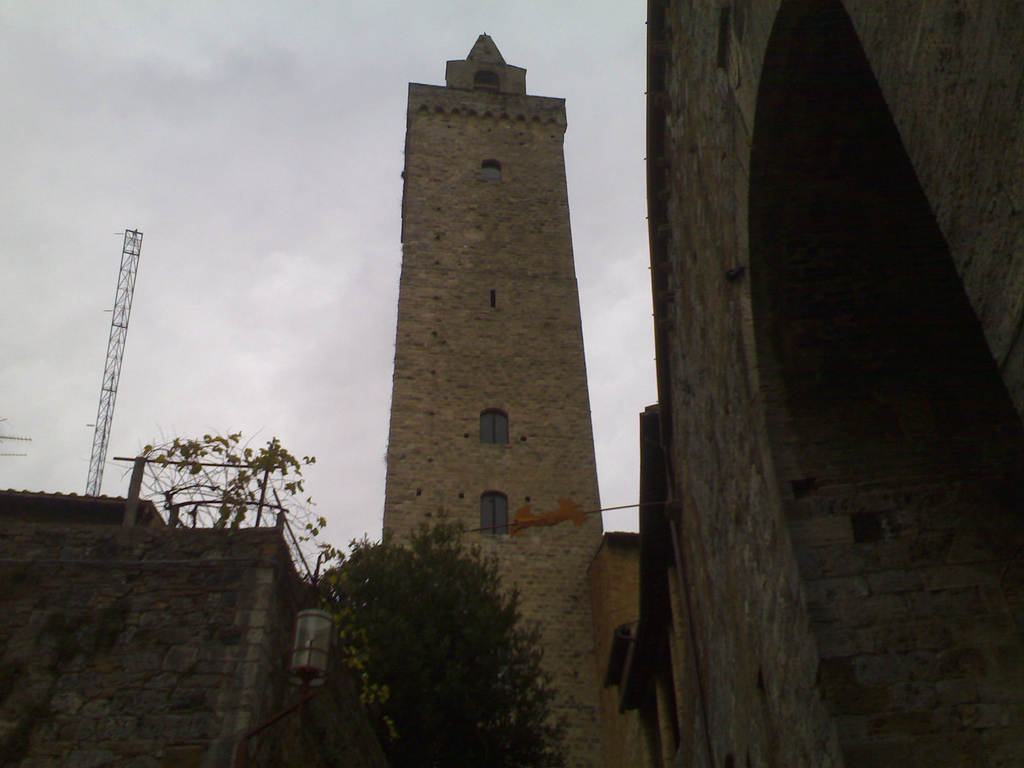 After a chilly Friday night back at the Fattoria, we headed north this morning, skirting Florence and driving up high enough to experience a small blizzard before heading south again toward Bologna where we then turned left to Milan. The super-highway along the stretch is a beautiful piece of road: straight as an arrow, newly-paved, four lanes in each direction; I didn't slow much below 120 km/h from Bologna to Parma, and I was among the slowest cars on the road.
When it seemed possible that we might actually make it all the way to Milan in one fell swoop, we stopped at a rest stop just outside of Modena to consider our options. Finding wifi in the air (6 EUR/hour), I hotel-surfed and found Hotel Del Corso. They didn't have a room for tonight, but they did have space for us on Sunday and Monday, so we reserved and made tentative plans to spend tonight in Parma, just up the road.
Twenty minutes later we were checking in to My Hotels Villa Ducale, a hotel selected primarily because it looked so weird — a sort of cross between an old Italian village and a space ship. We ended up with a huge two-room suite with a bathroom larger than our house.
As we were getting settled in the room, I set about looking for excitement in Parma with a simple Google search for "parma kids" that led me to Xmas Children, an event described as follows:
Children will be the unchallenged protagonists of everything contained in Xmas Children… namely mountains of every kind of product invented, designed and manufactured for them. Plus an abundance of open playspaces where they can run, paint, construct, mess about, dirty themselves and play in total freedom. Conjurors, clowns, jugglers, acrobats, puppets and puppet booths, storytellers, musicians and dancers, films and cartoons to set off their fantasy. Nine marvellous days overflowing with surprises and entertainment.
Was it even possible to not check out such an event? As it turned out, Xmas Children was a sort of "trade show for kids" sponsored by the Kinder Surprise Egg people and consisting of a combination of exhibitors showing the latest in baby gear (fantastic 900 EUR buggies, etc.) and the aforementioned "abundance of open playspaces." For the commercialness of it all, it was actually pretty fun, and there was lots for Oliver to do, from making Christmas decorations out of recycled materials to learning the dance steps from High School Musical. And of course Kinder Eggs were in abundance. We spent a frenzied two hours taking it all in.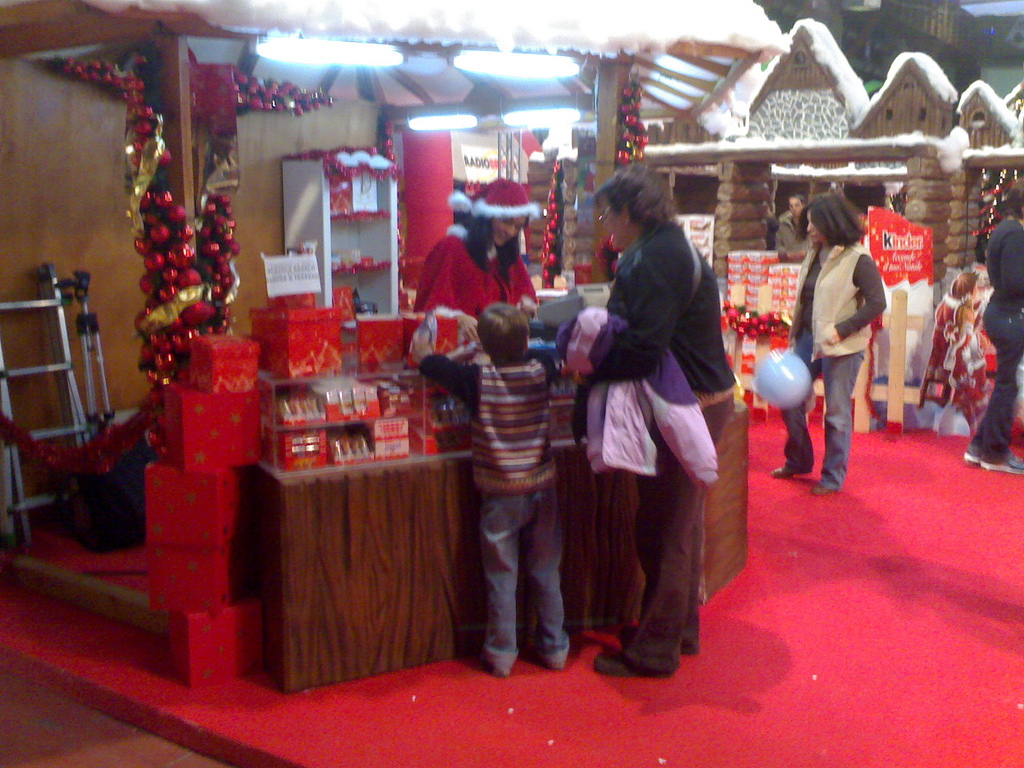 Around 6:00 p.m. we headed into Parma proper, which turns out to have a very pleasant downtown filled with pedestrians and bicycles and in the midst of its civic Christmas tree lighting just as we arrived.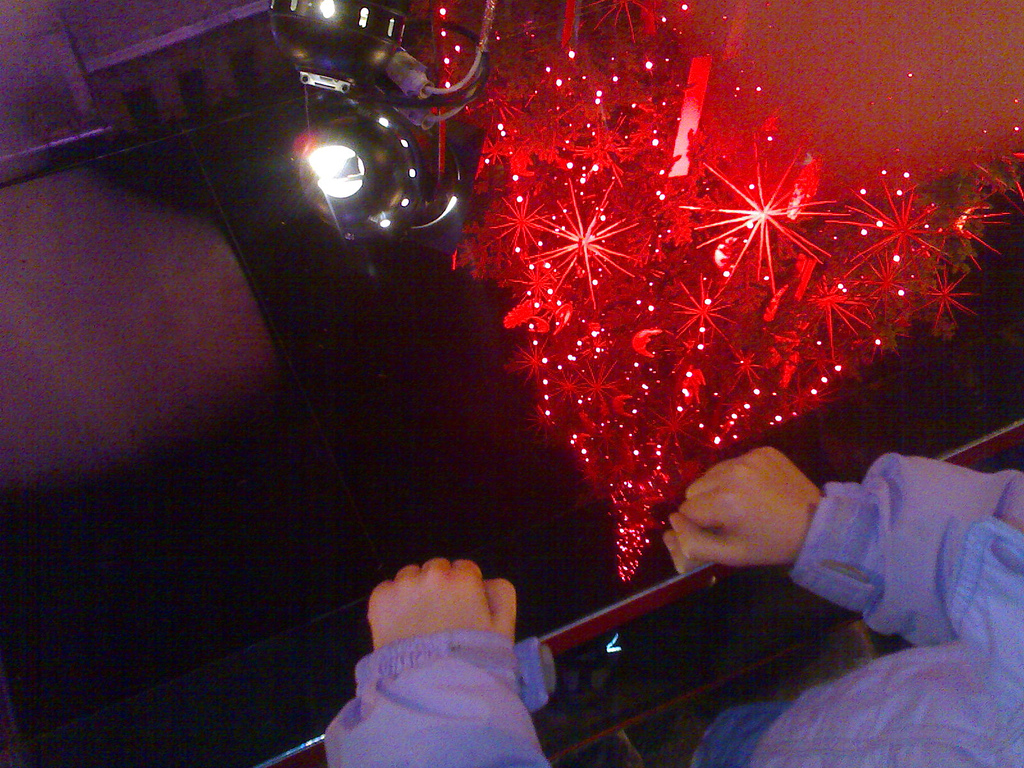 We wandered about for an hour, waiting for restaurants to open, and then found ourselves in an emergency "Oliver needs to pee" event, which paniced us all over the place looking for a cafe with toilet; after 15 minutes we found one, and when all that was over we decided to settle for a quick meal of spinach pizza and headed back to the hotel. Where I sit right now.
All in all three very good days that all just sort of spilled out at random in the way that things sometimes do. Tomorrow we'll drive into Milan where we'll spend Sunday and Monday nights; Tuesday night is a a hotel closer to the airport, and Wednesday we fly to Boston, overnight there, and then fly home to Charlottetown on Thursday.