Early, early, early this morning we arrived in Iceland (our plane from Halifax touched down at Keflavik at 4:55 a.m.). With hours and hours to go before we could even begin to think about a hotel check-in, we took things easy: found Hertz, got the rental car keys, grabbed a coffee, parsed our new road atlas (best 2000 krónur I've ever spent!). So it wasn't until 6:58 a.m. that we hit the road: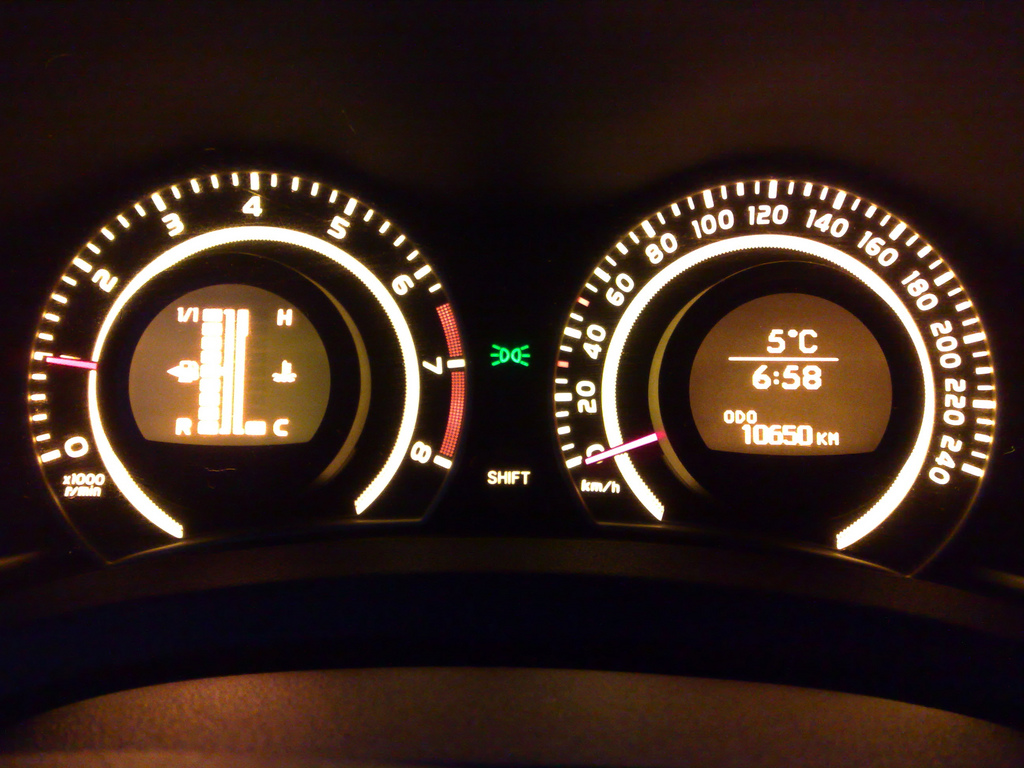 It was 5 degrees C and raining when we left Keflavik — just a light drizzle. Because our first night's lodging, in Hveragerði, was only an hour's drive away, we took the long way round, heading down to Grindavík and the east along the coast, taking our time.
After curling up to die in a grocery store parking lot in Grindavík for a few hours — lack of sleep, jet lag, etc. — our first real stop of the trip was at Selatangar, an abandoned coastal fishing village about 12 km east. To get there we made our first transition from paved to gravel roads, and then a further transition to "gravel track" when we turned off the highway at the tiny marker that points the way.
Selatangar wasn't exactly on the tourist track — we didn't pass a single car for the entire journey there and away — and the rain had increased to a steady downpour by the time we arrived, but it was certainly worth the visit: the houses of the village, last occupied in the 1880s, were constructed of lava bricks, and many are still intact, albeit missing roofs: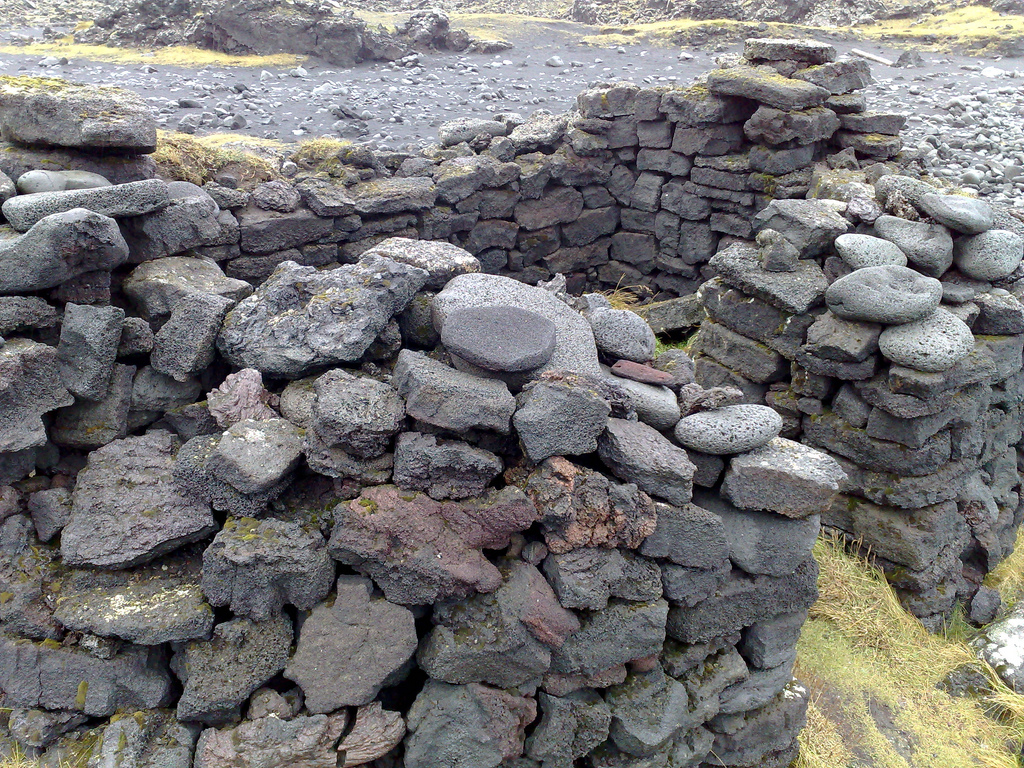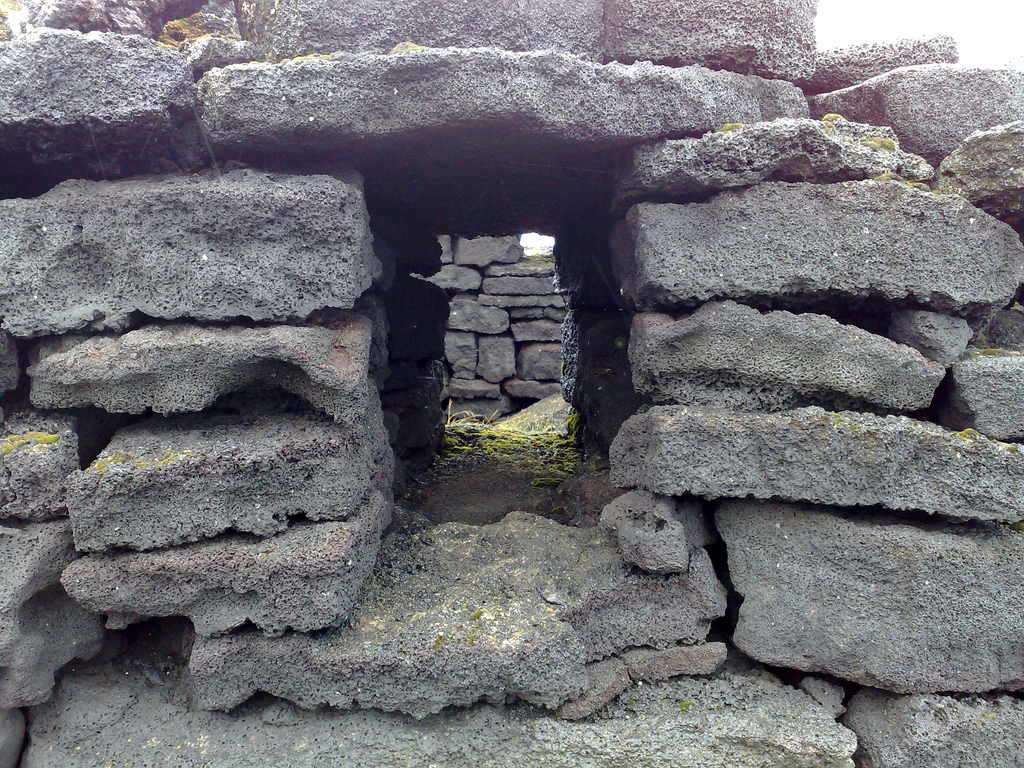 One odd thing about Selatangar was the amount of garbage we came across strewn over the area: everything from fishing nets to deodorant bottles. At first I thought this was a result of rowdy Icelanders driving out and dumping their refuse on the site; then I realized that it was all coming from the ocean. I had no idea there was so much floating around in the water waiting to wash up in the middle of nowhere.
From Selatangar we continued east to visit Strandarkirkja, a tiny perfect church right a stone's throw from the ocean: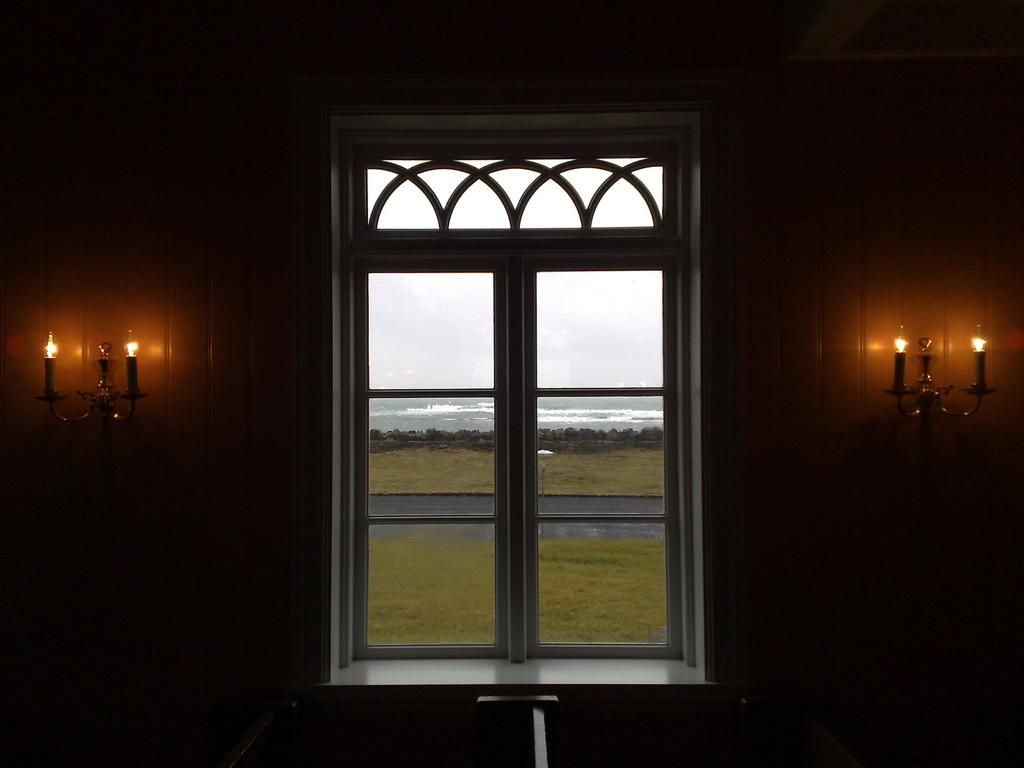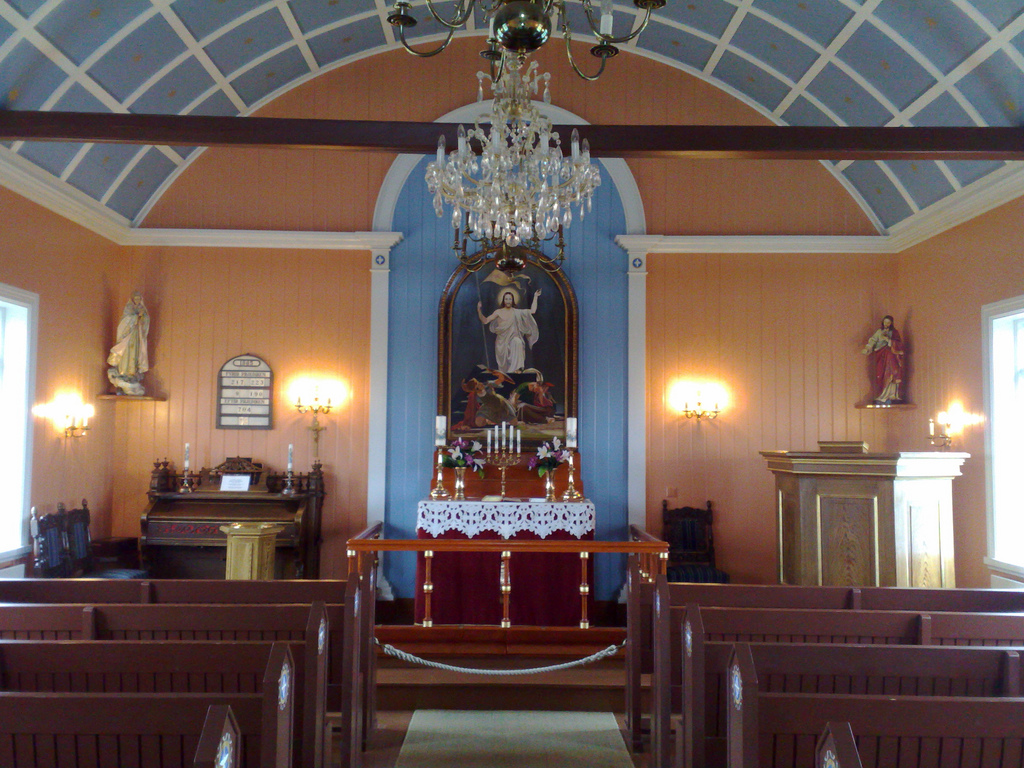 We grabbed a coffee at a little place just up the road to tide us over, and around 1:30 p.m. we headed toward Hveragerði in earnest. Our journey was slowed somewhat by some hard-edge road construction: they don't seem to bother with flag-people on road crews here, so there was some harrowing "oh, that's a front end loader about to drop a load of lava rock" driving to be done. We emerged out the other end and hit pavement once again, and were in Hveragerði 10 minutes later.
Following the advice of Rough Guide, we had lunch at Cafe Kidda Rót in the plaza on the edge of town: turned out they make an excellent burger and a serviceable asparagus soup and we left happy.
Frost and Fire Guesthouse, our home for the night, was a quick drive through town up the hill. As with road crews so went hotel check-in: reception was empty so I picked up the house phone and the woman on the other end promised to be right there. She arrived two minutes later, walked me to our room, and then disappeared: no credit card check, no "what's the license plate number of your vehicle," no passports or ID required. Her only instructions: "you can use the pool and hot pot whenever you want." I could get used to this laissez faire approach to service.
And after a long soggy day, we were ready for a swim and a soak: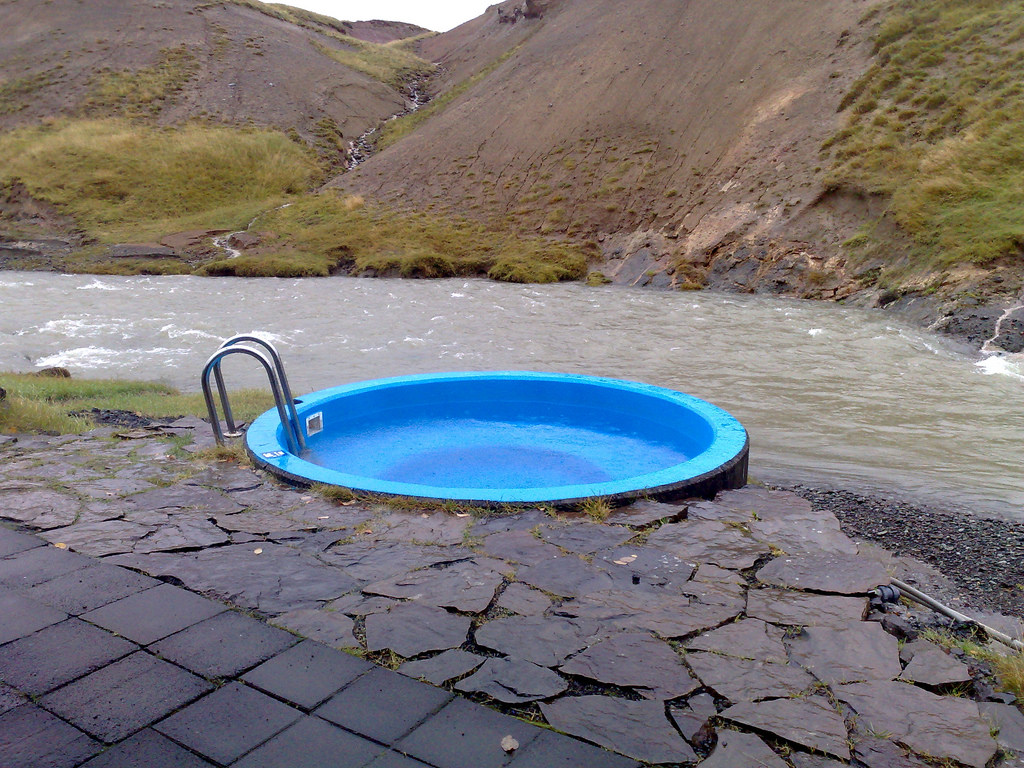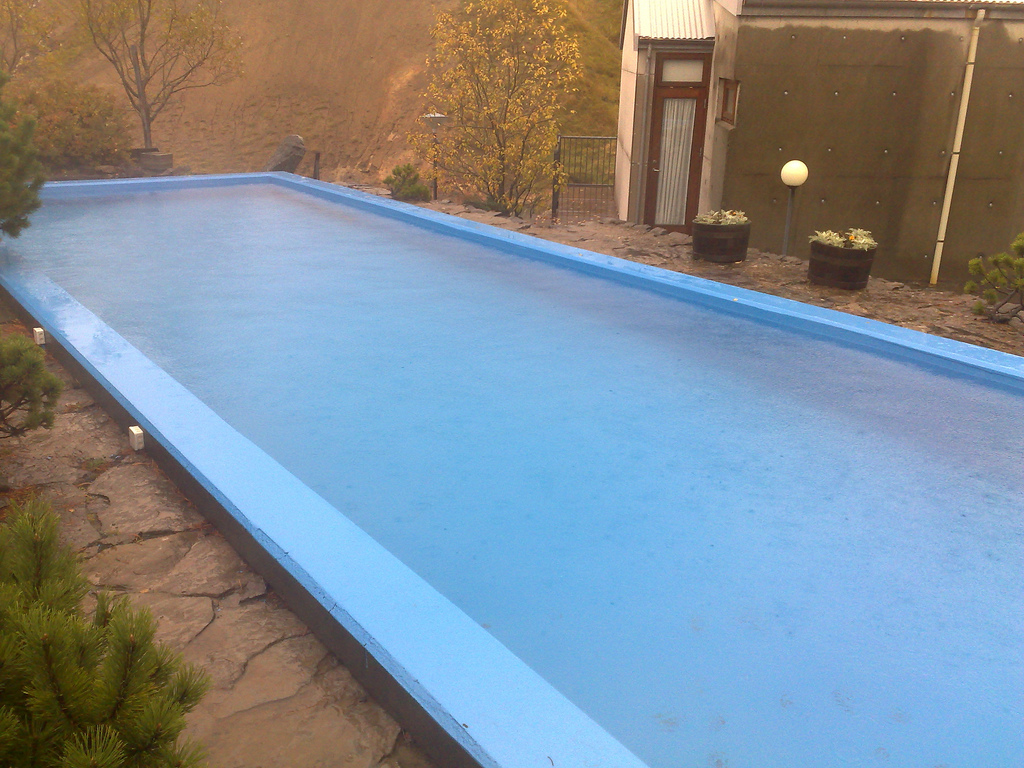 The air was 7 degrees C. The walkway to the pool from our room froze our feet. But the 38 degree water cured whatever ailed us and we spent a good hour lolling about.
For supper we headed up the road into Selfoss to eat at Menam, a Thai restaurant. Very, very good Thai food too: coconut ginger chicken, spicy beef, deep-fried shrimp all served over rice with a salad on the side.
As I type Catherine and Oliver are fast asleep and the rain continues unabated. Tomorrow we're going to walk up the hill across the river to see the new geothermal action created by a 6.5 earthquake they had here in May, and then we'll do the Golden Circle, or at least part of it, before heading northwest to Borgarbyggð where we'll spend the next two days exploring western Iceland.