Here's a 5-year chart (courtesy of Yahoo!) showing the value of the Canadian dollar vs. the U.S. dollar: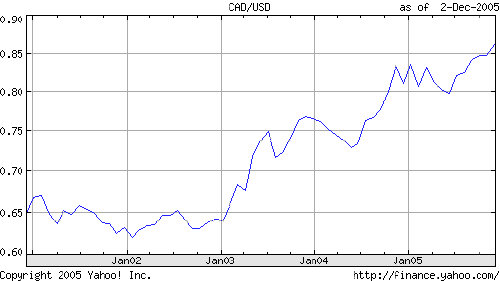 I know next to nothing about the currency market, and even less about trend lines and predicting, but it seems pretty clear to me that, all other things being equal, we're heading for equivalence sometime in 2007.
Here's a federal issue that it's hard to know how to get behind. Certainly governments have marketed the lower Canadian dollar in recent years to those in the U.S" especially Hollywood and tourists, as a reason for doing business with us — "your dollar goes farther," etc.
As this benefit quickly slides away — which, if I understand economics correctly, is a generally good thing, economy-wise, as it means that others think Good Things about Canada, and thus consider our currency worthy of owning — I wonder what the federal stance should be now.
At some point does having a more-valuable currency have more of a downside than an upside?