Yesterday was a long travel day home to Charlottetown: I woke up at 5:00 a.m. local time in my Malmö apartment and went to sleep in my Charlottetown bed at midnight, almost a 24 hours later.
One of the legs in that journey was a British Airways flight, № 811, from Copenhagen to London, a flight scheduled to fly as a ferocious wind storm was making its way through Europe. So I expected the worst.
I first noticed that something was untoward when I tried to do the machine self-checkin at the Copenhagen Airport: I was directed to the counter to check in manually, which is never a good sign.
The clerk at the (mercifully short) line told me that the flight might be delayed, but that I should proceed to the gate for the scheduled 8:05 a.m. departure time. She was friendly and efficient, and there was a printed "hey, this might be a rough travel day" letter on the counter in front of her to reinforce what she told me.
A quick pass through security (I believe I may have been misidentified as priority passenger "Herr Bergmann," but I wasn't going to look a gift horse in the mouth) and I was enjoying a coffee and sandwich at Joe & The Juice ten minutes later (it's a distinctly un-airport-feeling kind of place, and thus an excellent place to fool yourself into thinking you're just hanging out).
During this time the British Airways mobile app was displaying a rather odd situation, where the plane was departing on time, but arriving more than 90 minutes late: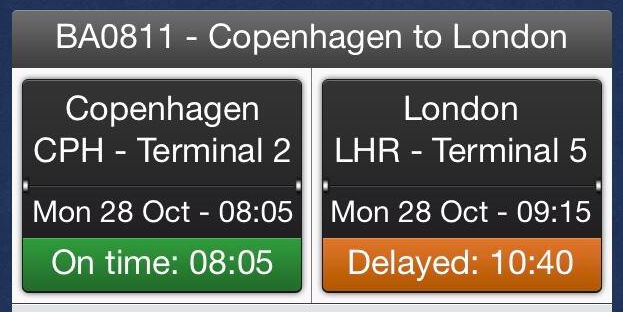 The reason for this became apparent when I got to the gate: Heathrow airport had moved the flight's "landing slot" to 10:40, but the airline's plan was to board everyone as schedule with the hopes that we could get an earlier slot and be ready to go just in case.
And so that's what happened: acting as though everything was perfectly normally, the flight boarded for an 8:05 a.m. departure.
And then, once we were all aboard, the captain, a pleasant chap with a dry wit and hearty laugh, came out into the cabin to break it all down for us: if everyone had been left to mill about the terminal and an earlier landing slot came up, they wouldn't be able to pounce on it, so their plan was to load us all up, do the safety demo, and then pull back from the gate, fire up the tea boiler, and tuck in for a wait.
As it happened, as soon as we pulled away from the gate and taxied out to the area where tea boiling is permitted (by virtue of being allowed to run the auxiliary power unit, which isn't allowed at the gate), a landing slot did come available at Heathrow, and we took off shortly thereafter.
Our actual departure, thus, was 8:42 a.m. and we landed at 9:50 a.m., only 35 minutes late.
Communication was clear; expectations were communicated ("we might be really late, but we're going to try to see what we can do"); and so when we arrived late, it seemed like a gift rather than a customer service issue.
Bravo, British Airways, for doing what so many other airlines cannot seem to do. I will fly with you again.