Barristas is the new wrapping put on the space formerly occupied by the Downtown Diner and, before then, by Checkers and, before then, by a furniture store. Word on the street is that it's also the new home of the former Cora's franchisees, something the 7:00 a.m. to 3:00 p.m. opening hours would seem to support.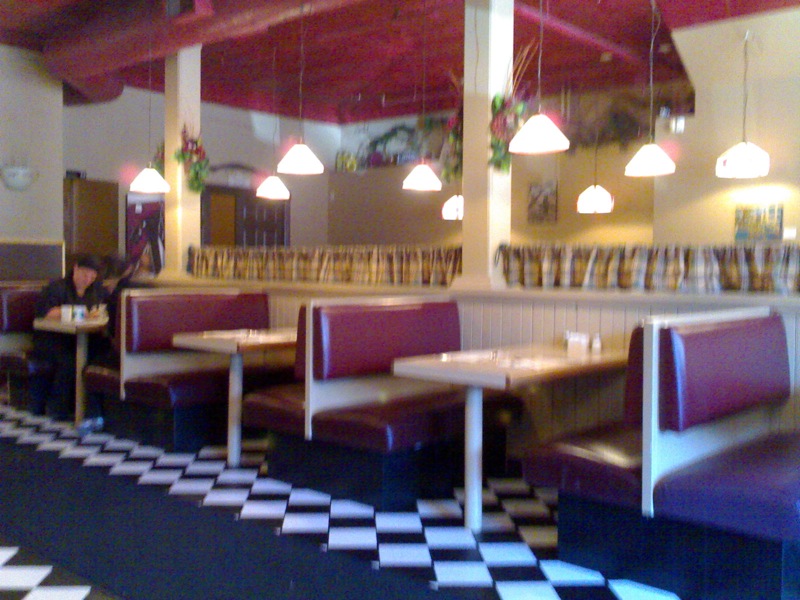 Inside the space has lost most of the faux 50s feel it gained during the Checkers days — only the black and white tiles on the floor recall this time. They've constricted the large counter that used to run the length of one side back into a far corner, removed the smoking room, and done everything over in an aubergine colour scheme. There's lite rock on the turntable, servers clad in black, and Island art on the walls. Overall the effect is sort of like "Timothy's meets Linda's".
The menu is more Linda's than Timothy's (or Cora's), albeit tuned for a higher income bracket ($9.50 for waffles!?). Eggs, omelets, french toast, etc. Precious little if you're not an egg lover, alas. I reconciled myself to ordering from the sides section and had a bagel with cream cheese and hash browns; both were well-prepared. I pulled the old "pot of tea and glass of ice" trick to get myself an unsweetened iced tea; I didn't make a fuss about it, and got exactly what I asked for, which was nice.
For a place called Baristas, they serve coffee in a surprisingly limited fashion: basically, they have "coffee." Albeit from a large menu of varieties. If you like your coffee straight and unadorned, you'll be happy here; if you're of the "low fat latte with a double shot" set, go around the corner or across the street.
In the end Barristas appears to target the "everyday Islander" who's looking for a regular everyday restaurant with a thin veneer (and only a thin veneer — no earrings in the lips here) of urban hipness. I wonder, however, whether this "everyday Islander" exists any more — is Beanz really too drenched in funk that some are scared off.
Staff — free of earrings as they are — are incredibly friendly (there were four servers for two tables this morning). Wifi is free and plentiful.