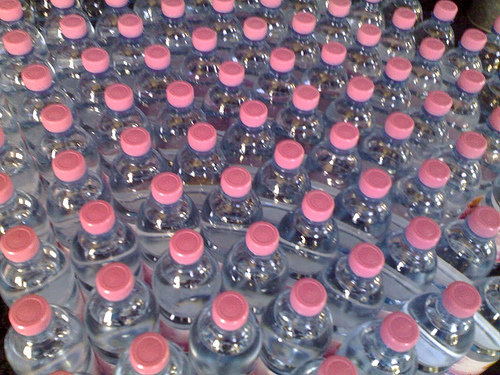 You may recall that back in September I reported on an Eastern School District meeting (back when such affairs were calmer) part of which was a presentation by Leo Broderick and Mary Boyd on bottled water and why it should be avoided.
Although I poked fun at their long-winded presentation, the heart of the matter — advocacy for water as human right and not a commodity — struck a strong chord with me, and I've not purchase a bottle of water since and have been quite happy, in general, with Charlottetown's municipal water supply as an alternative.
I tried to kick things up a notch on Monday night at the meeting of the Prince Street Home and School Association. We were discussing our annual Spring Fling event — the association's main fund-raiser — and the topic of using bottled water came up. I invoked the memory of the September meeting (held, by coincidence, right at Prince Street School) and suggested we consider not using bottled water at all.
While there was some conceptual support for this idea, my advocacy ultimately failed.
The first sticking point surrounded the need to deliver water to the many volunteers working around the school during the event: traditionally this has been done by bringing them bottled water, and there was a feeling that trying to bring them cups of water was impractical given the crowds and the commotion of the event. Maybe there's a solution to this, but we didn't arrive at one during our discussions.
Second was the issue of what to sell at the hot dog stand instead of water; while juice was a possibility, it was generally agreed that without water many people would default to buying pop: bottled water's very status as an expensive commodity lends itself well to fund-raising and selling sugary bottled water instead would hardly be a step ahead.
I'm certain that with more time and some creative problem solving both of these issues could be resolved in a way that would remove bottled water from the equation and not compromise the event, but it was time the meeting wasn't willing to spend.
While the anti-bottled water education effort has made inroads over the last few years, it seems like what's really needed to take things further in situations like this is very practical "how to" advocacy: "A Guide to Holding Your Event Without Bottled Water," for example. I'd welcome pointers to such resources, and offer my support to anyone who wishes to advocate in this area.