Some days are just, well, interesting.
Our day started around 9:00 a.m. Oliver and I headed out on our morning run to the boulangerie, ordered une baguette, deux pains aux chocolats and a nice green pepper tart for Catherine. Returning home, we had a pleasant breakfast, enjoying the newfound warmth of recent days (spring has really arrived here in earnest; when we started our visit you could still feel the chill of winter in the mornings).
I got some work done after breakfast, and Catherine and Oliver headed to the grocery store and the post office. Around noon we had a nice lunch of sandwiches with mushrooms, goat cheese, tomatoes and olives. A little more work after lunch, and then I shut up shop and we headed out for an adventure.
We had resisted going to the sea so far, even though we're only about 45 minutes from the Mediterranean, because we wanted to wait until it was warm enough to walk on the beach. Today certainly seemed to qualify, so we set that as our goal.
We had a couple of stops planned along the way: I wanted to stop in Clermont-l'Hérault to upload some email and grab some files, and I thought we might stop in a little "model factory village" nearby called Villeneuvette. We would then head quickly cross-country to Sète and the ocean.
We parked near the now-familiar Mcdonalds in Clermont-l'Hérault and Catherine and Oliver took advantage of the playland therein to occupy themselves while I got unwired. I found an exciting new place to position myself to receive the same old WiFi signal, on a cement ping-pong table a little up the street; far more comfortable and somewhat less conspicuous. I was over and done in about 20 minutes, much to Catherine's surprise.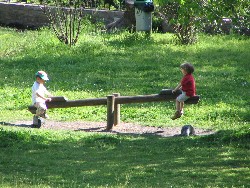 Villeneuvette proved to be a very pleasant stop. A small walled community once originally built around a now-dormant flag factory — Manufacture Royale — the village is completely untouched by time (i.e. if this were PEI there would be a large "FlagLand" shop out front; there wasn't). Oliver had a pleasant time playing with a small Italian-speaking boy on the teeter-totter while Catherine roamed the alleys and I enjoyed the sun.
Back out on the highway, our plan to "head quickly cross-country to Sète" went off the rails in short order as we realized that there was a rather large mountain range between us and there, and the road that looked straight on the map was, in fact, quite hilly and full of twists and turns.
Nonetheless, the scenery was fantastic, and we were glad to be off the autoroutes for a while, so we forged on up and around and around and around.
About 4km along the road we came to a sign for a "Mine du Pioch Farrus." We weren't sure what it was about (does "mine" mean the same in English as French, we wondered), but it looked intriguing, so we turned in and drove over a couple of hills and around a couple of bends until we arrived at a small parking lot in front of a small building built into a hill.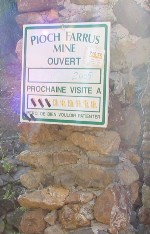 Inside we found a man of perhaps 50 who bore a striking resemblance to Santa. If Santa worked part time in a mine, wore a hard hat, and smoked. Using a combination of his poor English and my poor French we determined that we had arrived by chance at the site of the oldest mine in France, a copper mine founded in pre-history and later used by the Romans and then even more recently. We could head into the mine on a tour that was to leave shortly; there was a French family of four already dressed in hardhats and waiting to go.
Of course we went.
Oliver got a hard hat sized down for him, and he and Catherine were given blankets to wrap around them to keep out the chill down below.
It turns out that we didn't, in fact, need to go down at all: we simply walked, horizontally, right into the mine; after 3 minutes walk we were 50 metres below the surface, having walked into the side of the hill.
Our bearded guide did his best to provide the highlights of the tour to us in English, bless his soul, and we learned quite a bit about mining for copper. He was very good with the kids — showed them where to look, and gave them little bits of rock to hold. We saw veins of copper, quartz, and dolomite, explored the various tunnels used prehistorically, by the Romans, and more recently, and saw evidence of the various methods used by each to mine, from "banging really hard with harder rocks" through dynamite. Could there be a better serendipitous tour for the son and grandson of a geologist?
After a thorough tour of the mine, we headed back out into the sun, said goodbye to our host and fellow tourists, and turned back onto the hilly road south.
We realized soon that we were really going to go quite far up and over aforementioned mountain; indeed when we reach the top we had a view for what must have been a hundred miles: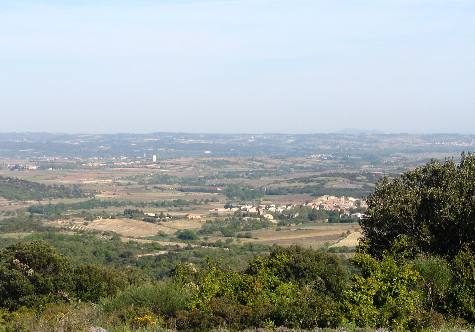 Ten minutes into this leg of the trip, Catherine developed a headache of unknown cause. And she'd forgotten to back the Tylenol. Thank goodness a large part of my French language education consisted of various dialogues that involved being "mal à la téte" as I put this to use when I walked into the pharmacy in Roujan and explained, in attempted French, that "my wife has a sickness in her head; do you have anything that might help?" and received in answer a quantity of Tylenol under its European name that sounds something like "Parametrocal."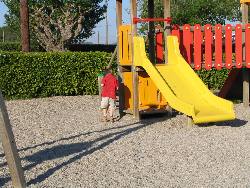 While I was at it, I stopped by the boulangerie and the épicerie and bought us a little snack to tide us over. I then rejoined Catherine and Oliver, waiting at Roujan's excellent playground, and we munched before heading south again.
From Roujan the road was much easier going; indeed it was almost straight south to Pézenas, and the entire route was lined with towering trees on either side.
From Pézenas we did a complicated zigzag dance of highways and interchanges that eventually got us to the sea at Marseillan, a small beach town between Agde and Sète. The town itself was similar to Old Orchard Beach, complete with ice cream stands and innumerable open air restaurants. We headed straight for the water, though, and while Catherine took a nap in the truck, Oliver and I played on the beach and got ourselves covered in sand.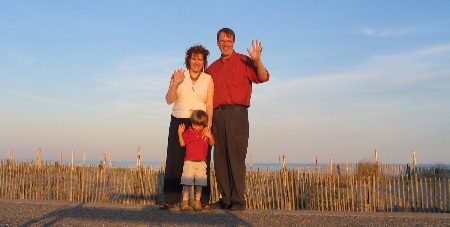 We realized at this point that the sun was starting to go down, and we'd better find a place to eat dinner. We piled back into the truck and headed into Sète.
Somehow we ended up approaching downtown Sète in such a manner that rather than being able to find a place to park and set out to eat, we were forced suddenly to turn left and drive up the large mountain that is right in the middle of the town. This is a large mountain, right on the sea, and by the time we reached the top — there were no opportunities to turn back or divert — the view was breathtaking. We stopped to take pictures, and then headed on over the mountain and approached the town from the other side, ending up right in the middle of the Friday night craziness.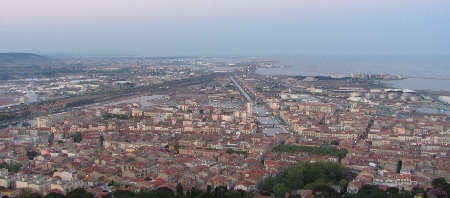 In an attempt to approach things calmly (we were getting ever more hungry by this point), we decide to park and walk. Except that our attempts to park (alas proving the lessons of the guidebooks true for once) proved futile, and we came very close to accidentally climbing the mountain again.
We decided it was best to head into suburban Sète to see what we could scrounge up for dinner.
Once of the most perplexing things about day to day French life is how early everything closes. Giant super grocery stores that sell everything from salmon to TV sets close up shop at 7:30 or 8:00 p.m. Restaurants close by 10:00 p.m. in most cases. It is not a country for the night owl. And by this time it was nearing 9:30 p.m. and Oliver realized we'd forgotten to have dinner and decided to remind us of this somewhat strongly.
Fortunately for all, around a bend and we found a cafeteria that was open until 10:00 p.m. The cafeteria, long since disappeared from all but institutional settings in Canada, is alive and well here in France, and this was but one example. All of the usual cafeteria things are present — trays for your food, a cold station, a hot station, and so on. In France, of course, there is also a wine station and a cheese station. And very handy little wheeled carts that families can use to hold multiple trays.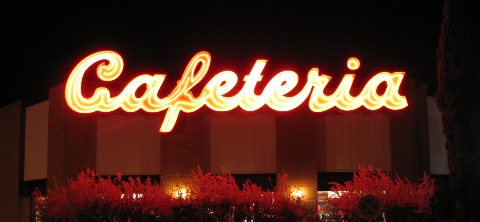 Arriving at 9:30 p.m. at a cafeteria that closes in 30 minutes and expecting tasty fresh-cooked food was something of a pipe dream. Add to that our inability to understand the subtlety of statements like "we are all out of that thing that it says we have on the menu but we do instead have this other thing here" and you can understand how Catherine ended up with what I think was boiled duck (do they boil ducks?) and I ended up with an oddly tasty dish made up of potatoes, carrots, and what appeared to be squid legs (do squids have legs? why do all my mysterious adventures involve squids?), all covered in a cheesy red sauce. Catherine got a small carafe of wine for 1 euro, Oliver some orange juice in a special kids squirt bottle, and a had my first Pepsi in ages, reasoning that I needed strength to get us home. Oliver and I split a piece of chocolate cake to finish it all off.
All things considered, it was food and we loved it.
Looking at the map after dinner, we realized that there are no roads from suburban Sète to Aniane. Or rather what roads there are look, on the map, dangerously like they might involve serious hill climbing. Something we weren't prepared for at this point.
So we headed in a roundabout way into Montpellier, and then back out the N109 to Gignac and up to Aniane. We got home on the stroke of 11:00 pm.
It was about as interesting a day as you could ask for.