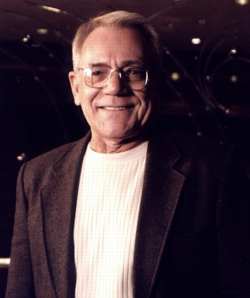 Billy Van died on Wednesday.
Although the various obituaries in the media have talked about his work on Sonny and Cher, on Bizarre, and on Hilarious House of Frightenstein, it's Party Game I'll remember him for.
Party Game was produced by my hometown television station CHCH-TV in Hamilton, Ontario. The show was hosted by Bill Walker and starred Billy Van as well as Dinah Christie, "Captain" Jack Duffy and various others.
The show was, essentially, "charades on television." Although it was locally produced and very low budget, I remember it as being, in the fog of my youthful memories, very urbane. I didn't have Dorothy Parker and the Algonquin, I had Party Game.
Billy — and all of them — were witty and quick. They had fun. It wasn't Hollywood, but in the 1970s in Ontario, it was pretty good television.
Billy Van will be missed.