One of the delightful aspects of visiting my colleagues at Yankee Publishing is that, as a publisher that's nearing 80 years in business, there's been a substantial opportunity for the company to have acquired a lot of interesting tools of the trade.
Last week, for example, I discovered that the Xerox DocuColor copier, scanner and printer in the Production department (itself interesting tool of the trade) has a booklet-making feature: from my Mac it's very easy to say "take this PDF file and make it into a booklet," with the resulting booklet having each page of the PDF printed on half of an 8½x11 inch piece of paper, and everything collated so that when folded in half it reads in the proper order.
Once I'd made a booklet, I needed a way to staple it, and a path of inquiry through the company led me to the Yankee Magazine editorial department, where I found exactly what I needed, a Swingline stapler with an extended arm: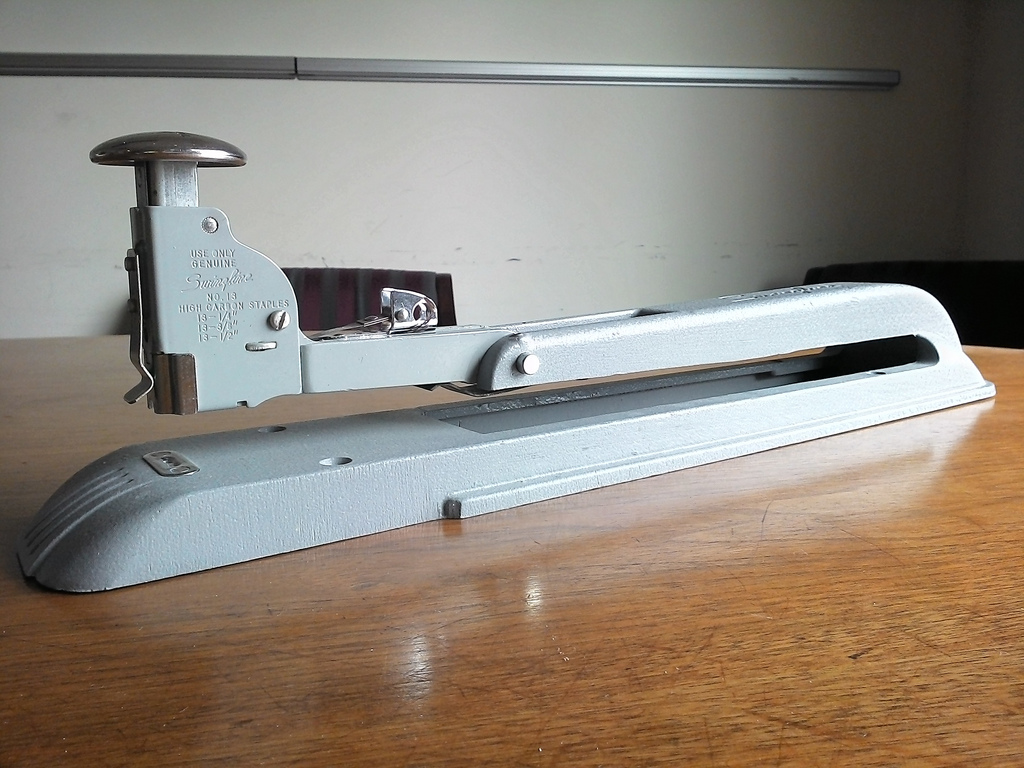 The stapler does exactly what you think it should, with a very satisfying clunk on every staple. (Those metal bars running along the wall, by the way, are where pages of the next issue of Yankee get posted for everyone to review).
My company Reinvented renewed our contract with Yankee last week to take us up to 2016, a year that will be our 20th anniversary of working together. Which means there's plenty more opportunity to discover interesting tools in Yankee's nooks and crannies.