Life for CBC reporter Rosemary Barton, and everyone else covering the federal NDP campaign, has gotten a lot more interesting this week, as the campaign has had the elusive kavorka of "the big mo' " delivered upon it. At the beginning of this election covering the NDP must have seemed a lot like covered the Western School Board, and certainly there was no hint of momentum when things started. How things change: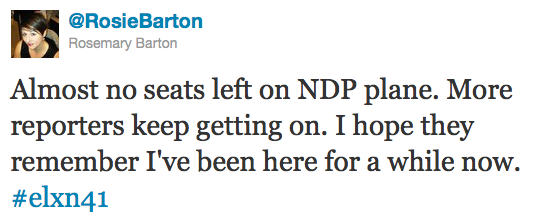 Whether the so-called NDP surge is an illusion or reality doesn't really matter any more: momentum is like a toggle switch, and once you got it, it feeds itself. As a significant stumbling block for the NDP in past elections has been the "I'm with them, but I'd be wasting my vote" argument, having momentum – the chance of something big – is like magic fairy dust for the campaign in a way that wouldn't ever be possible for other federal parties.
Watching The National last night the NDP momentum was a study in this: "the rise of the NDP could take Canada into uncharted territory … so much for the uneventful campaign, what's really happening out there … is it possible to blunt a last-minute surge" were the opening lines to the broadcast and the first five minutes were all-NDP-all-the-time. The Liberals didn't get much mention until 6:30 minutes in, and the Conservative story, at 7:00, focused on Prime Minister Harper's defense of Canada's export of asbestos, which isn't exactly a barn-burner of an issue outside of, say, Asbestos, Quebec.
All of which called to mind "The Big Mo' " from the (fictional) Vinick vs. Santos campaign on The West Wing and the episode "Message of the Week":