Last night after supper Oliver announced that he wanted to go out for dessert. We let him choose where, and he led us to Just Us Girls.
We arrived just before 8:00 p.m. We found a table for three and sat down; a few seconds later the waiter came over and told us that he was sorry, but the kitchen was closed. I took this to mean "we've stopped making food, but we're ready to rock into the late nite hours." What it actually meant was "we close at 8:00 p.m."
In my fog of misunderstanding I asked whether, despite the closed kitchen, we could still get dessert and coffee. He thought for a second and said "sure."
Oliver ordered the crème brûlée and I ordered something I read incorrectly as "flawless chocolate cake" on the menu which was actually "flourless chocolate cake."
Regardless, when it came out a few minutes later it turned out, in fact, to actually be flawless, and is perhaps the best dessert you can get in a restaurant in Charlottetown: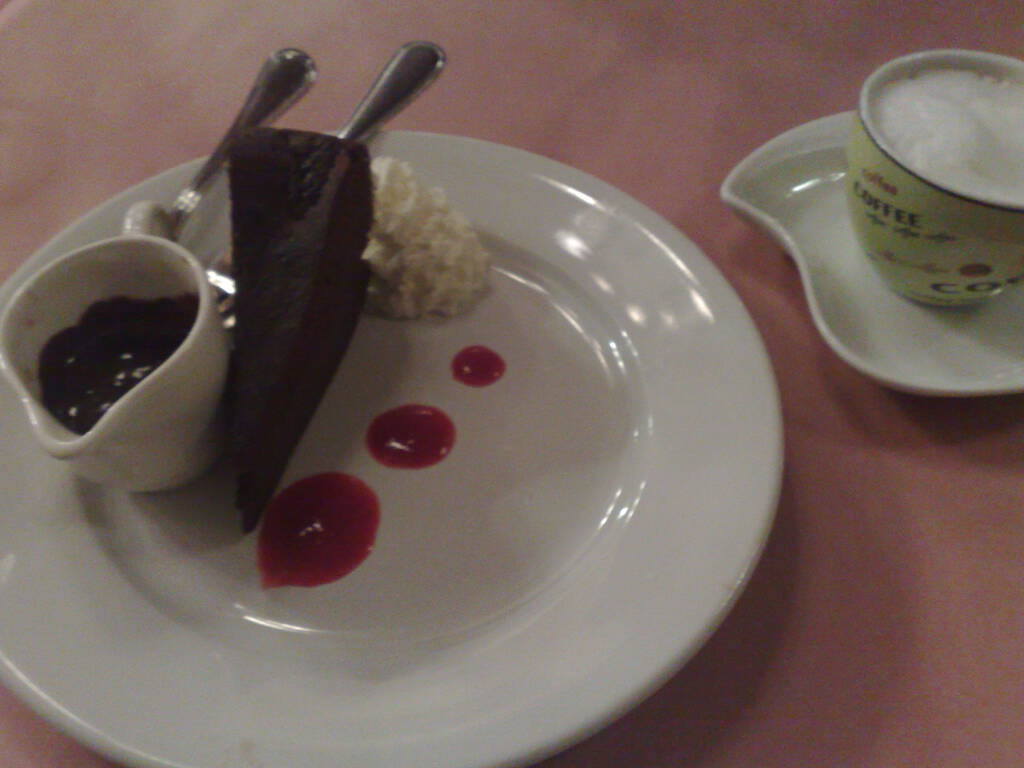 The cake has the moist richness of cheesecake, and the perfect balance of chocolate and sweet. What takes it over the top, however, is the tiny pitcher of warm chocolate that's served with it: pour chocolate over cake and the result is an orgasmic chocolate delight.
It wasn't until we prepared to leave and found the doors locked and the cash being counted that we realized that they'd actually closed the restaurant a few minutes after we arrived; it's a testament to our excellent server (and perhaps to my general dullardness) that we never felt unwelcome or rushed.