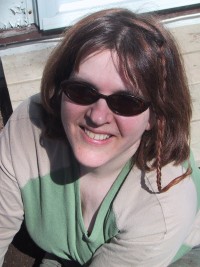 Ten years ago I pulled a rental van up to my new rental house Peterborough, Ontario. I'd been told that a woman named Catherine, who lived in the house next door, had the key. And, sure enough, she did. I seem to remember that we flirted a little on that first meeting, but I might be making that up.

I moved in next door, and, over the course of the summer, Catherine and I got to know each other. I was working insane hours at the Peterborough Examiner, Catherine was working as a disability rights advocate, artisan, collector of hubcaps, and hostess for a motley collection of rabblerousers who would ramble in and around our two houses to play guitars, drink beer, and generally enjoy the summer. I'm not sure I knew quite what to make of her.

Over the course of that summer we gradually got to know one and other, spurred on partly by the subtle matchmaking of our friends.

That fall, on October 5, my little brothers turned 19 and I invited them, and our grandmother Nettie, up to Peterborough for the weekend and threw a birthday party in their honour. The party ranks as one of the more surreal experiences of my life: Johnny and Steve were presumably off somewhere enjoying the pleasures of legal alcohol, our extended network of friends and hangers on were everpresent, and Nettie, who'd brought her mandolin, started playing duets with our friend Irene, who'd brought her accordion.

At the tail end of the evening Irene needed a ride home and, on the spur of the moment, I invited Catherine to come along for the ride. In the heady surreal atmosphere of that night, after dropping Irene off at her house, we shared our first kiss (Catherine's idea; I happily agreed). Ten years later, we are still together.

When you are living in sin over an extended period of time like we are, you need to come up with a somewhat arbitrary date for the start of your relationship, and we have choosen that night, October 5, 1991, as ours.

So, happy anniversary Catherine. Thank you for 10 wonderful years.

Oh, and happy birthday Johnny and Steve! And Nettie, up in heaven, I hope you'll strum a chord or two on God's mandolin for us all.