One of the duties of the President of PEI Home and School Federation is penning a monthly columns for The Guardian newspaper; as I hand over the position to someone new this Saturday at the Federation's Annual General Meeting, this week's column was my last, and my editor at the paper crafted a lovely headline to go with it – "Be part of the superpower" – that neatly sums up why I'm so passionate about Home & School as a vehicle for change.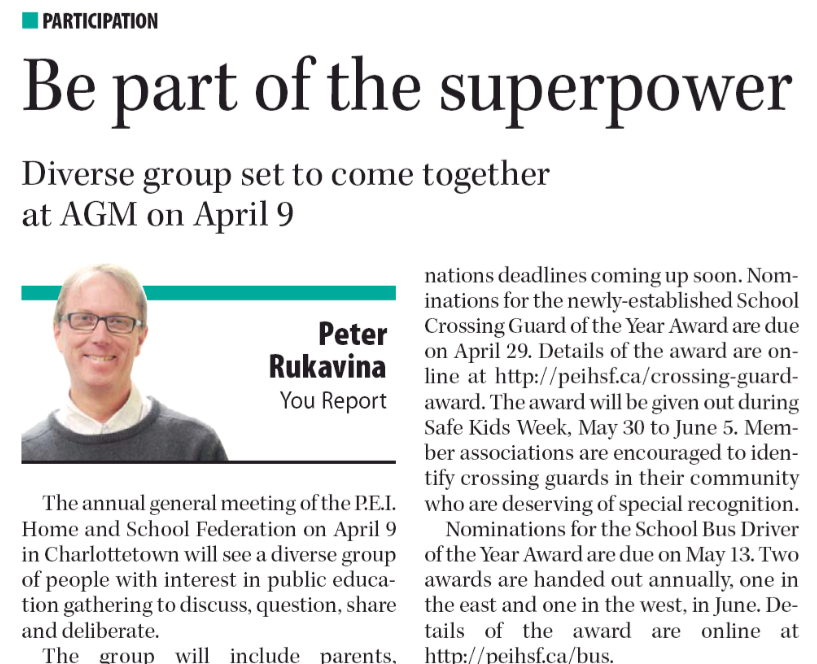 The headline extends from this paragraph:
What is unique about this meeting is the breadth of the participation: a table at the meeting might include the Minister of Education, a local union president, a teacher, a principal, and several parents and guardians. The superpower that this affords Prince Edward Island is estimable: what might take years to develop consensus around in larger jurisdictions can happen in a morning here in Prince Edward Island. It's a superpower that Home & School members are rightly proud of. Next month's column will summarize the results of these discussions.
And I genuinely believe that.
Although I cede the presidency to someone new on Saturday, I'll continue to be involved in home & school: Oliver, after all, has three more years of public education left, and I continue to sit on the Federation's executive as Past-President for another two years.
Twenty-year-old-Peter would never believe that fifty-year-old-Peter would feel so warmly about such activities, but I do. Weird.