If you have visited the Coles Building, or Province House in Charlottetown, or even just driven down Richmond Street between Queen and Prince, you are sure to have seen the statue of a soldier on a
battlefield, bayonet at the ready. The statue is old and green and not in the best of shape. Perhaps you've heard it referred to as the "Boer War statue."

Somehow I missed the Boer War in school: it fell between the cracks between the Family Compact and World War I. Today I found myself, camera in hand, in front of this statue, and after taking a couple of pictures I decided I should find out more.

The Boer War, which began in 1899, was a war between two colonial powers, the Brtish and the Dutch, over control of (and fought in) South Africa. The war was supposed to be a quick affair but, like most wars, it dragged on much longer than the British thought it would, finally ending in 1902.

One of the major battles of the war was the Battle of Paardeberg, fought on February 18, 1900. Among the dead that day were two Prince Edward Islanders, members of the Second Battalion, Royal Canadian Regiment. Their names were Roland Taylor and Alfred Riggs. And their contribution to the war, and their death in it, is memorialized at the base of the Boer War statue.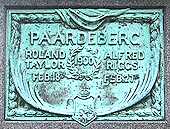 The head of the Boer contingent at the Battle of Paardeberg was General Piet Cronje. Cronje made a stand in the path of the Canadians, and 60 yards west of this stand, known as Cronje's laager, is where Riggs, W.A., Pte., R.C.R.I. 2nd (Special Service) Battalion, "G" Co. is buried.

The Boer War statue was constructed in July of 1903, making it 100 years old next year. To quote from Catherine Hennessey's website:

It is a fine monument, too and it needs cleaning. The sculptor for it is prominent as well. Hamilton McCarthy, a British sculptor who had settled in Canada was one of the two artists for The Alexander MacKenzie monument on Parliament Hill, and he himself did the South African War Monument in Ottawa and that wonderful piece on top of the hill, near the Art Gallery, of Samuel de Champlain.

Although our piece of sculpture was not as grand as we had hoped for it's pretty nice. On that July day in 1903 when it was unveiled what was lost in stature [so to speak] was made up for by the numbers that attended and "by the order, precision and dignity " of the event.

Next time you're walking by, stop for a second and remember.