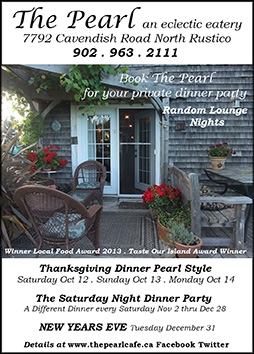 Three years ago I had my first meal at The Pearl, the gem of a restaurant on the road between North Rustico. I've been back several times since – though never enough times, and only twice so far this year.
If you've never been, I highly recommend it: it's a special place, with excellent food, excellent service, and no pretense.
And this year you'll have extra opportunities, as The Pearl is extending its season all the way through Christmas, including:
Thanksgiving Dinner Pearl Style on October 12, 13 and 14
The Saturday Night Dinner Party, every Saturday from November 2 to December 28
New Years Eve on December 31
They're also opening for private dinner parties. Find out more on www.thepearlcafe.ca.