Apache. Running on my iPod. http://ipod.ruk.ca/ (taking the iPod home, so offline for now!). Freaky. And, of necessity, short-lived, so get it while you can.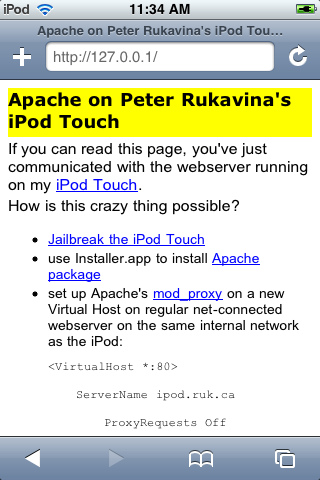 Update later: Well, 62 of you visited the iPod server test page. Thanks. A couple of things I'd like to explore more:
I'd like a solution like Nokia's Mobile Webserver Gateway (aka Raccoon) so that I could make the server available from whatever dynamic IP address on whatever wifi network I happened to be roaming on. The Raccoon solution is drenched in Java and is unapproachable (at least for me), perhaps in part because it has to be concerned with GSM data networks instead of just wifi. I'm wondering whether something simpler might work.
It would be nice to have more information about the internal data formats of my personal data on the iPod Touch — calendar, contacts, "Now Playing" song, accelerometer action ("I last moved 13 minutes ago") and so on. I'm sure there's documentation of this, at least in dribs and drabs, available out there. A web interface to some or all of it would be cool.
There's the harder-to-solve problem of the fact that the iPod Touch sucks battery life when wifi is left on all the time. With wifi turned on manually only when I need it, I can get 24-36 hours of battery life; with wifi left on I can be down to nothing in 4 hours.
This is cool and interesting, at least to me, for the same reasons that Nokia says it is.