So our friend G., who likes to stay well behind the technology curve, up and bought a DVD player this afternoon. They cost less than $30 now, and he was finally ready to take the plunge. In doing so he managed, at the same time, to completely miss the complicated "video tape" era altogether, thus saving himself years of waiting for tapes to rewind.
As it turns out his television is from the 70s, or at least the 80s, and is missing the interface required by modern cheap DVD players, so we had to head out to Wal-mart and invest an additional $22 in a little box that bridges the gap (kudos to Wal-mart staff for being helpful and knowledgeable). So now he's got lots of wires running around the room, but he can rent DVDs.
Which is how we ended up standing in front of this thing at 9:30 p.m. this evening: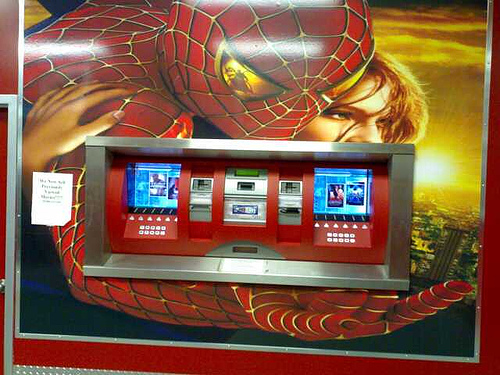 This is a robotic DVD dispenser, recently installed under a "Niko Video" banner, in the little plaza behind Source for Sports on University Avenue. Once you sign up for an account (you just need photo ID), and add some money (minimum $5) to a stored-value card, you can use the robot to rent DVDs 24 hours a day.
Besides the "no interaction with artificially peppy Blockbuster kids" benefits that the faceless robotic system affords, their prices are cheap and you can rent for as little as six hours ($1.83).
The whole "six hours" thing is a little deceptive: it seems like an awfully long time, but when I brought Proof home I realized that I had to have it back before 3:00 a.m. to make it under the 6 hour window. Even 12 hours — the next plateau — would leave me with 9:00 a.m. Still, it's nice to have the choice, and you don't need to decide your rental window when you rent — the robot just adds it up and deducts the appropriate amount from your account when you return the DVD.
The robot isn't completely in control, actually: the new account process involves real human interaction (humans present until 10:00 p.m.) and, in fact, it helped to have said human around to explain how to interact with the robot, which is a little complicated and could use some UI work (i.e. the button you press to scroll "down" actually points "up").
No word on what G's first rental will be.