Spring is here and there's lots happening on the Charlottetown restaurant scene.
The old home of Action Press at the corner of Sydney and Queen — they were always my favourite printer and paid me several kindnesses over the years; alas they're now out in the Shops of St. Avards — has been shrouded in mystery (literally — scaffolding and a blue tarp have covered the building for many months). A while back a sign went up on the side of the building confirming rumours that it will soon open as a steak house called Sims Corner (update: it's now open):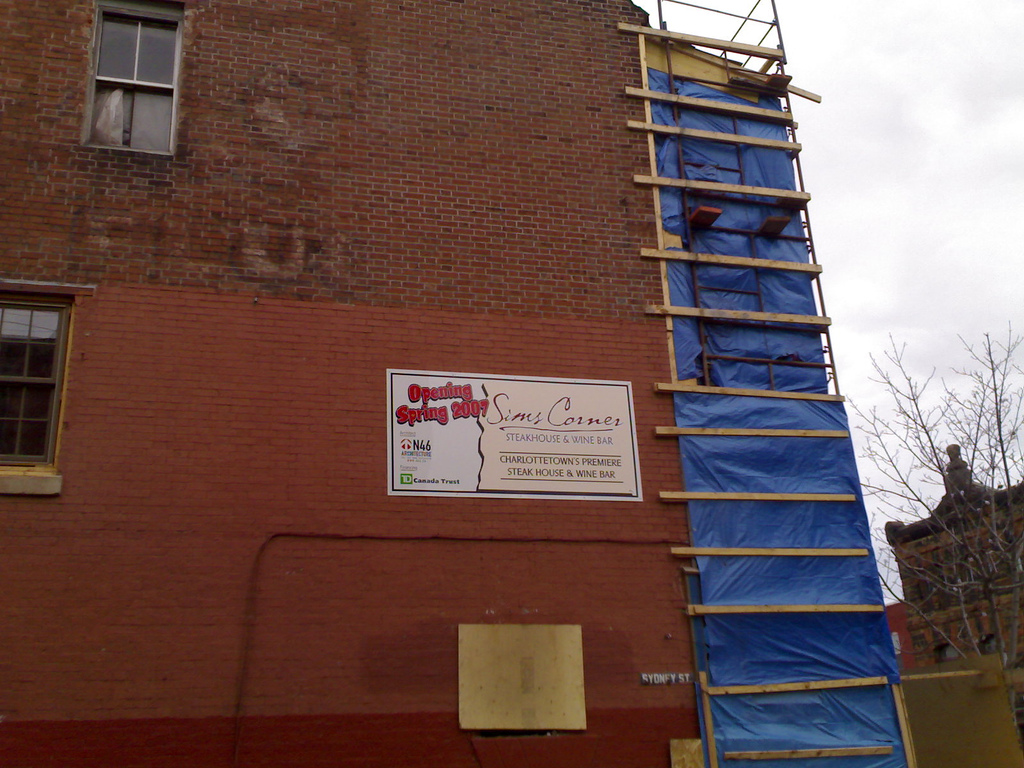 I got a peak inside the back bar while walking by last Saturday night and it's obvious that they've put a lot of money into this building; I expect we'll by impressed by the facade when the scaffolding comes down (update: it's now down). The restaurant is a project of Murphy Investments, the same folks who run The Gahan House, Off Broadway and 42nd Street just next door.
Meanwhile, a few blocks away on University Avenue the space formerly occupied by the Checkers, Downtown Diner and Barristas is set to reopen as a fish and chips place called Brits; the signage went up on the door late this week: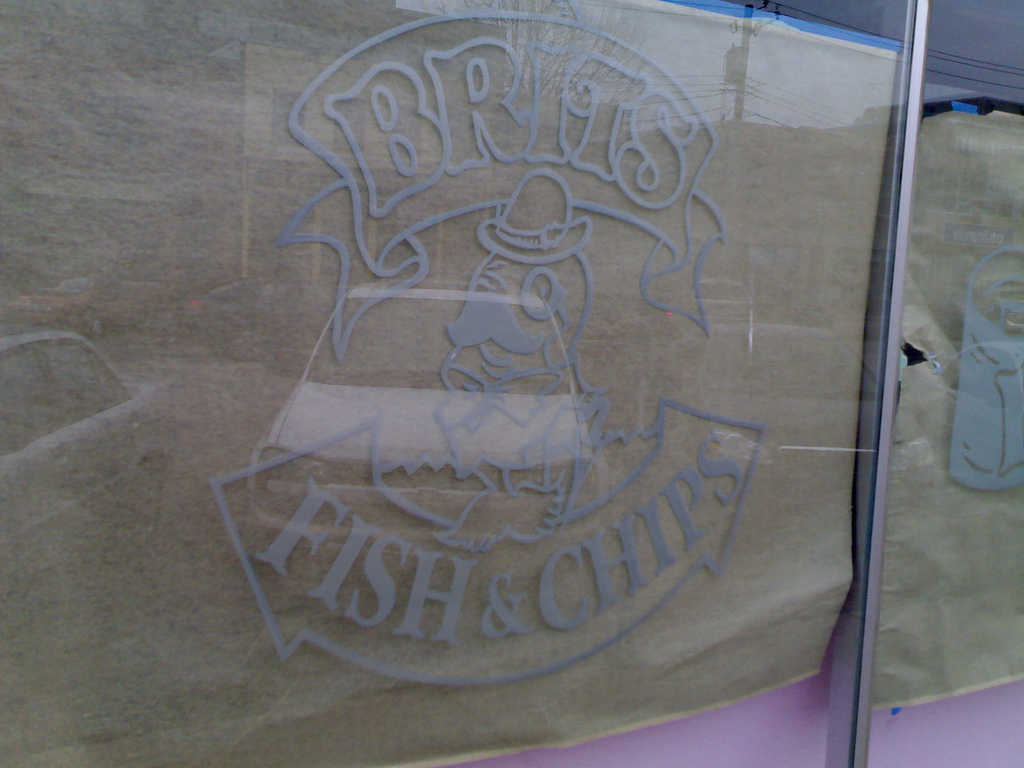 Since the furniture store gave way to restaurants this space has never seemed to take off; it has echoes, in this regard, of the space where Little Mac Shoppe is now on Victoria Row that was a seemingly endless series of restaurants in the 1990s, none of which ever came into their own. I hope they do better with fish.
Up University a block we now find ourselves temporarily sushi-less, as Monsoon is closed until July: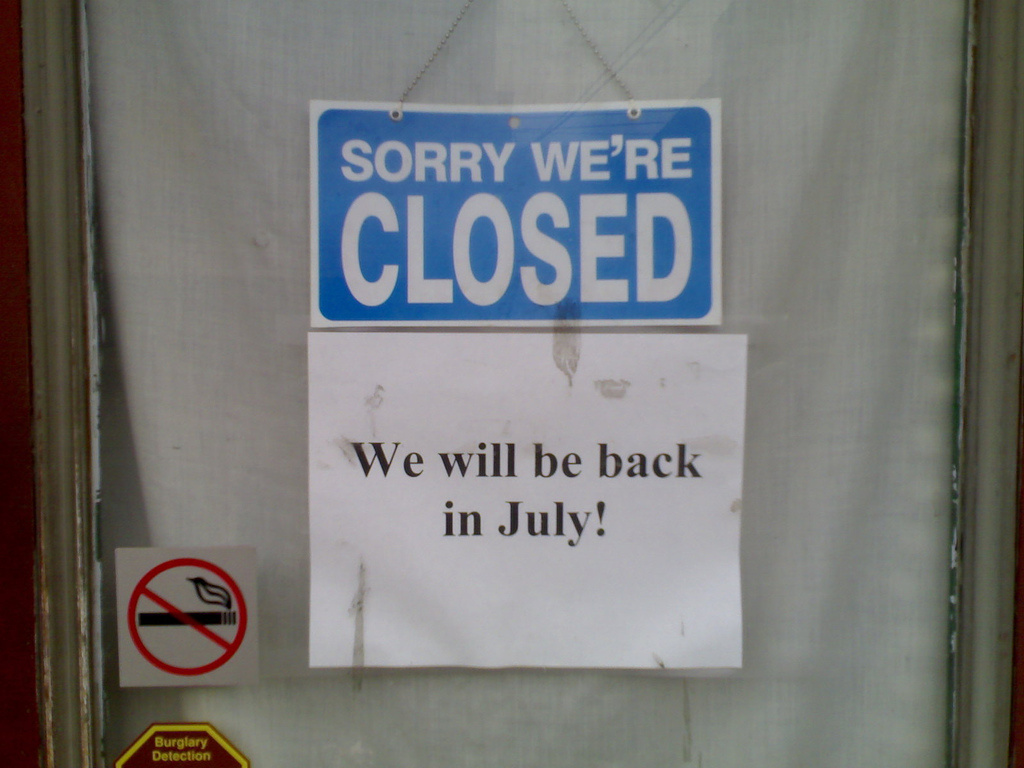 It's hard to run a one-woman sushi counter when you're due to give birth any month; we all look forward to the reopening mid-summer!
Around the corner at the Confederation Court Mall the food court has been under its own plywood shroud for a few months now: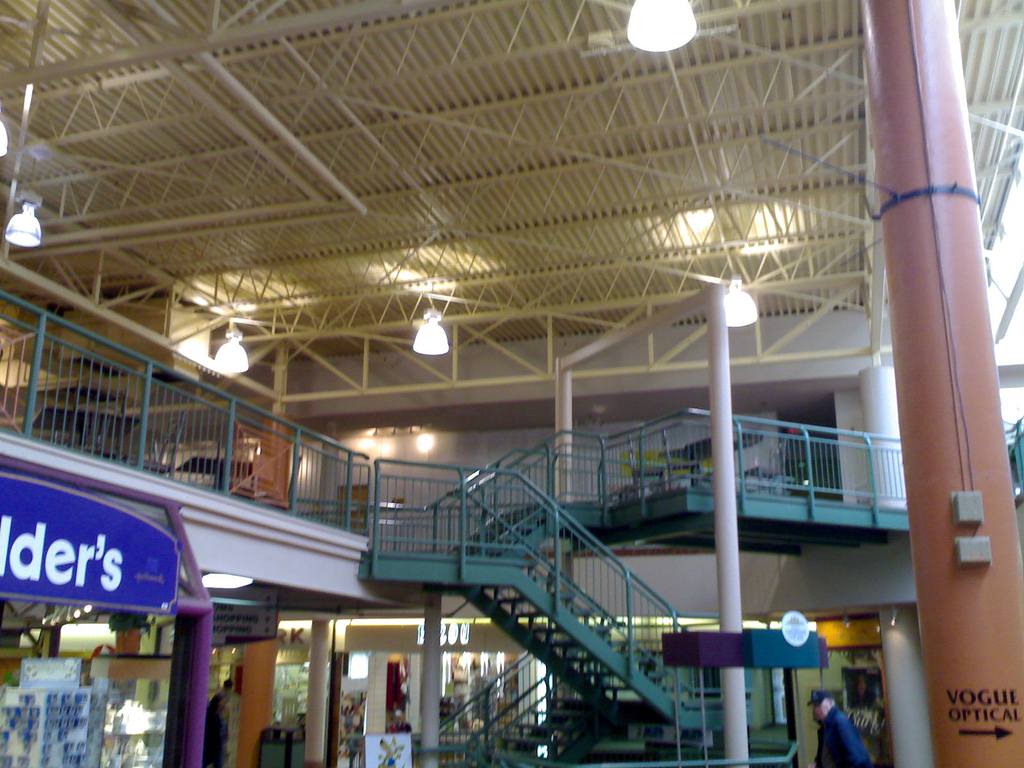 Earlier this week the promotion for the re-branded "Urban Eatery" began. The signage on the hoarding has long portrayed this renovation as a move to an "upscale" space (the burger place and the Oriental Wok were many things, but they could never be accused of being "upscale"). The revelation that Chef Gordon Bailey is involved in the recasting would seem to confirm this pretense. The opening seems to be scheduled for May 14th: I stuck my head in the door yesterday, though, and they seem to have a lot of work still to do; they'll be working hard for the next week to hit that deadline.
Meanwhile over at the recast Town and Country on Queen Street things are purring along very well. Alex the manager is some sort of "call people by their first name savant" — I don't know how he does it, but I've seen him call people he's never even met before by their first names. I'm not easily one to be wowed by 10 foot rule-like customer service, but the way Alex pulls it off I feel more like Norm pulling up a bar stool at Cheers than anything else. Oh, and the food's pretty good too; here's the special from a few weeks back: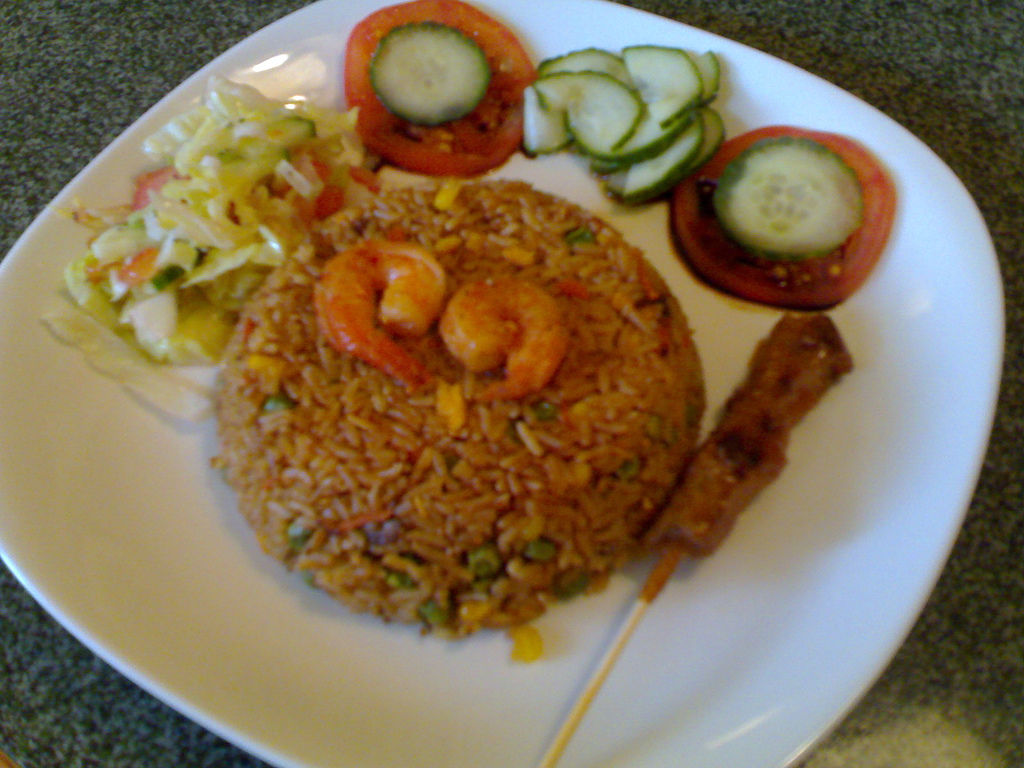 Spicy rice, shrimp, chicken saté, salad. Very, very tasty. I think the brilliance of the Town and Country, first name-basis aside, is that they've kept the balance of the old "Lebanese and Canadian food" menu while adding the Indonesian and Japanese-influenced items. In other words, they haven't alienated the old crowd and they're attracting whole new legions.
And speaking of the Town and Country, a few block away at the Sea Treat (at the corner of University and Euston), Joe, son of former Town and Country owners Louis and Faida, has been sprucing up the place and has added a Lebanese section to the menu. He's also serving Louis' famous chicken soup, which is about the best soup that there is. We've gotten into the habit of going there for lunch every Sunday afternoon and every time we've been there we've found Louis and Faida there too. By the way, is it "Sea Treat" or "Seatreat":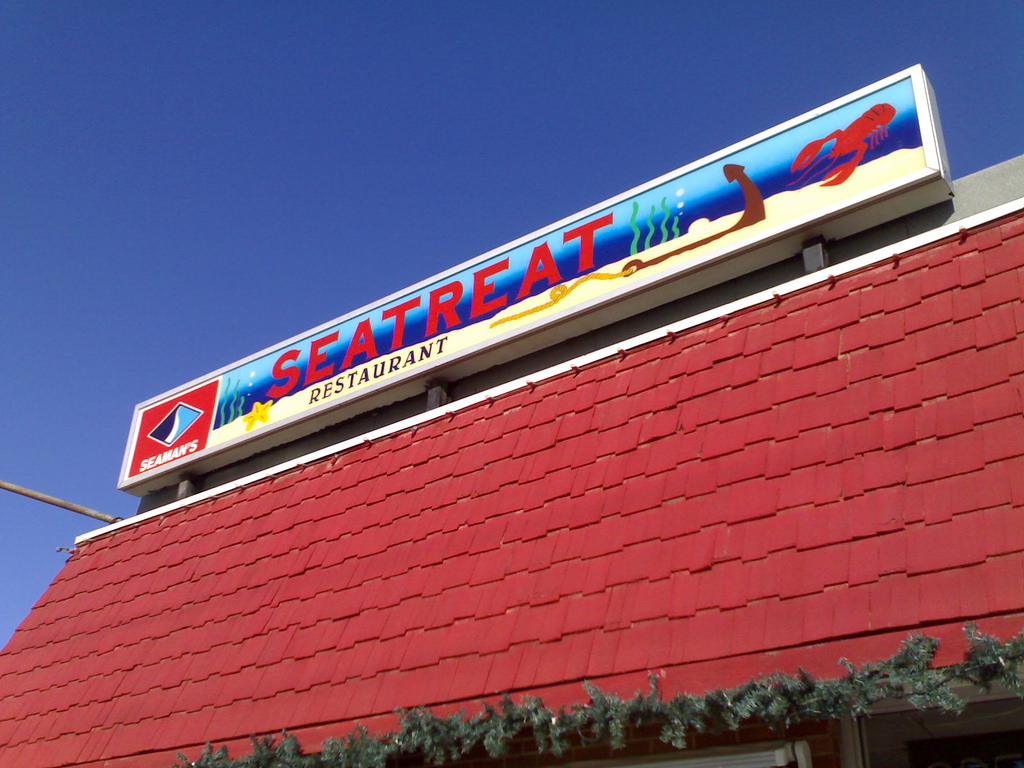 And finally, some small food items of note.
Shoppers Drug Mart has a new house brand of "brewed iced tea" in several flavours. It's too sweet, with 36g of sugar per bottle, but if that doesn't put you off, it's not too bad (meanwhile Karin's iced tea at the Charlottetown Farmer's Market, which she's been faithfully brewing up every week all winter long, continues to be excellent and every week there's an inventive new flavour). If you're in at Shoppers, look for the Laura Secord chocolate bars, back from oblivion in new wrapping: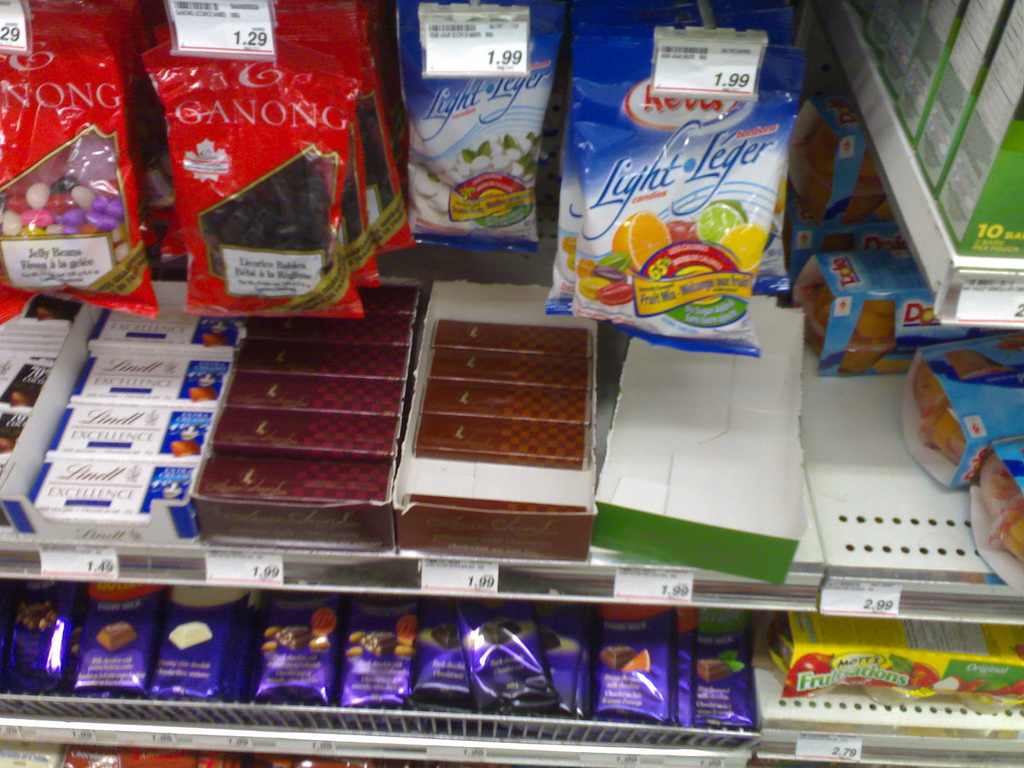 Sometimes there is absolutely nothing like their French Mint bar to hit the spot. Obviously I'm not alone in feeling this way, as they were all sold out of French Mint downtown today (while the box of 70% went unsold — Islanders, or at least those who don't play the trombone don't like chocolate dark).
See you out and about.