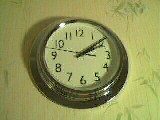 Last Christmas I received not one but two Logitech QuickCam tethered video cameras. One got returned, and one stayed home.

The Grand Idea was that grandparents in Ontario would be able to occasionally drop in, via video, on the life of wee Oliver.

While nice in theory, the quality of Microsoft's web video tools — NetMeeting, Portrait, etc. — is abysmal. Windows 2000, for example, comes with NetMeeting pre-installed. If your NetMeeting gets broken, you cannot fix it because you cannot uninstall it, and you can not re-install it. You are stuck. Forever. My particular problem is that I can start NetMeeting, but not end it. When I select "File \| Quit", NetMeeting hangs. Forever. The only solution is to completely hard reboot the computer. Better living through quality software.

A rather nice piece of software is Pryme produced (and released for free) by a Danish chap named Simon Hiort-Lorenzen. It's simple and easy to set up. And it's bringing you the current time on the clock on my wall here at Reinvented World HQ.