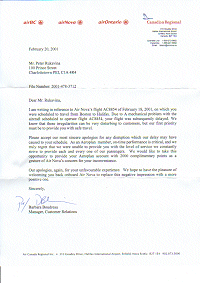 Flying from Boston to Charlottetown on Sunday, my flight was delayed by mechanical problems for 3-1/2 hours.
This wasn't a huge problem, as Logan Airport is only 15 minutes from downtown by subway, and so I could find things to occupy my time, but it did keep me from home. And had the potential to be yet another log on the bash-Air Canada fire.
Imagine my complete surprise when the letter pictured here (click on it for a larger version) arrived today — 4 days after the flight — offering an apology and 2,000 Aeroplan miles. I'm impressed!
Air Nova obviously understands that unusual episodes of customer service are opportunities, even if they are episodes of bad customer service. Here I am, basking in the glow of my 2,000 Aeroplan miles, quickly forgetting how they fumbled the announcement of the delay, how they kept people from meetings and funerals. And the utter insanity of having to fly mechanics and parts from Toronto to Boston to fix a plane. They made the best of a bad thing. I wish more companies would follow their lead.