I've been carrying a mobile phone of one description or another for about 15 years. Originally this was almost entirely so that various servers for which I'm responsible (or clients to whom I'm responsible) could get in touch with me in case of trouble; in recent years, in addition to this, it's so that I can talk to Catherine, so that I have a camera in my pocket, and for all of the digital ephemera that have gathered up inside smart phones over the decade that there's been a Twitter.
I'm on the precipice of acquiring a new mobile phone, to replace my increasingly creaky Moto G, and so I thought it would be a good time to catalogue phones-past.
The Pager (1997 to 2002)
My first mobile phone wasn't a phone at all, but rather a pager, from Island Tel. It had the handy number 902-557-5787 associated with it. The model itself is lost to history, but because I'm a saver of bills I know that I signed up for service on June, 12, 1997 and that it cost me $30.50 a month: $16.50 for service and $14.00 to rent the pager. The bill went down to $28.00 when I switched from "Maritime Access" to "Provincial Access."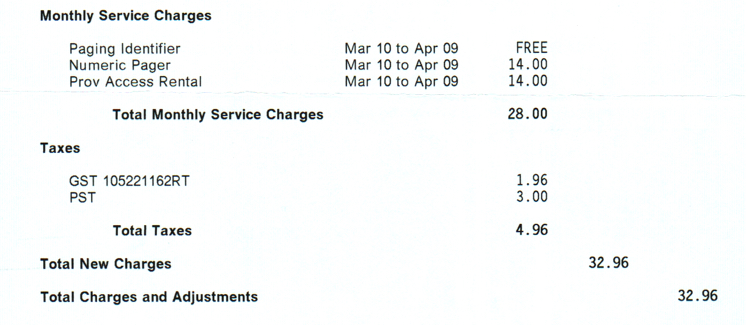 Nokia 3285 (2002 to 2005)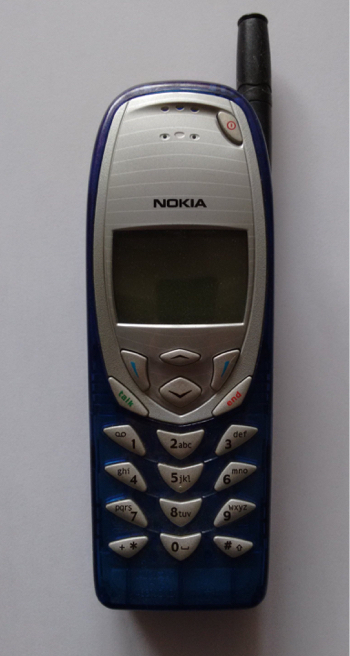 In 2002 I switched my pager for a bona fide mobile phone, a Nokia 3285, again from Island Tel. This was my first mobile phone, a compact CDMA phone almost exactly the height of the phone I carry now, but about 5 times thicker and sporting an external antenna. It's the phone I learned to type T9-style on (the system we used to have to use to enter text of phones that only had a numeric keypad).
Back in the day when you wanted to get a cell phone from Island Tel you had, confusingly, two options: you could go to the Phone Centre on Belvedere Avenue or you could go next door to the maintenance shop. I was never completely sure why there were two service points; but it was always clear that the maintenance shop was the place to go, as they could solve more problems and answer more questions. This was before the age of "professional" mobile phone sales people: the folks behind the counter at Island Tel came from the mobile radio heritage of the company, and were businesslike and aimed to please.
Catherine had a mobile too (what model it was I've no record) and between the two of us we paid about $70 per month between monthly fees and usage charges.
Sony Ericsson T68i (2004)
I never actually owned this phone, simply borrowed it from my friend Kevin for my first stab at having a GSM phone on-hand while traveling in Europe in October of 2004, on a trip to Croatia.
I'd first laid my hands on this phone at MacWorld in 2002 with my friend Dave. It was one of the first phones (maybe the first?) to support iSync on the Mac, and so it figured prominently in the Steve Jobs keynote that year.
Eventually a unit made its way to Kevin, and he loaned it to me. It served me well on the that trip.
Sony Ericsson T610 (2005 to 2006)
After giving the T68i back to Kevin when I got back from Croatia, I needed another GSM-capable phone for a family trip to France in the following spring of 2005.
This was the first unlocked phone I bought, and the first phone I bought from something other than Island Tel.
I paid $150 for it on eBay, unlocked. I used it in France and then, after we returned home, I used it at home on the Rogers network for a year.
Nokia N70 (2006 to 2007)
After seeing my friend Henriette with a N70 at reboot in Copenhagen in 2005, I knew I had to have one of these phones, which were the cat's pajamas back then and, arguably, the start of Nokia's erstwhile golden period at the leading edge of the convergence of phones and the Internet.
I paid $335US for the phone on eBay.
Besides being able to easily connect to the Internet, the phone boasted a much, much better camera (compare the first photo I took with it to the last photo I took with the T610).
The N70 was the phone I got most emotionally attached to: it was lovely to hold in the hand, did what it promised and it just kept going and going and going.
Nokia E61i (2007)
This was a mistake: it was a larger Nokia phone, with a physical QWERTY keyboard that was, in theory, a jump in capabilities over the N70. But I found it too large, and I never took to the keyboard, so I sold it on eBay and went back to the N70.
I paid $525US for the phone retail from Mobile Planet in the U.S. in June and sold it for $399CDN in September.
Nokia N95 (2008 to 2012)
While I loved the N70, I may have even loved the N95 more, as it was the perfectly-designed phone for my use of it, and sported things like slide-out audio controls that I wish modern day phones featured.
I bought the N95 in April 2008 by mail from J&R in New York City for $685US, the most I've ever paid for a phone.
The N95 took the N70's tentative toe in the water of the Internet and took it out for a ride, helped by a then hacker-friendly Nokia. You could run a webserver on it. It had a web browser. It had a GPS. You could listen to podcasts.
I used the N95 for 5 years — and I've gone back to it a few times, for it's easy to use and high-quality camera, several times since – only replacing it when the "smartphone" era was inevitable and Nokia gave me a free developer phone to replace it.
I got my money's worth!
Google Nexus One (2010)
Another phone I bought, tried, and returned. Except this time I only used it for a week. And went back to my N95.
Nokia Lumia 800 (2012 to 2013)
As Nokia was dying a slow, painful death in the shadow of iOS and Android, it was grasping at enough straws that it would send developer phones to almost anyone.
So in January of 2012 a box from Nokia arrived and inside with a Lumia 800 running Windows Phone.
As I wrote in my wiki, I didn't hate it. The Windows Phone metaphor of typographically-rich tiles was something that I appreciated and kind of came to love. I used the phone for 18 months, trying to embrace Windows Phone to the greatest extent possible as a Mac user. It was pretty clear from almost the beginning that neither Nokia nor Windows Phone had much of a useful life, but it was fun while it lasted.
HTC Evo (2013)
When Oliver and I went to Japan in the spring of 2013 we needed a phone to travel with. We couldn't use my North American phone, as it wasn't possible to use a Japanese SIM in a North American unlocked phone, so I had to rent a phone locally. It wasn't too expensive, and it was an invaluable tool for getting around, taking photos and looking things up. The phone we ended up with was an HTC Evo; it wasn't top-of-the-line, but it worked (and sported some weird features like 3D photos).
Geeksphone Peak (2013 to 2014)
When Firefox announced it was developing an open source operating system, Firefox OS, I dove in: ever since the heady early days of the N95 I'd longed for the opportunity to really dig into the guts of my phone, and having a phone with Firefox's rendering engine at its core, and being able to use HTML, CSS and JavaScript to develop native applications, seemed liked a wonderful opportunity.
And it was. I developed a bunch of apps for Firefox OS, some for my own use and others published to the Firefox Marketplace.
I paid 172 EUR for the phone directly from Geeksphone in Spain.
For a beta-program phone with a brand new operating system, the Peak lasted me well for the year I carried it around.
Geeksphone Revolution (2014)
The Revolution promised the best of both worlds: it would run both Android and Firefox OS. And so I replaced my Peak with a Revolution in March of 2014.
I paid 243 EUR for the phone, directly from Geeksphone in Spain.
While I had visions of an easily dual-bootable phone dancing in my head, running both Android and Firefox OS proved challenging, and the shiny app-rich Androidness of the phone won me over. And so, for most of the time I used it, it was an Android phone, not a Firefox OS one.
Then, one day, the phone just wouldn't boot. I tried and tried to get it to work, but it was dead. Faced with the horrors of trying to do an RMA with a tiny Spanish company, I looked for its replacement closer to home.
Moto G (2014 to present)
I've owned three Moto G phones since the Revolution died, all of them purchased unlocked, retail, from Staples here in Charlottetown. I haven't paid more than $250 for any of them.
I started off with the smaller original model when it first became available, then passed this on to Catherine (who continues to use it), replacing it with the larger Moto G 2014. I had to purchase a third Moto G last October when, in a fit of insanity, I tried to trim down a full-sized SIM card to travel with, managed to get the card, which didn't work, stuck in the phone and then managed to crack the phone while trying to get it out.
The Moto G's primary attraction to me, beyond being a capable Android phone, is its price: I like the thought of carrying around a phone that's not precious enough that I have to be afraid of dropping it or scratching it or even losing it. It's got a solid camera, acceptable performance from Cyanogenmod 13's take on Android Marshmallow, and it generally does most everything I want it to do.
What Next?
You'll notice that I've never owned an iPhone. Originally this was because you couldn't buy unlocked iPhones and I needed a phone I could travel with without being shackled to a Canadian carrier's overseas rates. And then, as time passed and you could purchase an iPhone unlocked, it just became a thing, a sort of perhaps-irrational commitment to trying to maintain some separation between my computer's OS (owned by Apple) and my phone's (owned by someone else).
But as my Moto G is starting to get pokey – mostly because it has limited internal memory and limited internal storage, both of which I'm forever bumping up against these days – I'm looking for something new, and, for the first time, I'm considering an iPhone.
What stops me every time I start down this road, though, is that a reasonably-equipped modern iPhone will cost me roughly 5 times the cost of my current phone: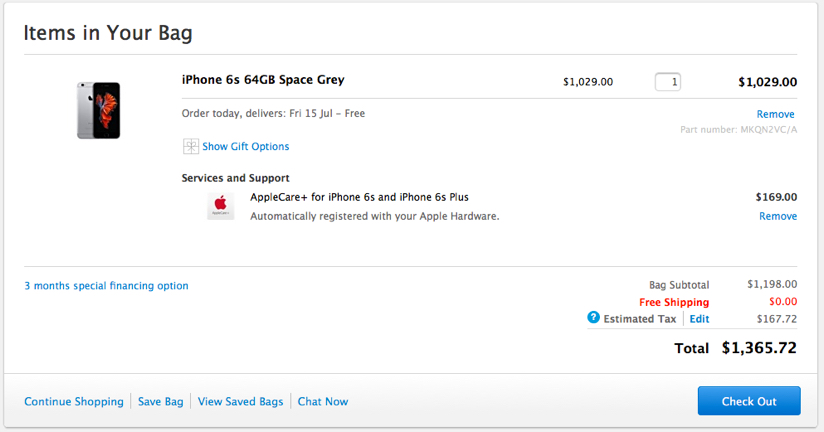 While I'm not averse to spending that much if there's a payoff in terms of, well, something, spending so much for a phone (more than the computer I'm typing this on!) would mean that I would be carrying around a precious, expensive, fragile totem. And I'm not sure I'm ready for that. Or, indeed, that it's rational.
So while I haven't closed the door on an iPhone, I'm looking more seriously at whatever's cool and interesting in the Android world, focusing on the Nextbit Robin (which I love the design of and which, at $299, is relatively inexpensive) and the Oneplus 3, which is more expensive, but appears to be on the top of everyone's "blazing fast new giant killer" list.
Or perhaps, as I think often, I should endeavour to enter the post-phone era and carry nothing in my pocket. I've a feeling that might be the healthiest – and certainly the cheapest – option of all.