Buttons aren't what they used to be. Back in the day, any political campaign, radio station or pop culture phenomenon worth its salt would have a collection of buttons associated with it. No more. I don't think, short of Family Literacy Day, a late holdout, I've seen a new button in years. If the Internet has killed a medium, I think it's this one.

Pictured here are the remnants of my button collection, started in the mid-1970s and last added to in a serious way in 1984 when I covered the Liberal leadership convention for my local newspaper (this was the one where Chretien lost and Turner won — see the left side of the montage for Don Johnston, Mark MacGuigan, Eugene Whelan, John Munro and Chretien buttons, along with a runaway Rosemary Brown button from the NDP.)

Click on the image to order a Biggie Size version.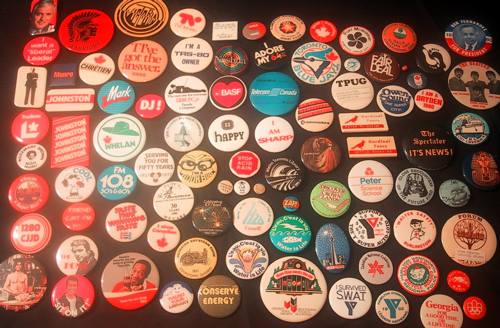 Other things you'll notice: in the lower left corner there are some radio station buttons — CJJD (Hamilton), CHUM and CJRT (Toronto) and FM108 (Burlington); some technology buttons in the upper centre — I Adore My 64 was an ad slogan for the Commodore 64 computer; a good collection of pro-library and pro-water buttons, reflecting my parents' vocations; several YMCA buttons in the lower-right; the Cardinal Tours buttons from the trip my grandmother and my brother Mike and I took to New York City in 1978; in the top-right a Ben Fernandez for President button (who was he?).

My favourite, and the reason for digging out the old button box, us is the button lower-centre, which is printed with only "This is my ZAP button" for reasons only know to history. I'm going to see if I can get copies of this made for the big Zap conference next month.

It is my secret love of button and badge culture that has to date prevented me from writing a snide, vitriolic piece about our DVA workers and their identification tags, worn morning, noon and night (seemingly) both in and out of DVA. But I'm not being snide nor vitriolic. So, goofy-looking tag-bearers, in the name of the Fonz, I salute you.