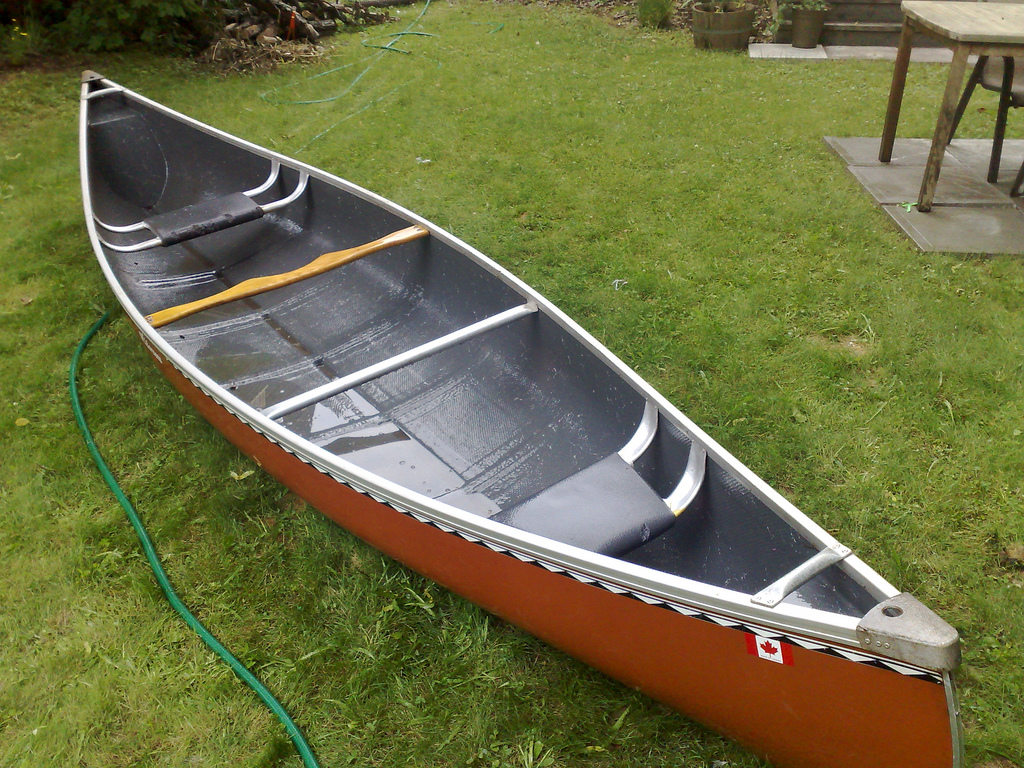 About a decade ago, back when Catherine and I had no Oliver, and thus had surplus time on our hands, we bought a canoe.  It is a nice canoe – nothing extravagant, but enough to knock around in the waterways of Prince Edward Island in.  We did not canoe extensively during our footloose time – a few trips in the West River, a rather bizarre attempt, with my brother Steve, to navigate the Morell River, and an unfortunate outing into the North River in the area surrounding a sewage outflow.  But we always had high hopes.
Those high hopes were diminished somewhat when Oliver arrived and our surplus time disappeared.  When Oliver was 3 years old we made some attempts at resurrecting our canoe lifestyle, but our initial personal flotation device trials resulted in a face-down-in-the-water Oliver, and so we were scared off.
This week, though, with summer speeding by and Oliver's childhood advancing, I resolved to reapportion some of my summer time to getting the canoe up and running again.  
We started last night with a trip to Canadian Tire and the purchase of a wee paddle and a new PFD, followed by an hour-long session in the CARI Pool to insure that the PFD actually worked (it did!).
Tonight I dragged the canoe out of the carriage house, hosed it off, and assessed the wear and tear of 8 years among the skunks, cats and raccoons (in general, not to bad: some animal attempted to eat the styrofoam seats, but not too much damage was done, and the craft remains seaworthy).
Next on my list tonight: find a way of affixing the canoe to the roof of our 2000 VW Jetta.  When we first bought the canoe, Sporting Intentions sold us a $20 kit of nylon cord and styrofoam blocks that snapped on the canoe's gunnels; they served us well, but were eaten by the aforementioned animals in the interim so needed to be replaced.
Alas I've had no luck replacing them: there are plenty of kayak carriers in the stores of Charlottetown, but nobody but Sporting Intentions sells canoe carriers, and they've "gotten away from the styrofoam system" and all they have to offer is a $400 Thule system that, while it's beautifully designed and snaps right into the Jetta, is overkill for what will likely be a weekend outing or two this summer (I should add that the Sporting Intentions salesperson was super-helpful, both in selling me on the virtues of the Thule, but also in pointing us to good spots to put in).
So as of this writing I'm still searching.  Canadian Tire is selling styrofoam "pool noodles" for $1.99 each and I'm pretty sure I could adapt them for the job, add $20 worth of tie-down straps and have something that would safely get the canoe into fresh water.
Times a wasting and the snow will be here soon, so I'd better be quick about it.
Suggestions welcome.