The radio silence here extends from a secret mission (or, if you are Oliver, a "trip where not all the parties were informed of the outcome") that saw all the brothers Rukavina, plus selected third generation special guest stars, converge on our parents' house in Burlington, Ontario to celebrate our father's 80th birthday. With brothers strung from coast to coast–Prince Edward Island, Montreal, Oakland, plus one in Burlington–it was a logistical tour de force to pull this off, involving several months of planning and coordination. Somehow we did it, all arriving at brother Mike's house at the appointed hour yesterday, 30 minutes before the arrival of my surprised (Oliver: "not completely informed") father. Here's a photo of all of us, taken by my sister-in-law Karen; from left to right it's Johnny, Mike, Jacob, Frances, Peter, Oliver, Norm and Steve: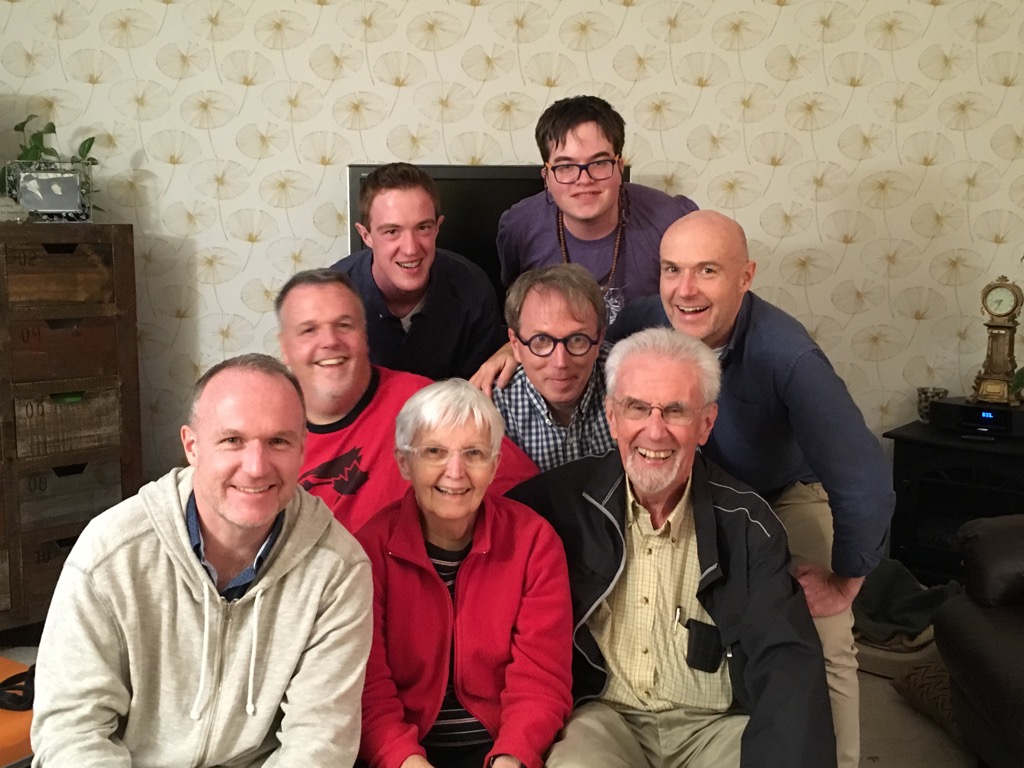 A good time was had by all.
We've now begun to slowly disperse: Steve was the first, back to Montreal on the train this morning. Johnny drives Jacob home to Muskoka this afternoon. We're here until Saturday when we decamp for a whirlwind visit with Catherine's parents in Napanee before returning to the Island on Sunday on the overnight train. Johnny heads back to California at the end of the weekend.
This was one in a long line of similar convergences, a genre at which my family uniquely excels. Plans are already afoot for Dad's 90th. We have 10 years.