Here is the cover of the Aliant local telephone directory for Prince Edward Island released this week: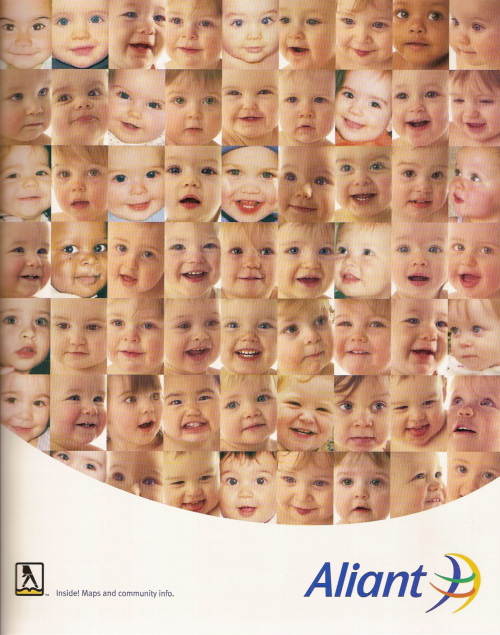 There are 62 babies pictured on the cover; there's a note on the back of the book that says "All of the babies proudly shown here are children or grandchildren of Aliant employees or retirees.
Of the 62 babies, there are 3 or 4 that could be seen to be "visible minorities," which Statistics Canada defines as:
The concept of visible minority applies to persons who are identified according to the Employment Equity Act as being non-Caucasian in race or non-white in colour. Under the Act, Aboriginal persons are not considered to be members of visible minority groups.
Four of 62 babies is 6.45%.
The report Visible minority population, by provinces and territories (2001 Census) from Statistics Canada says that the "Total visible minority population" of Canada is 13.44% and of the four Atlantic provinces it's 2.16%. Prince Edward Island has the smallest percentage of the four provinces with 0.88% (1,180 people of 133,385 residents).
On the face of it, then, Aliant's representation of the babies of Atlantic Canada is a roughly accurate portrayal of the colour of the population in general.
I'm interested in what others think about this. I've asked Aliant for comment on the actual makeup of their workforce.