In the annals of Air Canada's deceptive practices, this one takes the cake. Here's their quote, direct from their website, for a return flight from Charlottetown to London at the end of November: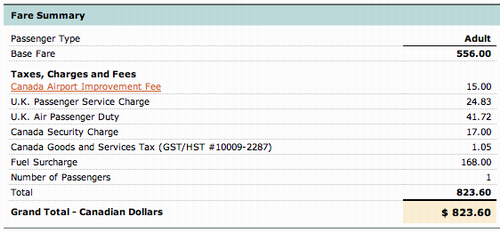 The base fare is $556, and the "fuel surcharge" of $168 is 30% of the fare. Shouldn't the fuel surcharge just be called "part of the fare?" It's extremely deceptive to lead customers through a process of booking a flight and then, at the last step before payment, dropping in an extra 30%.
Apparently Air Canada agrees; witness this news release from January, in which they say:
"Customers want a simple fare that includes all charges and by incorporating the fuel surcharge into our base domestic fares, we are taking the first major step in that direction," said Montie Brewer, Executive Vice President, Commercial. "The incorporation of the fuel surcharge will help our customers truly understand how much they are paying for their travel."
Apparently for international travel it's not important that we "truly understand how much" we're paying for travel.