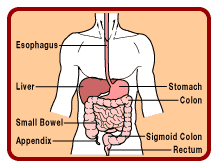 My life to date would have gone a whole lot easier if someone had told me that the abdomen is not, in fact, an organ, but rather a region of the body — "the region of the body of a vertebrate between the thorax and the pelvis" says the dictionary.

I've been walking around for 37 years thinking that we all have a vestigal organ called the abdomen; I never knew exactly what it did, but figured that just meant it wasn't all that important. Sometimes I'd hear about people getting "kicked in the abdomen" or having a "pain in the abdomen," but I must admit that I never heard of someone "getting their abdomen removed."

I will make a point of telling Oliver about the abdomen soon, so he isn't similary held back.