My research on the history of time on Prince Edward Island took me to the Government Services Library on Monday.
This little library is one of my favourite branches of the Island's Public Library Service. It's tucked away in the basement of the Jones Building in Charlottetown. Woefully, I must report, now behind the iron curtain of security that's been dropped around public service offices, so you must sign in with photo identification before visiting. But open to the public nonetheless, and staffed by one of  the smartest and most helpful librarians you'll ever meet, Nichola Cleaveland.
My reason for visiting was to seek help parsing this reference, in the 1947 An Act to Provide for Uniformity of Time Throughout the Province, to Act 3 George VI., Chapter 23:

The first thing I learned was that it's helpful to know the dates of the reigns of British monarchs if you're looking for historical laws of Prince Edward Island, for the 3 George VI means "the third year of the reign of George the Sixth."
These years are called the regnal years, and they run from the date of coronation. George VI became king in December 11, 1936 (when his brother, Edward VIII, abdicated), meaning that his third regnal year – 3 George VI –  ran from December 11, 1938 to December 10, 1939.
Once you've figured this out, then it's a simple matter of looking for the proper year in the bound volumes of the Laws of Prince Edward Island on the shelf and finding the proper chapter
Here's the volume, for example, that includes 1888 through 1894 (interestingly, it's from a set that the Government Services Library inherited from the Library of the Board of Railway Commissioners for Canada when it was deaccessioned):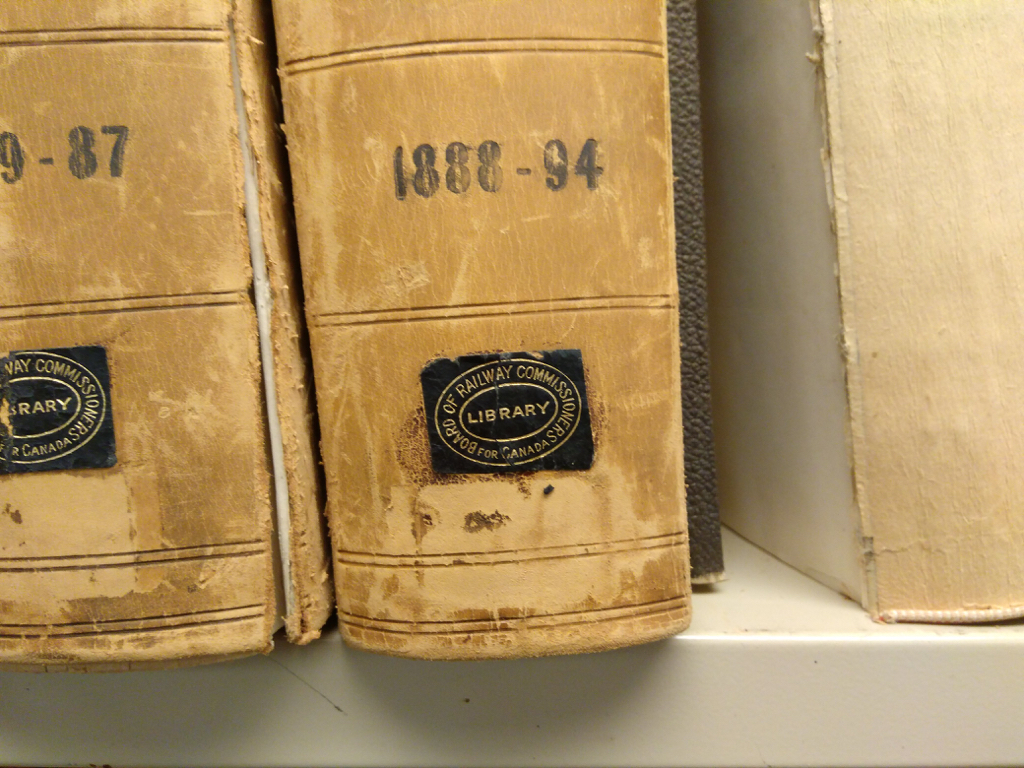 And sure enough, in the 1939 bound volume I turned to Chapter 23 and found An Act Respecting the Provincial Statutes, assented to on March 27, 1939, halfway through the 3rd regnal year of King George VI: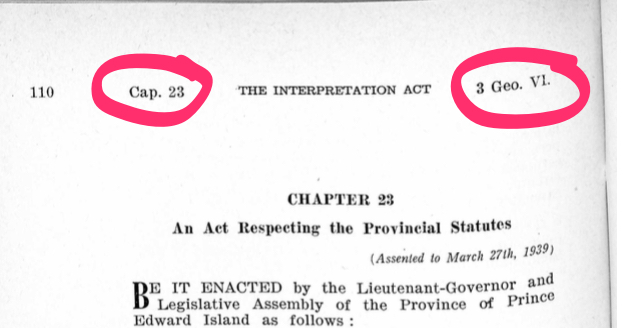 You will find the contemporary Interpretation Act, along with the rest of the laws of Prince Edward Island, online on the Legislative Counsel Office's website. They no longer make reference to the monarchs in their organizational scheme, alas. The chapters are alphabetical now, so the Interpretation Act is "Chapter I-8":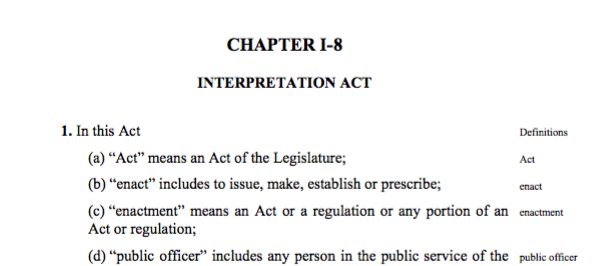 This is far less elegant, and requires no knowledge of monarchical history. Which is a shame.
But if they did, you'd be well-positioned if you knew that we're currently in 65 Elizabeth II. Which is the highest regnal year that's ever been reached in the British Monarchy.