With the release of MacOS Catalina yesterday, I was reminded that it's no longer possibleto run 32 bit applications if I upgrade.
If you're a Mac user, you've likely wondered about dialog boxes like this that have been popping up in recent years: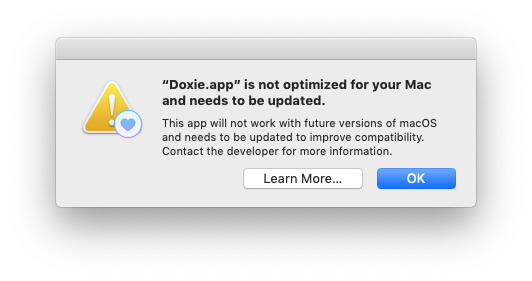 The "not optimized for your Mac" is kind of a misnomer, especially because the meat of the issue is in smaller print below in the "this app will not work with future versions of macOS."
MacOS Catalina is that version.
And so if I were to upgrade my Mac to Catalina today, for example, I could no longer use the app installed for my Doxie scanner.
Indeed, according to the maker of the scanner, the software will not be updated, so if and when I update to Catalina, I'll no longer be able to use the scanner at all.
You can get a list of all of what Apple now refers to as "legacy software" by clicking the Apple menu, then About This Mac, System Report, and, finally, Legacy Software in the left-hand sidebar: this will show you all the 32 bit applications currently installed on your Mac that won't run if you update to Catalina.
Here's what's on the list for me:
The only real deal breaker for me (other than bricking my scanner) is AccountEdge, which I use for bookkeeping, so cannot be without. So I've turned off automatic updates, and I'll wait for the update to be released.