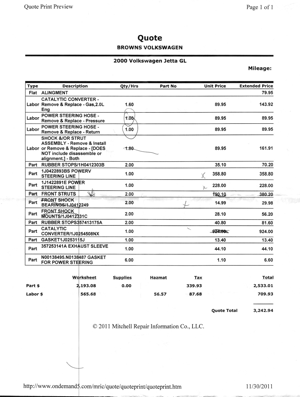 The first car I ever owned was a blue 1978 Datsun 510. It was about 9 years old when I bought it, and it was the first in a long line of 8 or 9 year old cars that I owned over the course of 15 years: it was followed by a green 1979 Datsun 510, a Toyota Tercel, a Ford F100 half-ton truck, a Nissan Sentra, a Honda Civic and an Eagle Summit.
There would come a time in every car's life when the cost of keeping the car running — and, on Prince Edward Island at least, passing its yearly inspection — would become prohibitive ("good money after bad") and I'd move on to the next car. Along the way I replaced more than one transmission, many alternators, several starter motors and, courtesy of Catherine's skills as a metalworker, a parking brake "Y" joint or two.
When Oliver was born in 2000, the combination of "we need a new car so we don't put the new baby's life in danger," having a little spare money, and a desire to get off the yearly treadmill of exorbitant-seeming repair bills, or the prospect thereof, was enough to push us to purchase a brand new 2000 Volkswagen Jetta, and I've been driving it ever since.
For the first 2 or 3 years I didn't need to spend any money on the Jetta at all — regular maintenance was included in the price, and nothing went wrong otherwise. After that I settled into a pattern of needing to replace something — usually some sort of confusing sounding part related to the "check engine" light being on — every couple of years, but some years I'd just replace a pollen filter and be done with it.
This year seems to be the year that things have tipped: 11 years (and only 75,000 km) into the life of the car and so far this year I've put about $2000 into it: new brakes, new oil pan, front and rear "control arm bushings" and various other bits and bobs. But that's not it: now I have a power steering leak, a vibration in the front end (that the bushings and a front wheel alignment was designed to address but didn't) and a small exhaust leak. The total estimate for these items comes to a whopping $3,242.94 (see the full estimate here).
Perhaps sensing a change in my tone from "okay, well, go ahead" tone to "whoa, Nellie, let me think about that," the service advisor I saw today when I picked up the car came out in front of the desk and had a sort of counselling session with me in which he talked about various ways of knocking down this price, things like getting a muffler shop to replace the flexible tube where there's an exhaust leak rather than repairing the otherwise fully-functional catalytic convertor ($924), putting up with the front-end vibration rather than replacing the struts and shocks ($707) and finding less expensive OEM versions of the power-steering hoses ($90 each).
I can't help feeling that the car has "tipped" now, and that if I keep going this is going to be the start of a yearly subscription that will end up costing me more arms and more legs.
I have two options, as I see it: move from the VW dealer to an independent garage that's prepared to be more "improvisational" with repairs (perhaps I should have done this years ago?), or just be done with it all, realize that I don't need a car at all and cut my losses. I walk to work every day. The only regular thing I use my car for is a weekly trip to the Farmer's Market and I could easily go back to taking the bus there (it was only habit that stopped me from doing that in the first place) and for everything else — the occasional meeting in Summerside or need for a trip to Halifax — I would probably come out ahead renting a car what with the combined yearly expense of insurance, registration, snow removal and repairs.
Anyone else want to chime in?