I'm now 3 weeks into my experiment using a PiAware to track airplanes flying over Prince Edward Island. And I've been joined in the effort by my friend Ken, who, fortuitously, lives in Tyne Valley and thus is perfectly positioned to capture overflights that my receiver cannot see. As a result, coverage of all by the most western tip of the Island is very good now, as evidenced by this map that shows three weeks of flights: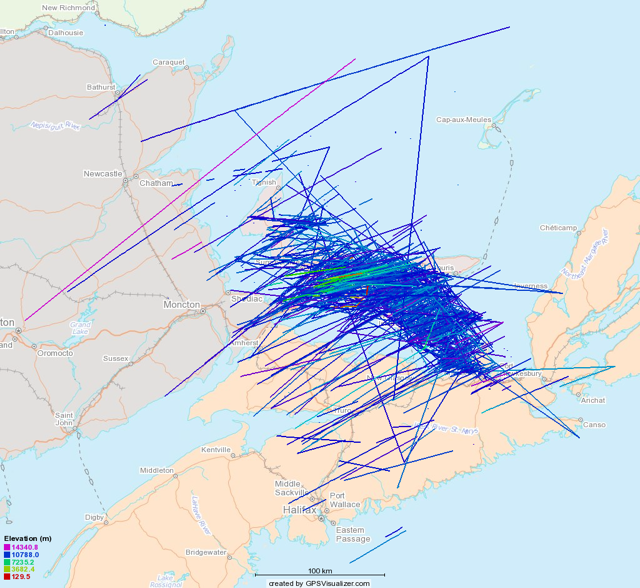 Some statistics about what's flying over Prince Edward Island:
The top five origins of planes flying over the Island are:

New York, NY
Newark, NJ
Chicago, IL
Toronto, ON
Paris, France

The top five destinations are:

London, England
Paris, France
New York, NY
Frankfurt, Germany
Amsterdam, Netherlands

The top five aircraft types are:

Boeing 763
Airbus 333
Boeing 752
Boeing 744
Boeing 772

The average altitude of flights is 35,474 feet.
The maximum altitude was 47,050 feet. by a Wells Fargo Bank-registered flight that doesn't allow its origin or destination to be published.
The maximum ground speed was 671 knots (1242 km/h) by

American Airlines 78, flying from Dallas to London on March 28, 2015.
More than anything else, this project has changed my perception of Prince Edward Island in the world: it's a lot harder to think of PEI as a remote island disconnected from the global commerce when there are so many airplanes flying directly over our heads every day going to all corners of the earth. Even if they are 14 km above our heads.