A two-day visit to the city of Wolfsburg in northern Germany was the "you're going to Wolfsburg… why?" highlight of our school break vacation last month.
So, why?
Because if you're looking around Europe for activities for kids who like interactive museums you inevitably end up finding phaeno, the Zaha Hadid-designed science centre that's at the heart of the city. Our pump was already primed for phaeno; when I read on the Arrival page of its website that "It's just 90 footsteps from Wolfsburg rail station to phæno. 47 steps from the bus stop. It's the equivalent of 3,800 paces from the A39 motorway exit to the underground car park. From there it's another 27 paces to the main entrance." I was sold.
And once you start reading more about Wolfsburg, a day at phaeno inevitably leads to a day across the railway tracks at the Volkswagen theme park cum brand experience Autostadt.
So Wolfsburg it was to be.
We arrived on the train from Düsseldorf in the mid-afternoon on Friday. Given our rich hotel tastes for the following week in Berlin, I booked three nights at the youth hostel (at €43 a night for a private room, breakfast included, it was a great deal). It turned out to be a pleasurable, if somewhat spartan, experience: the staff were great, the room, with bunk beds and a sink, was comfortable, warm, and clean, the washrooms across the hall were sparkling clean; the breakfast wasn't lavish, but it was enough to get us going. And how can you not like a place that features foosball, pool and ping pong tables.
Staying at a hostel was not without its hoops: there were no towels provided, for example (rectified by a quick trip to the Müller department store downtown on our first night), I had to leave my driver's license as a deposit against the front door key, and we had to bus our own tables in the breakfast room. But it was hardly the prison-like existence we feared it might be.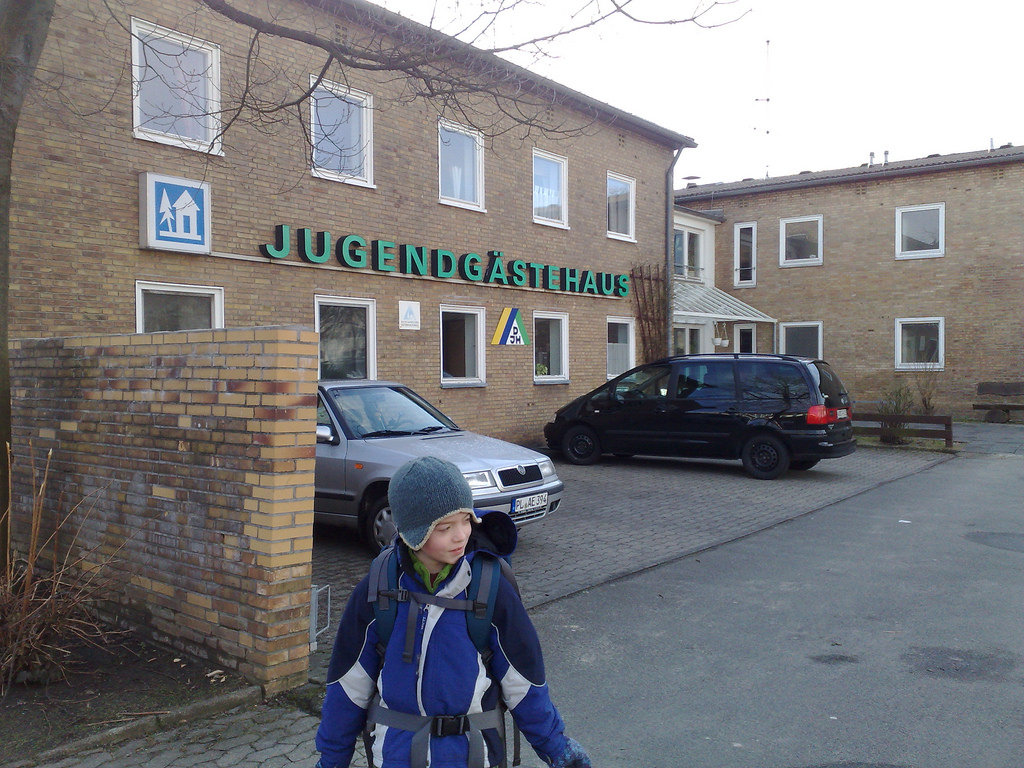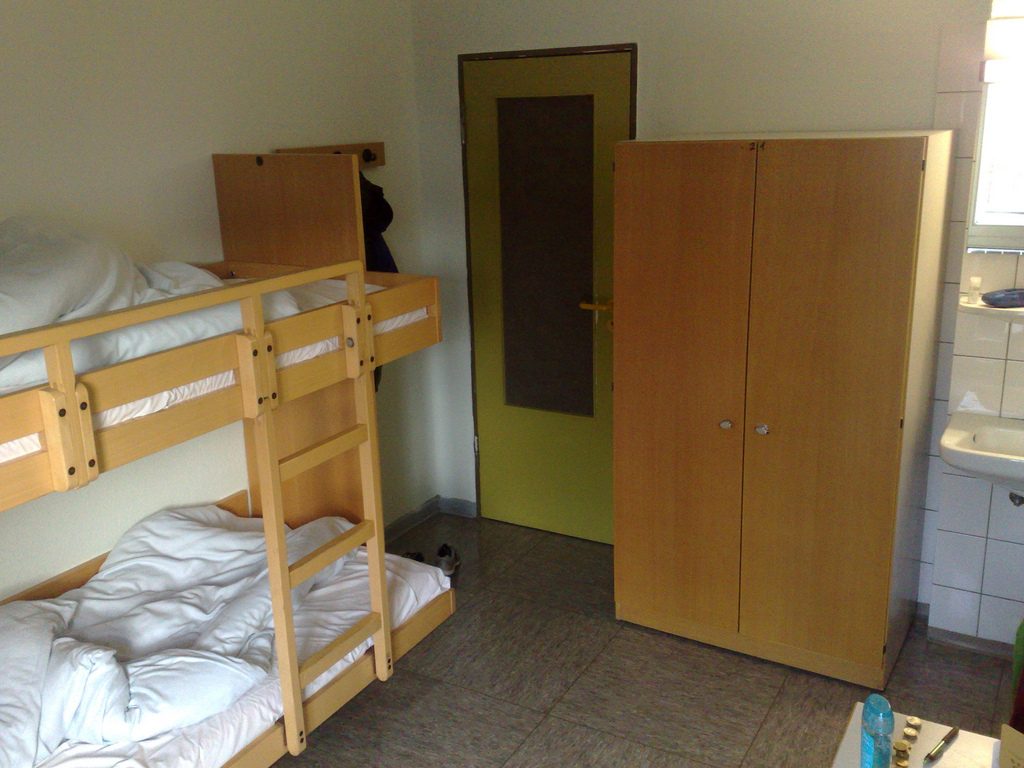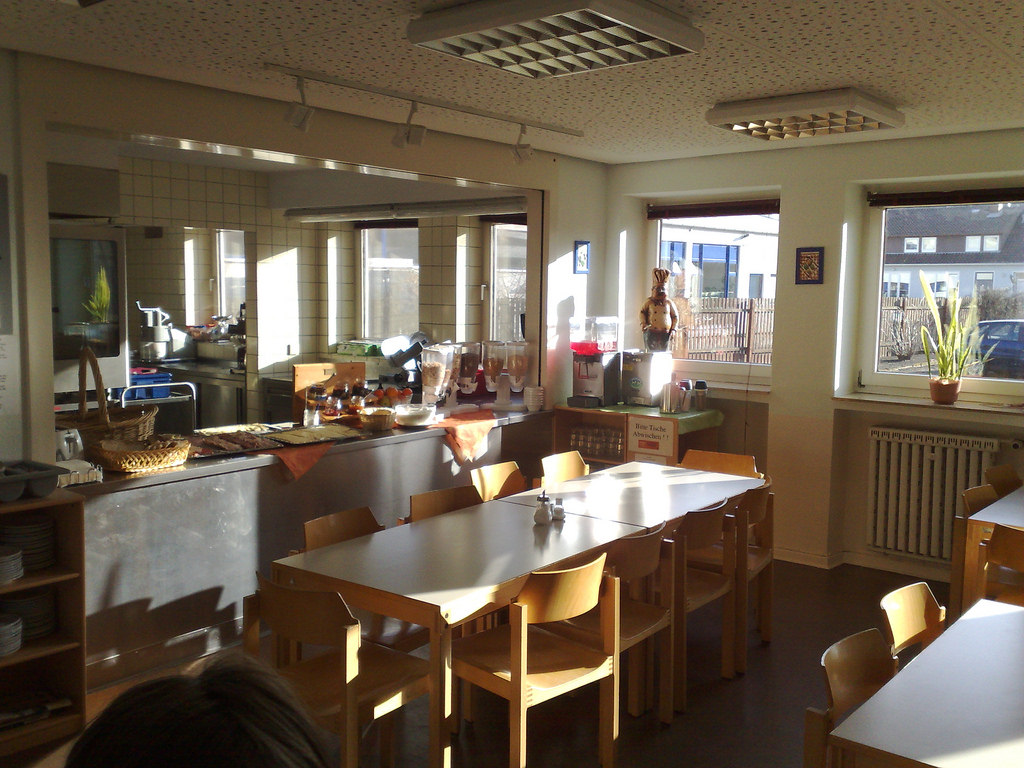 For supper we headed to the Lika Grill, a restaurant I stumbled across by using the "explore" feature of Nokia Maps on my Nokia N95. My grandfather was born in the Croatian province of Lika, so this seemed pre-destined.
We had a huge meal of ćevapčići – more meat that I'd eaten in the previous six months combined – that brought back memories of my 1972 trip with my brother and parents to Croatia where ćevapčići was what we ate every night (my mother having convinced we picky eaters that it was "just like hamburgers"). As it happens, the parents of one of the the proprietors lives in Burlington, Ontario, so we had lots of "it's a small world" to talk about as we were on our way out.
Saturday we headed off to phaeno first-thing and we ended up spending 8 hours there and were never bored.
The building is stunning: a fluid, jauntily-angled building that's entirely without right angles.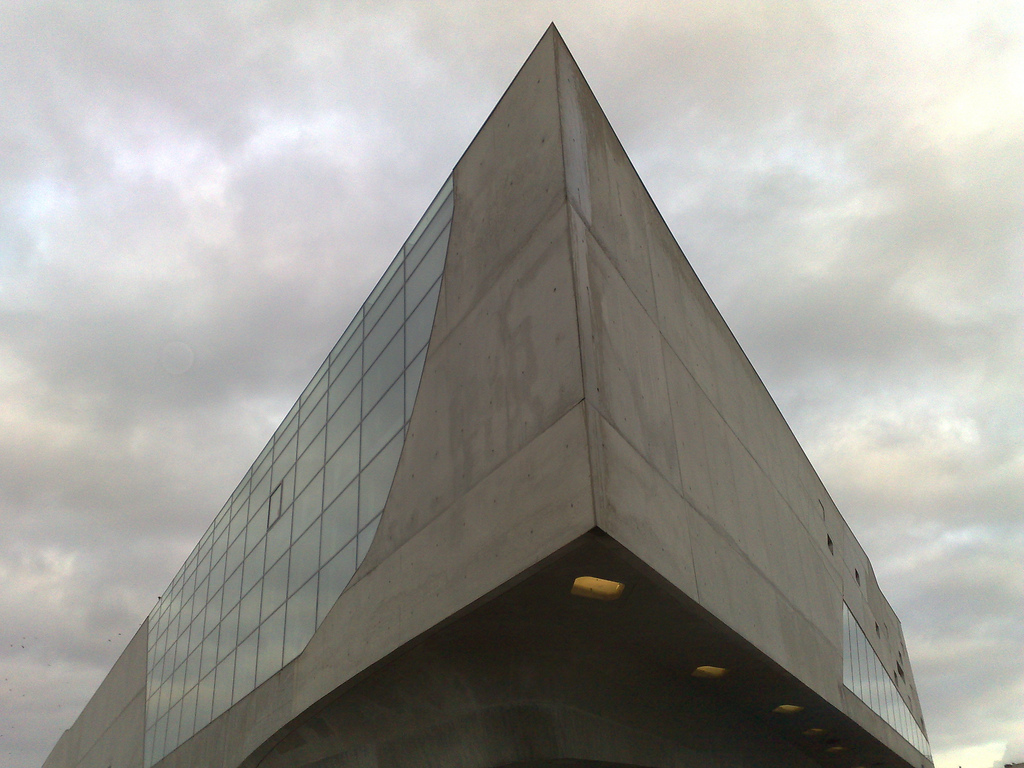 The exhibits – there are 300 of them – range from the expected "build an arch and walk over it" that you find in many science centres, to unusual ones like "play ping pong with your brain waves" that truly rocked my world. There's a science lab where we looked at Oliver's cheek cells under a microscope, an "age machine" where you can see what you'll like like as an old woman, a talking robot, a stop-motion Lego animation machine, and much, much more. The restaurant is family-optimized (we had fresh-made pizza, litchi drink and chocolate pudding; doesn't get much better than that for Oliver), and everything is in both German and English. We've been to a lot of science centres – I went to high school in one – and phaeno is the best we've ever encountered.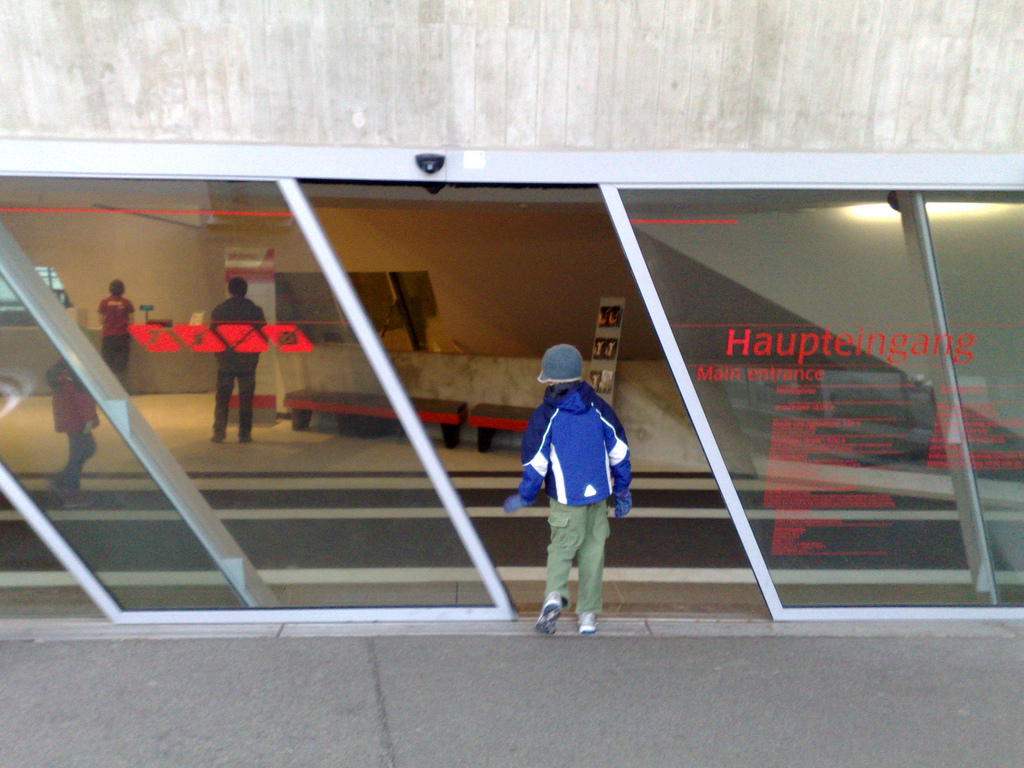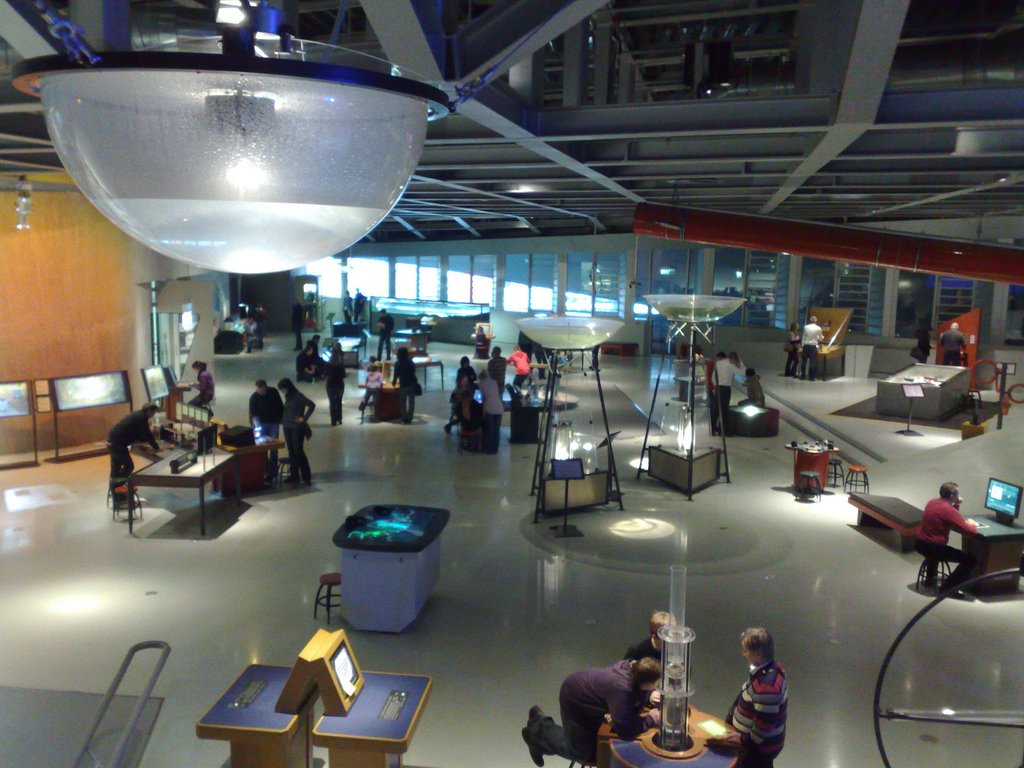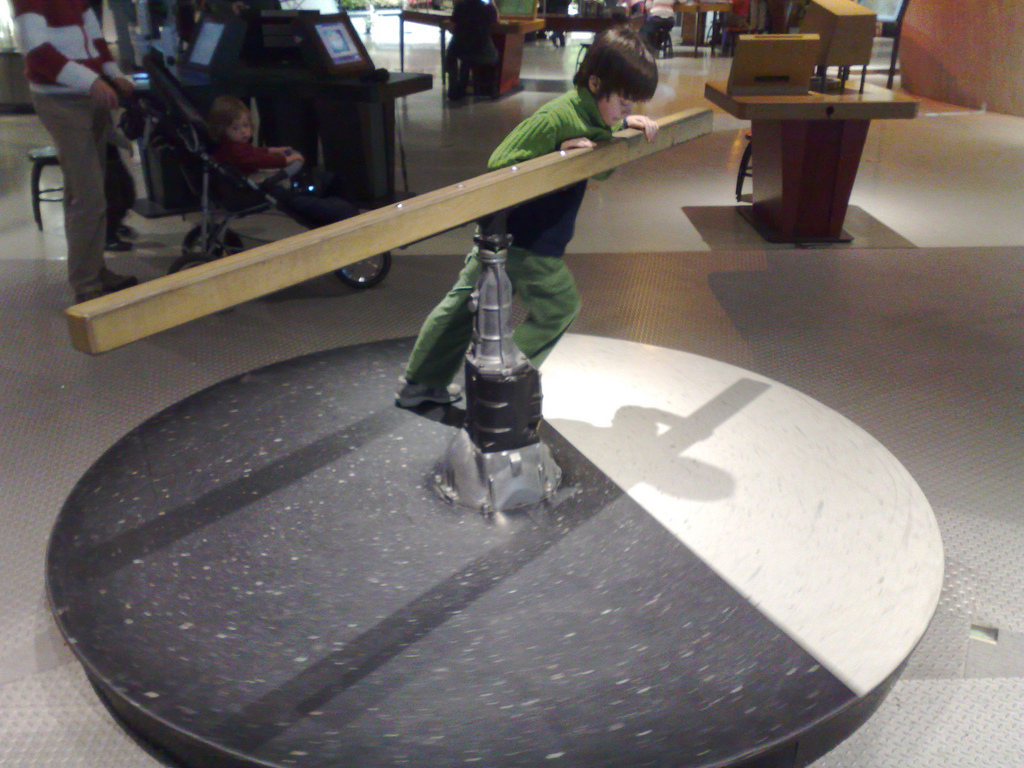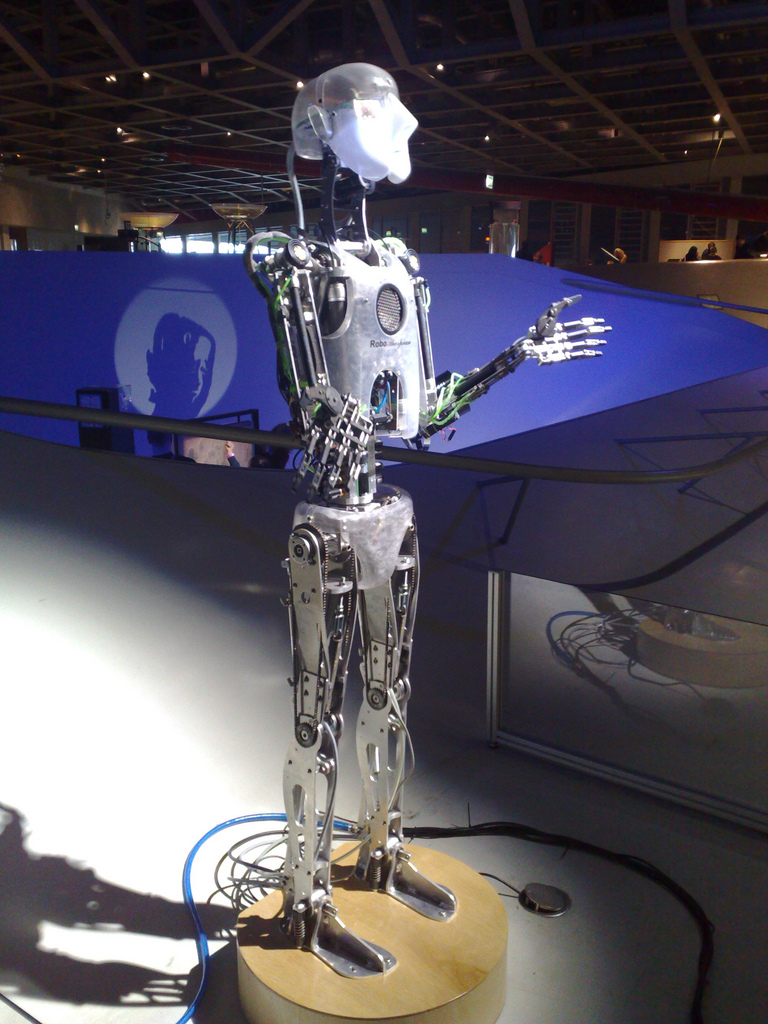 Saturday night we were tired and happy and after a quick meal of Vietnamese food downtown we fell fast asleep in our hostel home.
Sunday morning it was off to Autostadt. If you've experienced the "concept stores" that brands like Nokia and Nike have established in larger cities, and can imagine that phenomenon spread out over many acres and involving cars rather than shoes, than you've a lead on understanding what Autostadt is.
Wolfsburg is a Volkswagen company town: it's a city of 120,000 people with more than 40,000 of them working for VW. You notice this not only from the VW factory campus that looms large over the city as you step of the train, but also from the cars on the streets of the city: almost every single one was a VW. And those that weren't were Audis, SEATs, or other VW-owned brands.
Autostadt is a sprawling collection of exhibition halls, restaurants, architect-designed brand-themed pavillions (one for each VW Group brand: Bugati, SEAT, Škoda, VW, Lamborghini, Audi) all set in a patchwork of lagoons and canals.
And we spent the day there.
Oliver got his "driver's license" in the Fahrschule (tiny VW Beetles with video screens that lead kids through the basics of the rules of the road), we saw a 360-degree film shot in Iceland about "risk" and an planetarium-like film about "seasons," saw examples of every year in automotive history in the auto museum, bought Japanese snacks from a Japanese vending machine, sat inside a Audi R8 and a Škoda Roomster, rode up the 20 storey Car Tower, got shaken around in a VW-themed "Mission to Mars"-like simulator and had coffee and cake in a café overlooking the place where Germans can come and pick up their factory-fresh VW.
Autostadt is weird and perhaps not entirely explainable in words. While its certainly "about cars" – and there are plenty of cars around – it's even more about "brand" and the fact that I own a VW and am likely in the exact heart of the VW demographic likely made me perhaps more susceptible to the allures of the place.
One way or the other, though, it was lots of fun and I'd highly recommend the experience, especially if you share the demographic with me.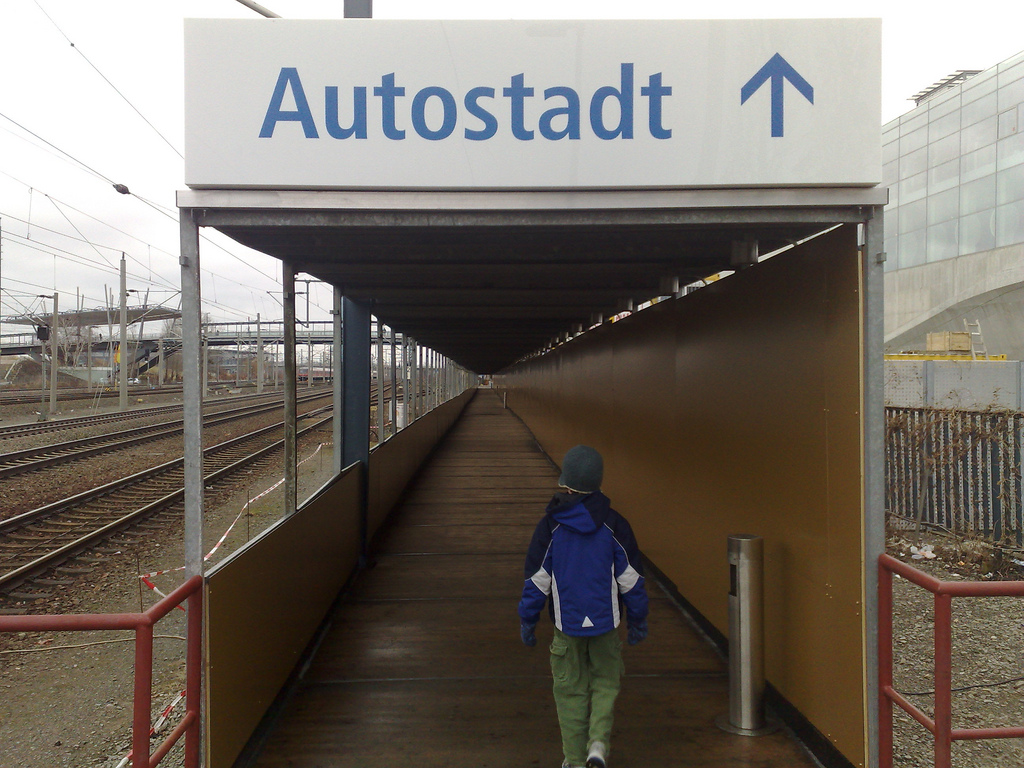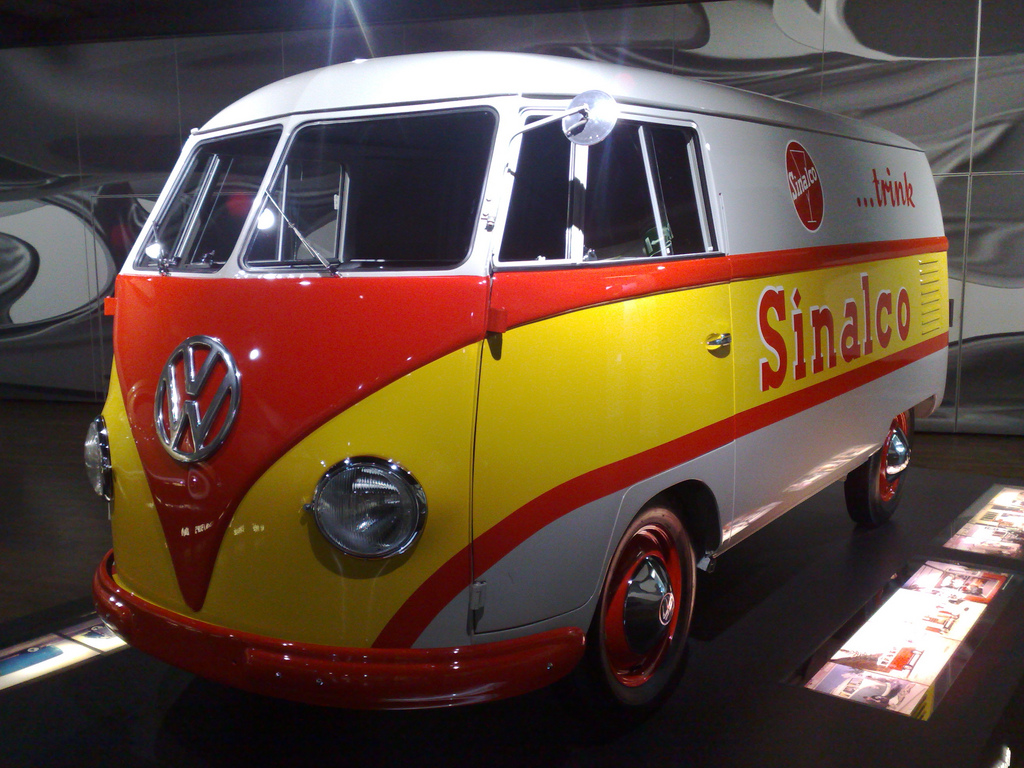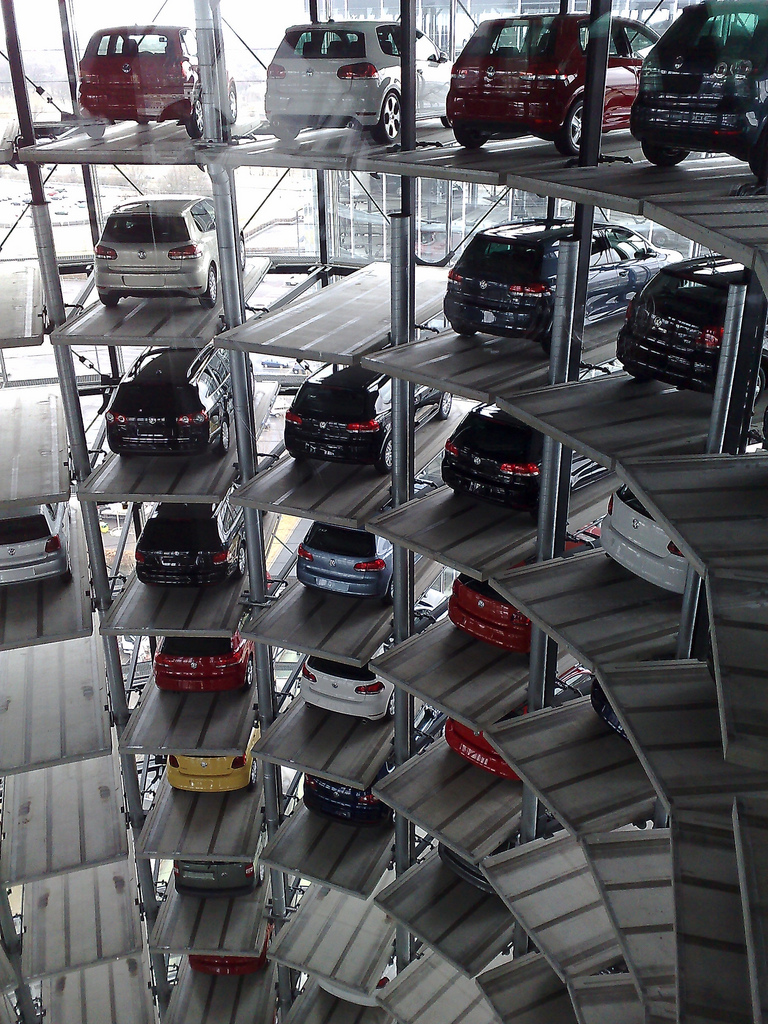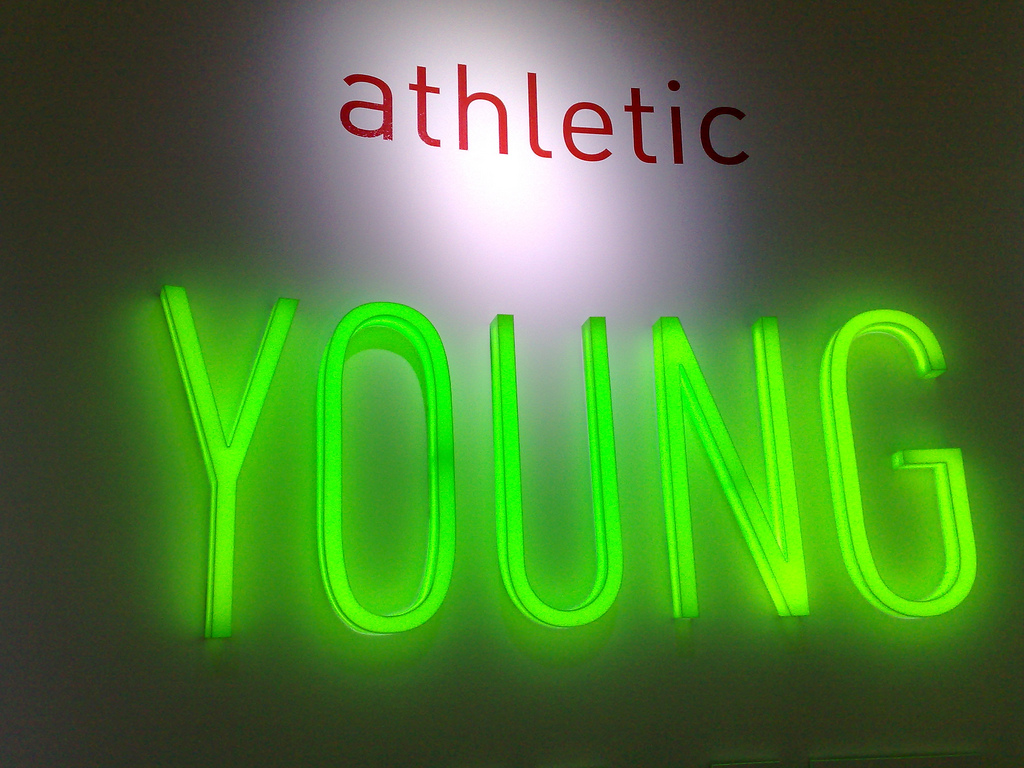 For supper we headed up to the same street where we'd eaten at Lika Grill two nights before and found Taj Mahal, a very nice Indian restaurant with an extremely accommodating host. And then it was back again to the hostel to rest up for the travel day on Monday.
Monday morning we were up early, stripped the bedding off our beds (per hostel protocol), had a quick breakfast and were at the train station for the 9:55 train to Berlin.