I have been archiving Prince Edward Island energy load and generation data since November and I've created various tools, like this graph and this gauge and this mobile app to put this data in my "peripheral view," with a goal of making myself more aware, in a visceral way, of how much electricity we're generating and using here on the Island.
One of the things that's surprised me is how much electricity we use here in the summertime. A frequently-offered explanation for part of the increase in overall electricity usage is the shift to electric heating; so you'd expect the summertime usage to be lower than the wintertime usage. And it is. But by much less than I would expect. Here's a graph that shows the "peak daily load" from November 2012 to August 2013: this is the highest Island-wide electricity load, in megawatts, for each 24 hour period.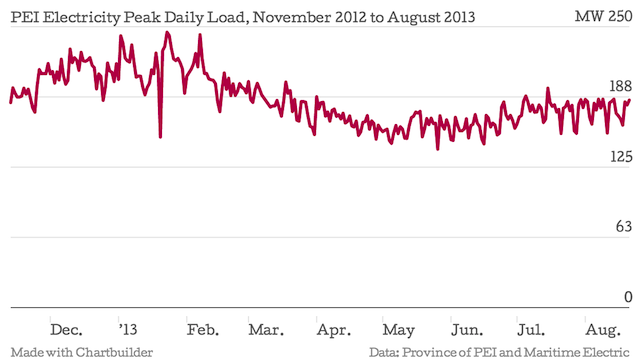 During this period, the day with the highest peak load was January 23, 2013, with 245 MW, and the day with the lowest peak load was May 26, 2013 with 140 MW.
But look at August 1, 2013: the peak load on that day was 185 MW, which was higher than the peak load of 183 MW on February 15, 2013 when the temperature never went above 2°C.
Perhaps even more interesting is a graph showing the miniumum daily load – the least amount of electricity we're using in any given 24 hour period: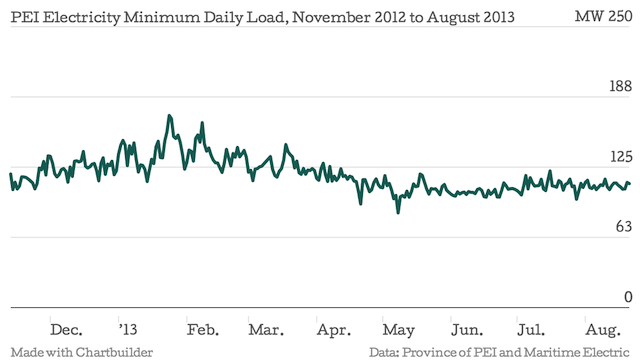 It's a rare day when the minimum load dips below 100MW. That seems like a lot of electricity to be using a 4:00 a.m.
One of the great things about looking at the electricity portion of our energy usage is that, because it's centrally generated and distributed, it's easy to measure in aggregate. One of the frustrating things is that nobody – not Maritime Electric, not the Province of PEI – really knows what is using all that electricity. Of course everyone has educated gueses – perhaps it's ground-source heat pumps or air conditioning, for example – but that's just a best guess.
Thoughts?