Oddly enough for one like me with a career that's all about patterns and systems, I'm notoriously bad at noticing patterns in my everyday life. Catherine still makes fun of the time, ten years ago, when I realized that sometimes the night sky was bright and sometimes it wasn't (this despite having built a tool that demonstrates exactly why).
I am also notoriously bad at judging time — Johnny knows that if I say "I'll be done in 10 minutes" I could emerge anywhere from 5 minutes to 2 hours later.
So if you asked me "what time do you usually arrive at the office," any answer I'd come up with would be a crazy wild guess at best.
So I decided to find out.
I used the Plazes API to pull a list of my arrival times at the Reinvented Office on weekdays for the past four months. I then charted my "first arrival of the day" on a chart (using AppleWorks of all things) and here's what I came up with: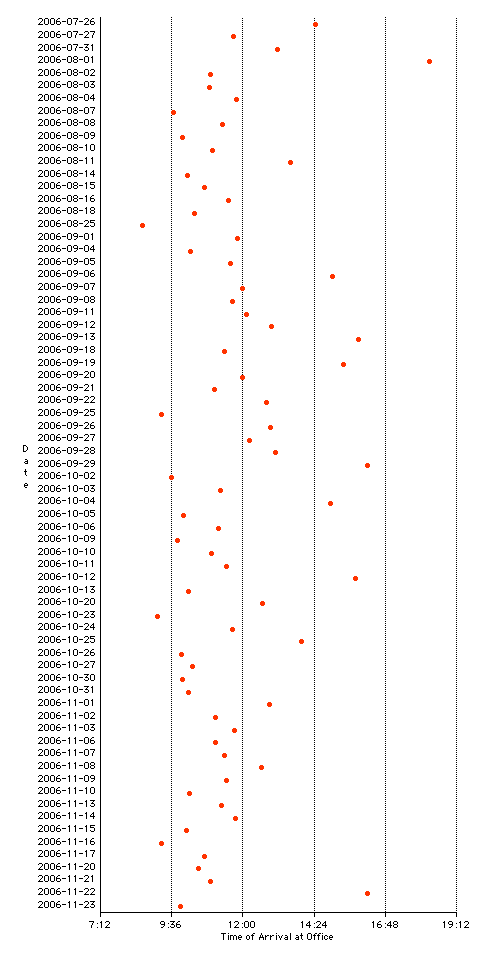 I am obviously completely unsuited for a traditional "9 to 5" job.
My work departure time is somewhat more consistent, mostly because there is usually a fixed point — 6:00 time for supper and Compass — to shoot for: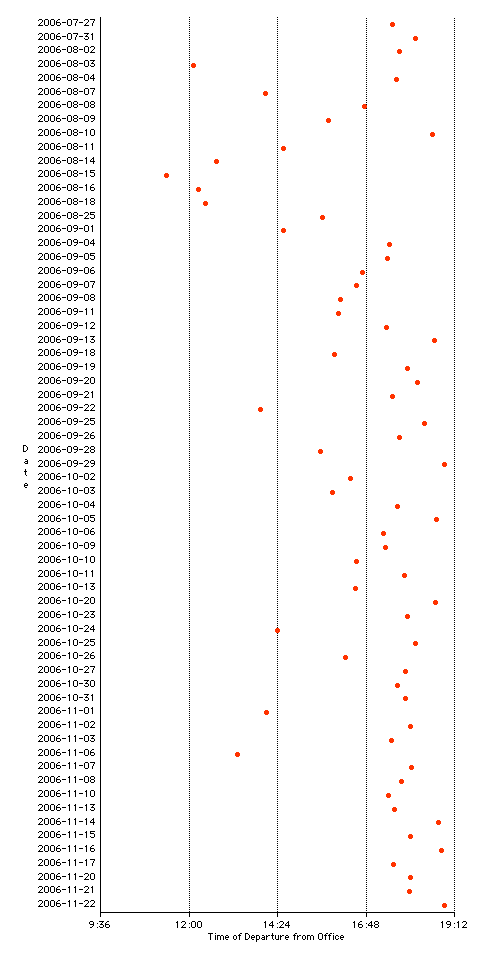 The same graph a year or two ago, when I was much less successfully making it home for dinner on time, often working night four or five times a week, would have trended much later in the day.
Of course someone more versed in statistics, and with better tools at hand, could apply trend-lines to the data, and deduce something approximating an answer to the "usual arrival time" question. I'm content, for now, to leave it as a jumbly series of red dots.