In theory, I should be able to use the Address Book application on my MacBook to send SMS messages from my Nokia N70 phone. The phone and the MacBook communicate with Bluetooth for all other purposes — sending and receiving files, syncing calendar and address book entries, Salling Clicker — quite well. But I can't get Address Book's cell phone-related features to work properly.
My N70 is paired with my MacBook, and the MacBook is set as "authorised" in the N70's Bluetooth settings so the two should be able to communication back and forth without further intervention. When I open Address Book, I see the Bluetooth icon in the toolbar as I should: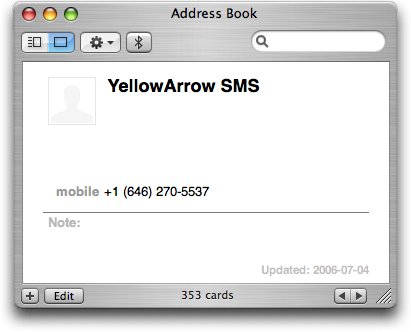 Clicking on the icon, however, I get prompted to pair with a Bluetooth device, even though I'm already paired with my N70: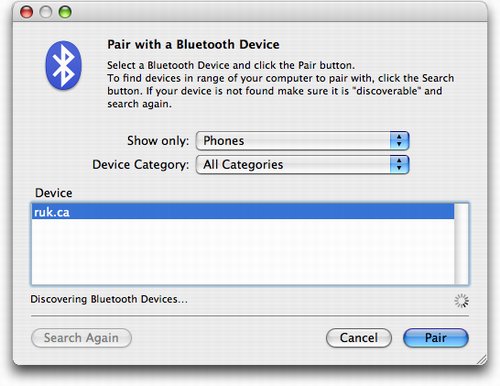 When I select my phone — ruk.ca in the list — and click Pair, I get prompted "Please enter a Passkey to use with this device:"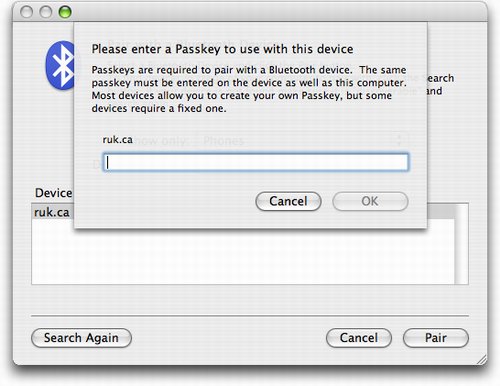 No matter what I enter for a passkey — 0000, 1234, anything — the pairing appears to work, and the Bluetooth icon gains a blue "halo:"
However the "halo" soon disappears, and any attempt to use the "SMS Message" or "Dial with Cell Phone" options that appear when you right-click a telephone number show these options as "greyed out:"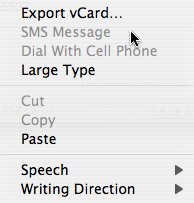 Watching the Bluetooth connection between the MacBook and the N70 while this is happening (using Bluetooth Explorer, which is part of the OS X Developer Tools), the connection appears, then disappears after about 5 seconds. Even during that period, the contextual menu options for using the cell phone are disabled.
I spent an hour on the phone with Apple support this morning trying to sort this out. After going through the usual zapping the PRAM, creating a new user, running disk utility, etc., I was no further ahead; I suspended things when they wanted me to launch into a non-destructive reinstall.
I'm posting this here just in case anyone else encounters the same problem. Or, better yet, has a solution.