Pardon me, but I spend an inordinate amount of time thinking about things like this.
My Danish friend Luisa revealed to me that the letter otherwise know to me as "o-slash" — ø — is not, as far as Danes are concerned, a "letter 'o' with a slash through it" but rather a bona fide letter all its own. Or, as Wikipedia says:
Speakers of languages which use the letter ø hold that it is not a ligature or a diacritical variant of the letter o (That is, emically they perceive it as a different letter entirely).
Which leads me to the question of Upper Prince Street.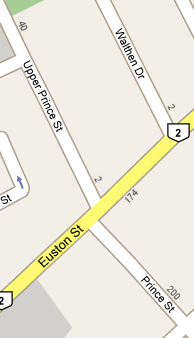 Oliver's school is called Prince Street School but its civic address is 66 Upper Prince Street (emphasis mine). That the school is not called Upper Prince Street School suggests that Upper Prince Street belongs to the "Prince Street family" — in other words, it is a "ligature or a diacritical variant" of Prince Street. And thus, because our house is at 100 Prince Street, we live on the same street as the school.
This runs contrary to my own view, based simply on my own biases, which is that Upper Prince Street is a different street entirely, an opinion supported by the fact that Upper Prince Street and vrai Prince Street each have their own set of street numbers (which is why we often get mail intended for the Scouts at 100 Upper Prince).
Please let me know your view on this.