I'm down to the last few things to find new homes for in Catherine's studio, the large, unwieldy things that don't have a self-evident destination.
Maybe the destination is you? I'll happily give any of the following away to anyone who will provide a good home.
Please let me know. Local pickup in Charlottetown only.
Walking Spinning Wheel TAKEN
This is giant (the wheel itself has a diameter of 4 feet) spinning wheel, also know as a great wheel.
The great wheel was one of the earlier types of spinning wheel. The fibre is held in the left hand and the wheel slowly turned with the right. This wheel is thus good for using the long-draw spinning technique, which requires only one active hand most of the time, thus freeing a hand to turn the wheel. The great wheel is usually used to spin short-staple fibres (this includes both cotton and wool), and can only be used with fibre preparations that are suited to long-draw spinning
It's not feature-complete — the smaller fiddly bits are missing — but in the right hands it could spin again. Or make an addition to your collection of Canadiana.
\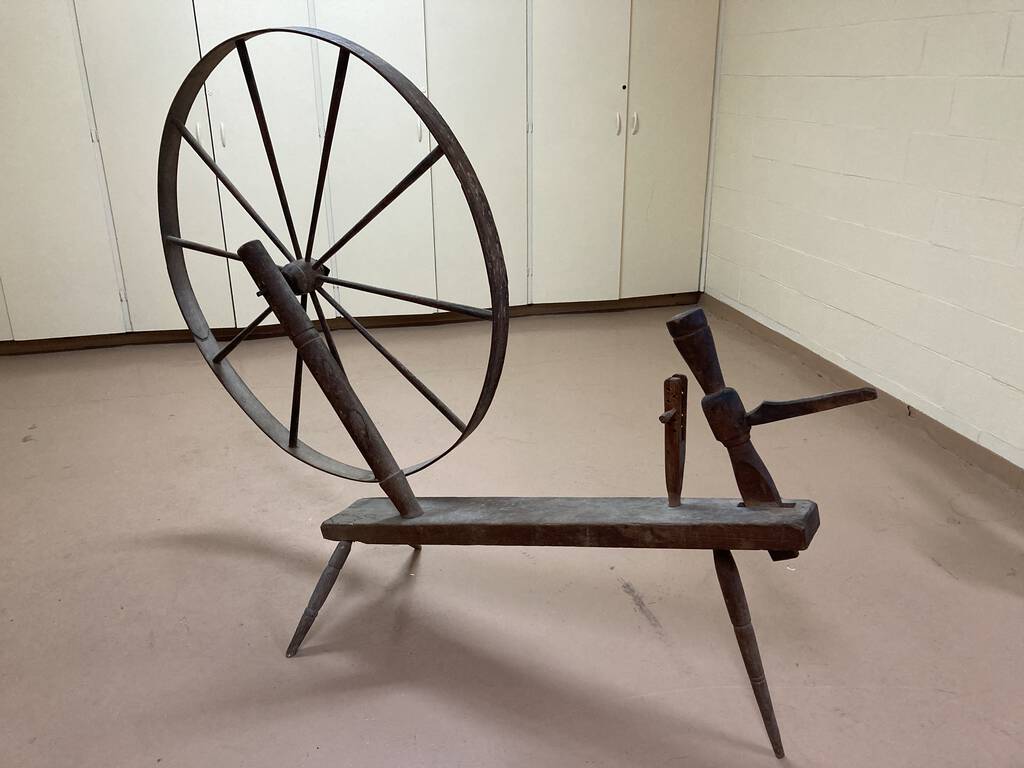 Yarn Winder TAKEN
Whenever I didn't know what a particular piece of her fibre equipment was called, I'd call it a "niddy noddy." Which is an actual piece of equipment. This is not a niddy noddy, it's a wooden yarn winder. It winds yarn. One of the "arms" is coming unglued and needs some repair, but it turns well.
Wooden Stands TAKEN
Catherine used these looping or wrapping or hanging or some such fibre gymnastics. If you're in the market for some flexible things that might become room-dividers, these might be for you.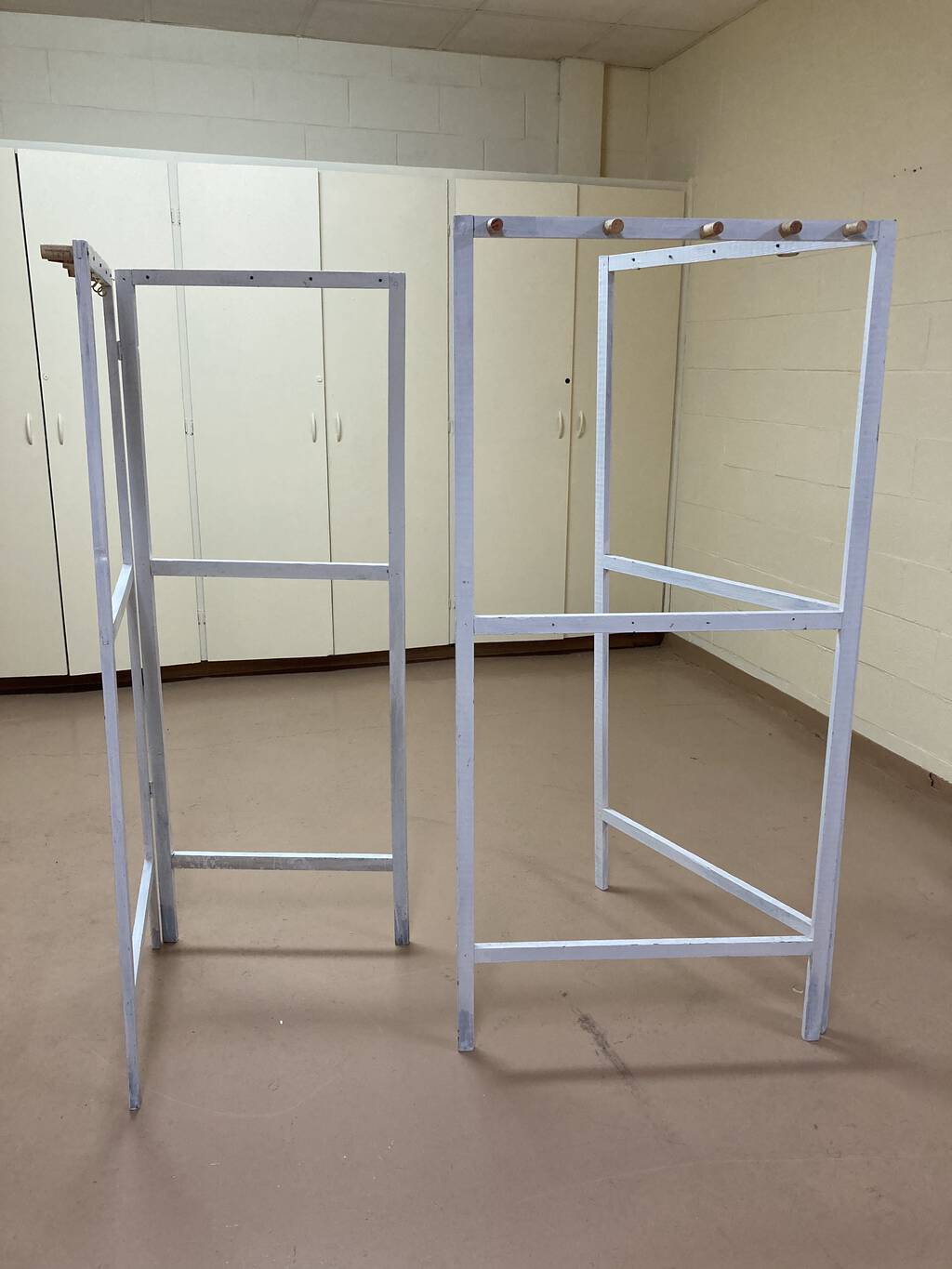 Tapestry Loom
From Catherine's mother: "the tapestry frame can be used for embroidery or any needle work to stretch the fabric and then work on."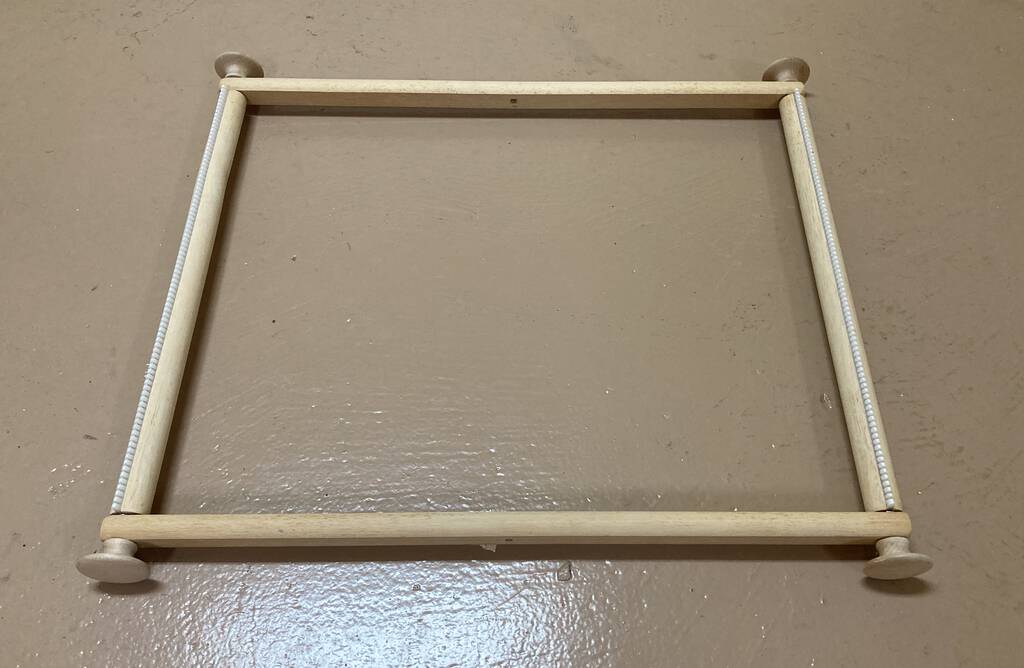 Boot Jack TAKEN
From Catherine's mother:
The two loops at the end is a boot jack. It used to be on our mud room. Hold the big hoop up right and use the bottom loop to pull your boots off. No messy fingers.