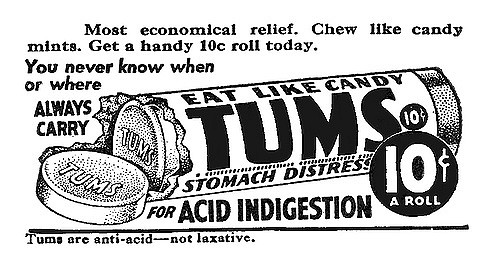 Starting back in November I found myself with a serious bout of heartburn. I suspect I had some sort of persistent stomach bug, as almost anything, even the most benign foods, could set it off. As such it was hard to avoid by changing my diet, and I became, for the first time in my life, a serious Rolaids consumer.
My problems continued in through January, and when there appeared to be no end in sight I started to look around for alternatives to antacids like Rolaids for relief.
At some point I found a very clearly-worded website, there reference to which now eludes me, that suggested that if heartburn is caused by "excess stomach acid," one way of combatting it is to eat or drink things that are alkaline.
Of course this seems like common sense — what are antacids other than a chemical way of neutralizing stomach acid. And of course it's something that, faced with a nightly onslaught of Nexium, Rolaids and Tums commercials on television, I never had cause to consider.
And it worked. Almost immediately.
My stomach problems have largely cleared up, perhaps for reasons completely unrelated to my modified treatment regime, but for the month or so that they persisted, my "crazy pineapple trick" worked wonders. I haven't popped a Rolaids all year long.
But, for me, this is less a story about pineapple and heartburn but about my revelation that it might be useful to stop taking health advice from the 30-second spots between NCIS and The Unit.
Tums photo from Todd Ehlers — license. Pineapple photo from giniger — license.