Back in June, when visiting with my colleagues at The Old Farmer's Almanac, I naively said something like "if you ever need anyone in Canada to help with promotion of the 225th edition in the fall, just let me know."
As it happens, they took me at my word, and so a few weeks ago I got my "media tour" schedule. As a result, here on this last day of summer, I am in Halifax, dressed in a shirt and tie, talking about the Almanac for the day.
My first appointment was with Andrea Dion, host of Global TV's Halifax morning news. My call-time was 7:30 a.m. for a 7:50 a.m. interview, so I showed up, of course, at 7:00 a.m. Fortunately there's a comfortable coffee place next door, so I was able to grab a coffee and review my solar science for half an hour.
At 7:30 a.m. I went next door, was shown into a comfortable lobby by an amiable security guard; a few minutes later Andrea came down to meet me, and walked me up into the spacious studio: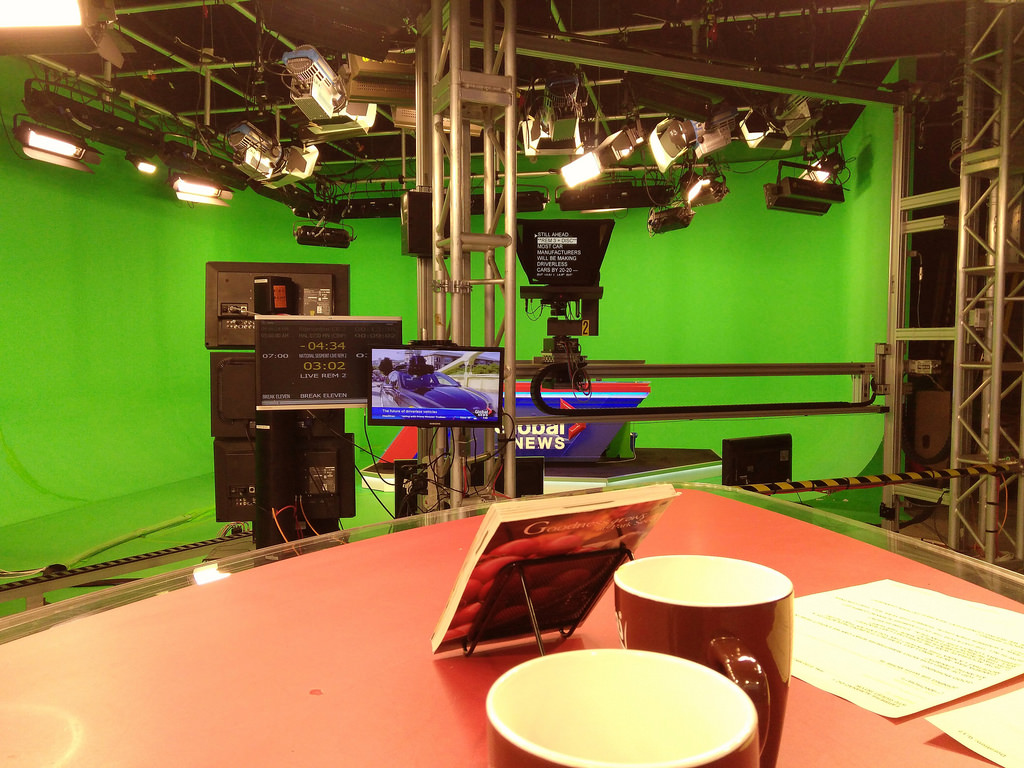 Remember that episode of WKRP in Cincinnati, "Venus Rising," where Venus gets hired by WREQ, a automated radio station? Global TV in Halifax is eerily like that: other than Andrea, and the news reader, and the security guard, there didn't seem to be anyone else present (although Andrea was speaking to someone in her earpiece, so there must have been someone, somewhere, controlling things). The cameras had no camera operators. There were no makeup people, or producers, or directors. In other words, picture in your mind an episode of HBO's The Newsroom (or, for that matter, the CBC's) and then remove all the secondary characters. Like that.
Fortunately Andrea was multi-talented, playing many roles at once: she got me set up with a wireless microphone (actually, with two microphones, as a fail safe), set a copy of the Almanac on a book stand, and did a short pre-interview with me.
At 7:50 a.m. we were live to Atlantic Canada and talking about long range weather.
It's important to recall at this point – as I hastened to mentioned in the interview – that I work in the engine room of the The Old Farmer's Almanac, and so the sorts of questions I'm used to answering are more "why isn't the map rendering properly in Firefox on Samsung mobile devices in Kentucky?" and less "can you explain La Niña's effects on this winter's weather?" Of course I've studied, and have the benefit of 20 years of osmotic uptake of Almanac methodology in my pocket. But I also have an almost pathological inability to read and recall complicated things like "it's going to be a colder, snowier winter in Atlantic Canada, with the cold coming in mid- to late-December, mid- to late-January and mid-February and the heaviest snow in mid- to late-December, through most of January and in mid- to late-February" (what you can't see is me referring to my notes to be able to type that).
Fortunately, I think, I managed to do justice to the winter weather forecast, and did not end up committing any untruths to television. I was greatly aided in this regard by Andrea, my inquisitor, who is a skilled, knowledgeable interviewer.
After 5 minutes it was all over, the microphone returned to its bay, and farewells bade.
I've got a 2 hour break now before moving on to News 95.7 to appear on The Rick Howe Show at the noon hour where I am billed thusly:
An editor of the Old Farmer's Almanac, Peter Rukavina joins us in studio to tell us about the new almanac and its winter forecast.
My appearance falls between "Physician Dr. John Gillis answers callers' questions about health" and "Premier Stephen McNeil weighs in on the provincial worries about a nationally-imposed carbon tax."
Wish me luck.