CBC Compass broke the story last night that the Charlottetown Area Development Corporation has been secretly developing a plan to extend the Queen Parkade across through to University Avenue, tearing down the buildings that house the The Maple Grill, Back Alley Music, Monsoon, the Alibi Lounge and Cedar's in the process.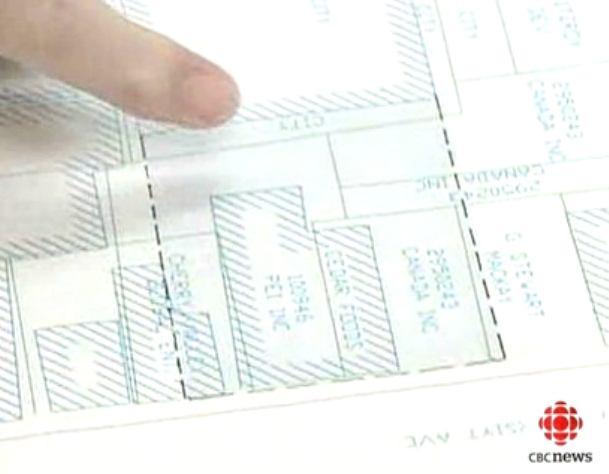 | | |
| --- | --- |
| Turning this… | Into more of this… |
| | |
This is being done, CBC reports, to provide 200 parking spaces for the new Homburg developments downtown.
Fortunately the owners whose properties were to fall to the wrecking ball, or at least some of them, decided not to sell to CADC and so the plan has been scrapped, at least for the time-being, in favour of expanding either the Fitzroy or Pownal parkades.
While the immediate threat has been stanched, the larger issue – just how far is the City of Charlottetown willing to prostrate itself at the alter of Homburg's Trump-like plans to remake the city's core in his own image – remains.
Indeed this plan, conceived out of the public's scrutiny under cover of CADC's "arm's length" relationship to both the city and the province, represents a new, more foreboding variety of Homburgism: it was possible to argue, however implausibly, the Homburg's developments to date, the office skyscraper and the hotel, benignly replaced underused buildings.
In this case, however, CADC, doing Homburg's bidding, was proposing to tear down an entire stretch of viable businesses so that Homburg's tenants would have a more convenient place to park.  
This is no longer development, it's cannibalism, and it must be stopped.
There's an larger issue at play here too, and that's the rapid disappearance of what Stewart Brand calls "low road buildings" – the cheap, flexible, unremarkable buildings in any city that play a vital role as incubators of small businesses that would be impossible to house anywhere else.
We lost a strip of low road storefronts when the Jean Canfield Building went up between Fitzroy and Euston on University Ave., another when the Johnny's Mayfair building burned at the corner of Prince and Kent, and as Water Street gradually gentrifies we're losing even more down there.
Without low road buildings in the core you don't get record stores and sushi places and bicycle shops and book stores and interesting bars, you get franchises and banks and office towers and high-end shoe stores.
If the trend continues, there won't be any area downtown for small businesses to bootstrap, and it's precisely this kind of small business that breathes new life and diversity into the retail and restaurant life of the city, and that distinguishes downtown Charlottetown from downtown anywhere else.
I grew up in Ontario during the decades when "urban core renewal" was in vogue, a style of "renewal" that saw the downtown of many small cities – Brantford, Hamilton, and Peterborough come to mind, but there are countless others – gutted and replaced with behemothic shopping malls. The result? Much fanfare, followed by a gradual decline into urban wasteland.
While Charlottetown was not completely immune to this trend, the city was fortunate that the shopping mall we got downtown preserved much of the existing infrastructure, and so was less behemothic and more sympathetic infill.
But even this less severe approach to "renewal" has essentially been a failure: you have only to walk through what remains of the Confederation Court Mall and its empty unit after empty unit to see this.
And yet those charged with charting a course for the Charlottetown have fallen in thrall to Homburgism, a model of the city that, if it prevails, will ultimately see much of what's interesting and unique about the city replaced with generic developments that flow from one man's outlandish vision, not from the kind of collaborative, organic, community-based planning process that makes the kind of city that people might actually want to live in.
While the thwarting of CADC plan to expand the Queen Parkade holds back one flank of this battle, it continues on other fronts unabated, gradually creeping over the entire urban core.
It's time for people who care about the distinctive character of downtown Charlottetown – the architects, the designers, the historians, the everyday regular people – to speak out against this movement, to work to snap the city father's out of their Homburg-induced delirium, and to propose viable alternatives to this inane approach to urban development.
If we don't, then soon it will be too late: office tower will beget parking garage will beget office tower will beget parking garage and soon we'll be living in downtown anywhere, wondering what happened to the city we once held dear.