By way of beta testing the ability of my newly-printed postcards to withstand the travails of the postal system, I mailed one to myself on Tuesday afternoon; it arrived in this morning's mail, two days later.
Setting aside that it took 48 hours for the postcard to travel from 101 Prince Street to 100 Prince Street–because the mail is processed in Halifax now, 300 km away–I was dismayed to receive the postcard with the stamp "cancelled" by a stroke of a ballpoint pen and missing a postmark completely: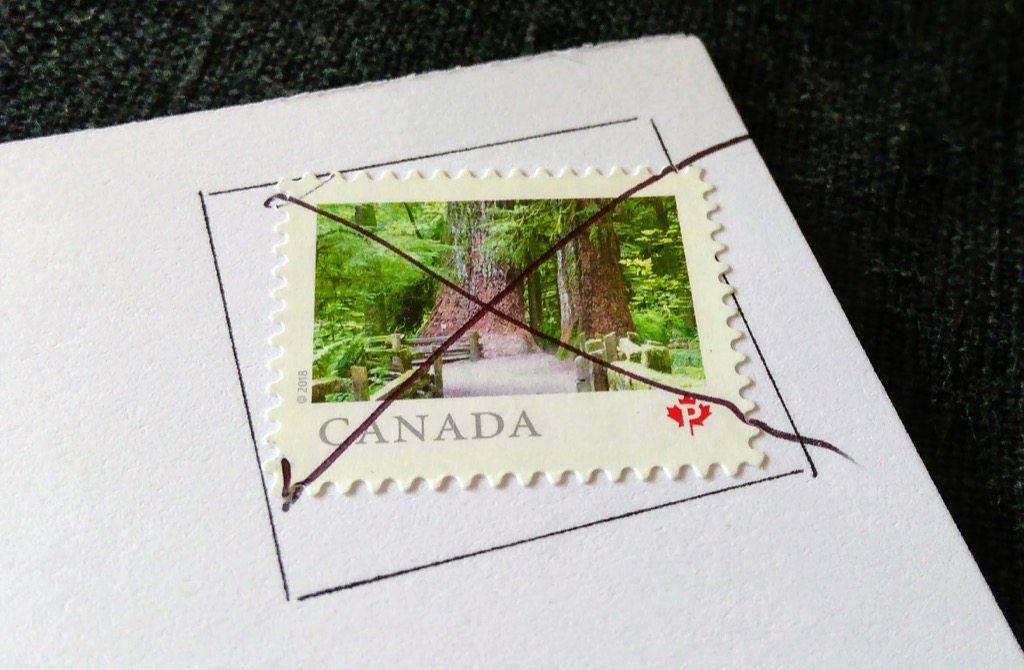 Not only are the aesthetics of this offensive, but the lack of a postmark removes any formal record of the postcard having traveled through the mail at all.
My postal sources tell me that the likely reason for the pen-cancellation is that the postcard could not be mechanically sorted, needed to be hand-processed, and the postal worker who did the processed was not equipped with a cancellation stamp.
Even when this doesn't happen, and the robots can do the sorting, the postmark and cancellation applied are for Nova Scotia, not Prince Edward Island, resulting in a troubling absence of postal sovereignty.
The same sources tell me that I can take mail to the central post office on Kent Street to be hand-cancelled; that's my next test.