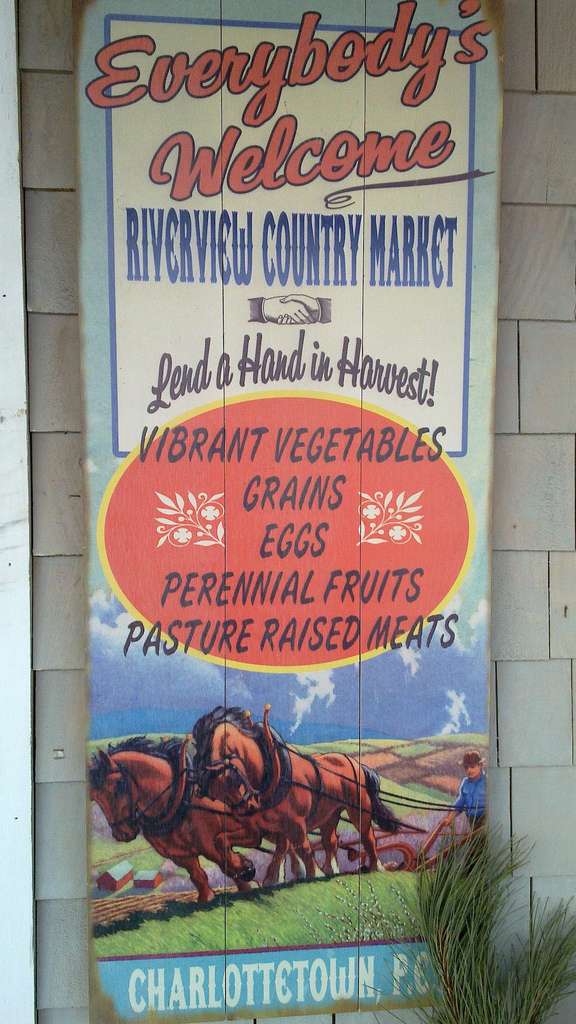 I'd been hearing about Riverview Country Market from friends for a while now, but it wasn't until yesterday that I managed to visit.
Wow.
I hadn't made a point to rush over earlier because everyone talked about the meat counter and how great it was. But I eat less meat than, well, just about anything, and so that's been of little interest to me.
But there's more to the place than just the meat: they sell local produce (including potatoes and apples with their varieties labeled, which is just common sense but novel nonetheless), local preserves, local baking, and a smattering of non-local things like lemons to round things out.
It's all laid out in a compact but efficient little space with friendly staff and good music.
If you lament the loss of bestofpei, another place that focused on local but that went out of business in the fall, take heart, as Riverview is everything that bestofpei should have aspired to be: well-stocked, focused, and without a hint of pretense.
The only downside is that they're located, for all intents and purposes, "out of town," being way out there in the wastelands of Riverside Drive (it's only a 20 minute walk from our place, but it's a harsh and unforgiving 20 minute walk through pedestrian-unfriendly terrain).
If these folks took over the Clover Farm in on Queen Street they would completely transform the grocery landscape for we downtowners; as it is, I'll become as regular a customer as their location allows, and I encourage you to drop by and check them out if you haven't yet.