If you're a business in Canada with employees, every month you have to send Canada Revenue Agency "source deduction remittances" — monies for Canada Pension, Employment Insurance and Income Tax that are deducted from employees' monthly pay-cheques combined with the matching employer contributions.
These payments are due on the 15th of the following month. And so on October 3, 2007 I sent in a cheque for the September 2007 remittances: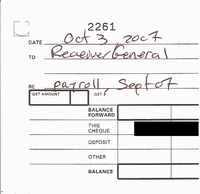 Canada Post tells me that it should take 4 days to deliver a letter from Charlottetown to Ottawa; I had a window of 7 business days, so in theory everything was okay.
Today in the mail, however, I received a "Notice of Assessment" from Canada Revenue Agency: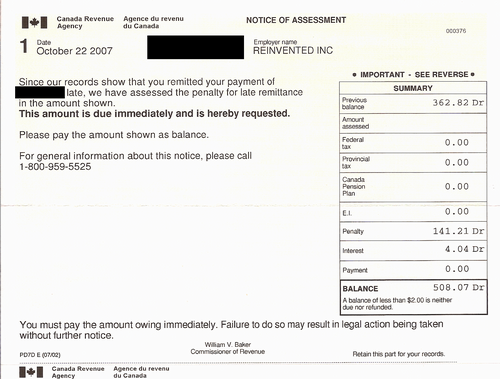 The $141.21 penalty on that form was brand new (the $362.82 is an earlier penalty — these guys are the bane of my existence). I called the toll-free number, waited on hold for a few minutes, and then talked to a very pleasant gentleman who informed me that they hadn't processed my payment until October 19th — 4 days after the deadline.
When I told him that I'd mailed the cheque on October 3rd, he said that didn't matter — they don't consider the payment "received" until they receive it. And they didn't receive it until 12 business days after I sent it. So they applied a penalty.
He went on to suggest that I should consider not using the mail to send in my monthly cheque (something that would seem at odds with the fact that they include a return envelope with every statement they send) and instead pay either at my bank or online (something that, alas, my local Credit Union doesn't yet support).
While I could appeal the penalty, he advised against doing so because remedies are only offered in extraordinary circumstances (I know this; I've appealed twice before, with one penalty waived and one kept in place; both took months to process).
I don't begrudge payroll remittances, and I understand the need to get them paid on time. I even understand penalties — if they didn't have them, nobody would ever pay on time, and their accounts payable would quickly run into the billions.
But it seems fundamentally broken when one branch of the federal government, Canada Revenue Agency, recommends against using the services of another branch, Canada Post. If the mail isn't a reliable way of communicating, then Canada Revenue Agency shouldn't include envelopes, and should clearly advise against using Canada Post and provide a greater variety of alternative payment methods.
In any case, I'm out $141.21 for doing nothing but assuming that federal systems should work as they say they do.