I promised to report back after a few weeks of using Remember the Milk as my to-do-list manager. That I'm writing this post is a testament its continued role in my life, as the "report back" reminder popped up yesterday in myriad places (on my Mac, in my email, in the Remember the Milk iPad app).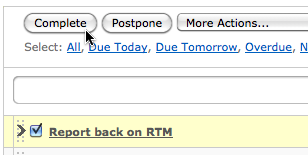 The application seems to be filling a useful space between the heavily-structured project management work that we manage in Trac with our clients, and the "you have a meeting with Bob at 2:00 p.m. on Monday" I track in a Google Calendar-iCal combo. I've been using it to help me remember things that otherwise I was juggling in the periphery of my mind, things I'd jotted notes down about, and things I never had a system to remember at all.
In the Getting Things Done religion they talk about the need for a "trusted system" to route the things that would otherwise pile up in your mind, your email inbox, your voicemail, and so on. I've been doing a pretty good job of keeping my email inbox at zero with Remember the Milk: rather than letting things languish there untended, I'll create a task so that there's a record, and then delete or archive the email.
In short, Remember the Milk, at least so far, is hitting a nice sweet spot of "simple enough that I'll use it" and "complete enough that it lets me track what I need to track" without venturing into the woods of project managementy overkill.